Some 2 years ago my wife and I discovered what we considered to be the perfect cruise ship and  my review of that cruise carried the title 'Europa 2 – Raising the bar'…
https://solentrichardscruiseblog.com/2014/10/03/europa-2-raising-the-bar/
A return was inevitable and it was only a matter of time before an itinerary that suited us would become available in our otherwise busy cruising and holiday schedule. When we spotted such an  itinerary,  late in 2015,  we jumped at the chance and booked our return to the world's highest Berlitz rated cruise ship, Hapag-Lloyd's Europa 2…
This 14 day cruise included 9 ports of call, 3 sea days and three overnight port stops.
Having recently arrived home  from that greatly anticipated return visit I am more than happy to report that the ship fully lived up to expectations and the itinerary actually surpassed them. Welcome to my review of  Hapag-Lloyd's Europa 2…
..
As with our previous Hapag-Lloyd cruise, we were most impressed with the pre-cruise documentation…
Which included, unusually for a cruise line, our personal ship ID Card/Key Card.
Also delivered prior to departure was a selection of comprehensive guides to the itinerary ports, shore excursions and an onboard ABC…
…along with  an invitation to join Hapag-Lloyds shoreside hotel Welcome Point and Farewell Points…
These two services are excellent facilities whereby a number of rooms in quality hotels are reserved for passengers prior to embarkation and after disembarkation. The service includes a complimentary coach transfer to or from Europa 2, coffee, tea and mineral water, internet wifi and safe storage of luggage.
We joined Europa 2 at Singapore's International Passenger Terminal adjacent to Sentosa Island having spent 4 days unwinding in the   The Lion City. ( More about that later in the 'Itinerary' section of this review)
As with our previous cruise we had booked an Ocean Suite on Deck 8, Suite No. 826…
Ocean Suites come with a natural light bathroom with whirlpool bath…
…separate toilet and good sized balcony…
Champagne, chocolates and fruit are available on arrival…
(The fruit bowl is replenished daily)
Storage space is well designed…
…and there is an excellent 'pod' coffee making facility…
…while the fridge is stocked with a range of complimentary drinks…
The interactive TV provides a considerable amount of news, entertainment and ship's information. It additionally serves as the hub for the Hapag-Lloyd complimentary email service…
…while the suite has its own 'mobile telephone' for use around the ship.
Prior to commencing the tour, one feature that comes across more than any other is the ship's design and the amount of space that is available. Nothing ever seems crowded.
The central hub of Europa 2 is the Reception, Foyer and Piano bar area on Deck 4…
*****
Access to a number of restaurants is also made aft on Deck 4.
Restaurant, Weltmeere...
The main and largest of the onboard restaurants, and located at the stern of the ship, benefits from a  design that  accentuates the features of a circular room. The culinary range spans from  international to vegetarian dishes with interesting interpretations. Weltmeere requires no reservation and is open for breakfast, lunch and dinner.
Three of the complimentary speciality restaurants are also found on Deck 4.
Restaurant Tarragon...
…and its wine connoisseurs extension, Grande Reserve…
A superbly decorated archetypal Paris brasserie offering  French orientated cuisine and a breath of Francophile 'savour-vivre' in the air.
For lovers of Italian cuisine the elegant interior of Restaurant Serenissima is the place to visit…
Here chefs will delight the senses with classic Neapolitan delicacies in a very superior ambiance. Open for lunch and dinner though reservations are required for the latter: such is its popularity.
The final dining venue on Deck 4 is Restaurant Elements…
An Asian style restaurant in both decor and cooking with spicy dishes artistically presented. Open for lunch and dinner with reservations required for dinner.
Moving forward of the Foyer area on Deck 4 there are a number of entertainment venues.
The two level Theatre is the largest entertainment venue on board Europa 2 and all major shows and guest artists perform at this comfortable venue…
Also on Deck 4 is the Jazz Club...
A popular entertainment venue with a reasonable sized dance floor and its own bar.
Finally on Deck 4 is another bar facility with a German twist, Herrenzimmer ...
With a homely feel about it, comfortable armchairs and boasting the largest gin collection at sea, Herrenzimmer is the only onboard venue where smoking is permitted.
One has to move up to Deck 8 for the next bar and entertainment venue, the iconic Sansibar...
Exuding the unforgettable charm of 'Germany's most famous beach bar', this venue at the stern of the ship is a popular open air all-day spot. Serving late breakfasts and small culinary delights throughout the day, it really comes alive in early evening as a meeting point, live music venue and eventually, Europa 2's DJ night spot…
*****
*****
One deck above, Deck 9, is home to a number of ship's facilities. Dining wise it is at the aft end that the Yacht Club, Europa 2's al fresco buffet restaurant is situated…
…with an equally portioned interior section…
Apart from the usual self service counters there are on the outer deck a separate 'Grill'…
…for seafood and  steaks and a Pasta and Pizza station for freshly prepared Italian specialities…
An extension to the Yacht Club provides the ship's Sushi Speciality restaurant, Sakura…
With an open fronted Sushi Bar, the chefs provide exquisite nigiri, maki, and sashimi along with delicious fish specialities.
Deck 9 is also home to the Pool Deck, seen here looking forward with the retractible roof closed…
…and looking aft with the roof open…
At the aft end of the Pool Deck there is a pool Bar...
and an all day Snack Bar…
…complete with ice cream vending machine. A 'speciality' tea favourite is served from the snack bar each afternoon and will be covered a little more comprehensively in the dining section.
There are further public rooms on Deck 9 forward of the pool area. The largest of these being Belvedere…
*****
Boasting the finest view on the ship with panoramic wrap around windows and very comfortable seating, Belvedere hosts afternoon 'High Tea', classical music concerts and social receptions.
The Belvedere also benefits from a forward facing exterior observation deck…
Still on Deck 9 and slightly aft of Belvedere is the Auditorium which, in addition to cinema shows offers a 3-D cinema experience as well as being a smaller venue for lectures.
The ship's double roomed library and games room is also situated in the vicinity…
…as is the Cookery School...
Geographically that leaves the various sundecks of which there are many on the upper decks…
*****
*****
*****
*****
The overwhelming experience, no matter which deck one is on, is of space, freedom and quality, with bed mattress covers being changed frequently.
Life Onboard and Entertainment
With 3 full  days and two half sea days one would be entitled to question how the only Brits onboard a German ship faired. The answer is simple..."Absolutely not a problem"
The Daily Programme, all menus, and all Port Guides were delivered to us in English as were any special notices regarding routines for customs clearance, immigration and eventually dis-embarkation. All the crew were bilingual in  English and German as were onboard lecturers and presenters though we had separate presentations and invariably we used the more compact 'Auditorium' as opposed to the main theatre.
There was a total of eleven non German speakers onboard, four of whom spoke English  (though we were the only British). Our International Hostess was a delightful lady called Lisa Wille who went out of her way to make our stay a resounding success.
Introductions to shows and concerts, generally made by the Cruise Director, were in both German and English .
So what did we get up to when not ashore?
As most of the ports of call were new to us we  attended all the port lectures…
The resident port lecturer was an excellent, much travelled guy and travel writer Martin Petrich. While the text of the majority of his slides were, quite rightly, in German, Martin's verbal translations were perfect. More about Martin in the Itinerary section of this review.
I attended two presentations on current affairs…
…and enjoyed offering the British viewpoint post the Brexit vote which probably didn't go down too well with the presenter, Ludolf Baron von Loeewenstern, an arch Europhile.
We didn't participate in any of the cookery classes though we did attend two seminars on 'Spices' given by Silke Utnehmer…
Again the seminar was presented in English and the series culminated in a rather fun practical session given in the Culinary School…
…and even more weight for our homeward flight including our 'mixes' and the handy English guide we were given.
I should stress at this point that all these presentations were complimentary as was the next, The Gin Tasting Seminar…
This was the only event we attended given in German however the International Hostess attended as our interpreter and after nearly an hour we were all on the same lingual level…
Yet another activity that appealed was the visit to the Europa 2's bridge…
Now that's what one would call a worthwhile  offer…
*****
With good weather there is always time for a little sun worship and I have already shown the acres of uncrowded deck space onboard. I like the following picture because it shows the clock and the number of vacant beds at that particular time in just one section…
I additionally spent many a pleasant morning hour around the pool with a coffee from the 'snack bar' while reading that day's UK paper…
As the only reader of one particular newspaper I soon accumulated a collection in my suite…
One event that did catch the imagination was a meeting of Hapag-Lloyd ships on our last half day at sea. We were approaching Hong Kong and Hapag-Lloyd's other ship, Europa, had not long sailed from there. With perfect timing it proved quite an emotional meeting…
*****
…with the band, passengers and especially crew manning the ship's side as we passed by each other.
Europa 2 is not a 'big' ship but it does offer some 'big' levels of quality entertainment and not all of which was restricted to the Theatre.
The most notable Theatre shows were two separate performances by an amazing group offering a 'cirque de Soleil' style show. They were a truly international group by the name  of 'Imagine shows'.
IARA is a mystical acrobatic show created to fit the cruise industry with a length of 45 minutes and a cast of 5 artists, premiered on this ship in January 2017.
*****
Take a look at their promotional video…
The other outstanding entertainment  that really caught our imagination should more probably be referred to as a concert.
Prior to joining Europa 2 we had not heard of Rolf Stahlhofen but we were soon to be captivated by his charismatic performances in two concerts,  with his band, held in the onboard theatre and  two non scheduled appearances, one in Sansibar and the other during the final pool party.
Rolf is a German 'soul music' legend, singer, musician and songwriter who became famous as a member of the 'Sons of Mannheim'. He has also performed with Joe Cocker and Simple Minds…
A measure of Rolf's popularity and pulling power became evident when, for his second concert he had invited onboard to accompany him, none other than the UK's singer-songwriter Simon  Webbe  of the British boy band Blue who sold over 15 million records…
…and at the pool party night
Great entertainers and a measure of Hapag-Lloyds standards of entertainment.
We attended a classical music concert in Belvedere one evening but otherwise spread ourselves between the music of  Jazz Club...
and Sansibar…
…sipping on our favourite Hugos.
No review of entertainment would be complete without a mention of Europa 2's pool parties…
*****
*****
A complimentary bar including Champagne and waiter service was available throughout both 'Pool Parties' and if you haven't already eaten enough at dinner you have probably spotted the Chefs on the far left of that latter photograph. The team were there preparing and serving a delicious selection of canapés and snacks…
This ship certainly knows how to entertain and do parties. the word 'cutback' just doesn't feature in their vocabulary.
One other event that featured during the second party is well worth a mention. During our time onboard a raffle took place. It was in aid of what Hapag-Lloyd  refers to as 'the crew fund': basically a welfare fund to provide additional amenities for their crew members.
The raffle was drawn by the Captain…
The first prize (inset)  was a real novelty:  a crew signed 'Rat-Guard' while the second was the displayed 'crew' towel which we were assured could not be purchased by passengers.
And finally a look at dining onboard Europa 2.
Without any doubt, and after sailing on some wonderful ships, both my wife and I agree that Europa 2 offers the finest dining experience that we have sampled. Other lines may boast  the best food at sea but Hapag-Lloyd put it on your plate.
Nothing seems to be to much trouble on the culinary front, whether it's offering a choice of 5 different honeys, including a fresh  honeycomb, with your breakfast…
…to the  daily carved charcuterie counter at breakfast, lunch and dinner in The Yacht Club…
…to the luxury seafood buffet, on offer every evening, again in the Yacht Club…
And if that doesn't convince, there is always the cheese board on offer daily…
The caviar nights…
*****
…or the plain and simple T-Bone…
There are 4 speciality restaurants as described earlier and none incur a cover charge. We made two reservations in each speciality restaurant and thanks are extended to the excellent Maitre d'hotel, Dennis Kunze for coordinating our bookings in order that we sampled each restaurants alternately changing menus. On this particular cruise we had time to try all four including Sakura, the sushi restaurant…
*****
In a nutshell, Superb.
…and Tarragon, where one speciality is steak tartar prepared table side...
and Huîtres to order…
…while our main course choice was 'Herb Crusted canon of Lamb'…
…with the Dôme au Chocolat with Raspberry Coating…
…for dessert.
We also discovered onboard a kind of institution at tea time. We often took 'high tea' in Belvedere…
…which always had some outstanding home made cake selections…
But 'high tea' never appeared as popular as the poolside venue at 3.00pm daily. Waffles by the pool on MS Europa 2 are apparently legendary and the flavour changes daily. Meet the 'Executive Waffle Master' at the poolside snack bar…
…and savour his 'Black Forest' Waffles...
It also happened that my wife celebrated a birthday while we were on board and we were delighted to share a table that evening with Lisa, the International Hostess. Our grateful thanks to Lisa for the photographic memento…
…and Maitre d' Dennis and his Weltmeere team for the beautifully decorated table, exceptional food and service.
That concludes my review of the ship which once again exceeded our expectations. Of course cruise ships without itineraries aren't exactly the name of the game and I did state at the start that we waited for the right itinerary.
The itinerary for this particular cruise was no ordinary one either and there was one particular island call that made took the service and quality levels of Europa 2 to new heights….
The Itinerary
This cruise had been booked 'cruise only' and we made our own flight arrangements while choosing to return to our favourite Singapore hotel, Marina Bay Sands four days prior to joining the ship…
Club rooms qualify for a complimentary courtesy transfer from Singapore's Changhi Airport and on arrival we were very pleased to learn that as directly booking returning guests we had  been upgraded to a 'Grand Club Room'…
Grand Club suites are sited on the hotel corners and come with amazing balcony views over Gardens by the Bay...
…and an ensuite with a view in the opposite direction, over Singapore City…
Grand Club Room – Step into the upper tiers of luxury with the Grand Club Room. Feel the space and comforts of home inside your generously proportioned room, which features a lounge area for relaxing and entertaining visitors. As a Grand Club Room guest, you are invited to Club55 where spectacular views await you, as well as complimentary breakfast, afternoon tea, and cocktails and canapés from 5pm to 7pm every evening.
But the great attraction is really the 57th floor Infinity Pool…
My sincerest thanks go to Cindy Go and Jeremy Cheah of the Marina Bay Sands Front Office Guest Experience Team for their outstanding assistance  during our stay.
We spent a full day visiting the 'Gardens by the Bay'…
…and I found time on our final day to head out to Kranji War Cemetery for the first of a number of visits I would make on this cruise to pay my respects to our military casualties…
…before rushing back in order not to miss the Singapore sailaway…
The next day was a full sea day before arriving at Bandar Seri Begawan, Brunei on Thursday 9 march.
We had booked a ship's excursion for this visit entitled 'Brunei on water and on land'.
The first part of the tour took us to Kampong Ayer, or the 'water village'. A village it was not:  39,000 people live in the Water Village which represents roughly ten percent of the nation's total population. It even has its own 'floating' fire station…
As part of the excursion we were provided with afternoon tea in a typical 'Kampong' home…
*****
…before we continued the tour visiting Brunei's two largest mosques, the Sultan Omar Ali Saifuddin Mosque…
…and the very impressive Jame'asr Hassanil Bolkiah Mosque…
Jame'asr Hassanil Bolkiah Mosque is one of the most impressive examples of modern Islamic architecture in Southeast Asia, built by the present Sultan in 1994 to commemorate the 25th anniversary of the Sultan's reign.
With 29 golden domes, intricately ornamented 58 m (190 ft) tall minarets, beautifully landscaped gardens, and a total capacity to accommodate 4,500 male and female worshippers in their respective main prayer halls, it is Brunei''s largest mosque and one of the nation's most unforgettable and revered cultural landmarks.
Our final visit of the tour was to the Sultan's Royal Regalia Building…
…where we were given a private tour of the impressive collection of procession chariots and regalia housed within…
The following day was a sea day as we steamed towards Borneo.
On Saturday 11 March we arrived we arrived at the port of  Sandakan.
Again we had booked a ship's excursion for the 45 minute drive to the Orangutang sanctuary at Sepilok…
The excursion also included a visit to a second sanctuary, this time for Proboscis monkeys…
Both sanctuaries are very well run. The former, being more famous, was very crowded with visitors. Returning to Sandakan I made the decision to get off the coach some 11 kilometres short of the town having assured our guide that I would take full responsibility for myself returning on time.
My aim was to visit the Sandakan Memorial Park…
This site occupies the former site of the notorious WWII prisoner of war camp and commemorates a tragedy and atrocity which struck Sandakan between January and August 1945. The Memorial Park witnessed the death of approximately 2400 Australian and British prisoners of war held by the Japanese in the Sandakan POW camp, within the sight of Allied victory in the Pacific war. It was the start point of the infamous 'death march'…
The park also includes a small museum that serves as a memorial to the thousands of Australian and British who lost their lives in the hands of the Japanese during WWII…
The memory of WWII is emphasized by the rusting remains of an excavator and a generator and a boiler…
which still lie in their original positions near the steps leading up to a small Commemorative Pavilion.
The Sandakan Memorial Park is particularly well maintained and beautifully landscaped, which makes it ideal for solitary soul-searching strolls – a must-see for military history enthusiasts.
I arrived back in Sandakan with barely an hour to spare but still found the time, and energy, to climb up to St. Michael's and All Angels Church…
…which occupies a commanding view over the town. St. Michael is the oldest stone church in Sabah and is part of  a 'Heritage Trail'  which connects the historic sights and monuments of Sandakan. I also made it to another historic sight on the trail, the William Pryer Monument...
erected in  memory of the founder, William Burgess Pryer. I thought this a little disappointing but was pleased I made the effort.
The next day, Sunday 12 march we arrived at Puerto Princesa on the Filipino island of Palawan…
*****
Puerto Princesa is a fun and vibrant place to visit and has a lovely Cathedral and waterfront, both within walking distance of the ship's berth…
It's also fun to give some business to the local tricycle boys, especially when the sun was hot…
My research also led me to yet another WWII memorial: this time the Plaza Cuartel…
…A grim reminder to all of us of yet another WWII atrocity committed by the Japanese forces, this time on American servicemen…
*****
*****
My thanks are extended to Bob Bales whose website I discovered while researching Puerto Princesa. Bob has an excellent website  and provided the inspiration to visit the Palawan Military museum. His website…
https://thetravellingfool.com/a-visit-to-the-palawan-military-museum/#comment-90437
The following day we were scheduled to stop for a whole day at  Malcapuya Island  which sits at the southern end of Coron Bay, itself a feature  of the larger island of Busuanga: I have spent many hours scuba diving in Coron Bay but had not come across this little gem previously.
One of the most beautiful islands in the Philippines, it has a wonderful sandy beach, there is no accommodation on the island and the waters are crystal clear.
We arrived around 7.30 am and this was the island view from our Yacht Club terrace breakfast table…
Europa 2's zodiacs were already busy ferrying equipment and supplies ashore…
The staff did a wonderful job and shortly after 9.00 am we were amongst the first zodiacs ashore…
…to be immediately greeted with liquid refreshment…
The organisation was magnificent. Towels and personal sunshades were supplied and the only decision guests had to make was where on the beach to stake one's claim…
Meanwhile the chefs were busy and a grand beach BBQ was available…
******
…the wine flowed…
…while of course, the band played  for us…
…as we caught up and socialised with new friends…
Paradise re-invented? Certainly something on those lines. That was one fabulous day the likes of which we had not experienced before and what a great venue for my wife's birthday…
The following day, Tuesday 14 March, we arrived in Manila and what a rousing noisy welcome we received dockside…
For our visit to manila we had booked a 'private' excursion with cruising excursions.com. The reason for this was that there were two sites we wished to see that were not on the itineraries of the ships excursions, namely Burgos Street and The Manila American Cemetery and Memorial at Fort Bonifacio…
It has the largest number of graves of any cemetery for U.S. personnel killed during World War II and is the largest US military cemetery outside of mainland America…
Our full day tour also included the normal tourist sites around Manila including Rizal Park…
…and Fort Santiago…
…where we viewed the memorial brass footsteps of Dr. Jose Rizal, the Filipino demigod of freedom, marking the route he took from captivity to execution at Rizal Park: forever a bookmark for the Filipino struggle for freedom against the Spaniards…
*****
All in all this was an excellent tour that took in many other sites in and around Manila's Intramuros" district and, with a great guide and separate driver, good value for money.
Our Manila departure proved even noisier than our arrival…
…with competing bands and enthusiastic flag waving 'cheer leaders' in attendance.
What was equally gratifying was the content of the Europa 2 Captain's departure brief.
He revealed that while we passengers were enjoying Manila, the ship had hosted for the day 280 family and friends of the Filipino crew members.  It's little wonder that Europa 2's crew are so good.
Wednesday 15 March was a sea day as we headed for Taiwan.
It was mid morning when we arrived at a trifle damp and overcast port of Keelung…
Undeterred, we had a plan and, as this was one of the overnight stops, we were determined to make the best use of that time having researched this visit prior to departing the UK…
Customs cleared and money changed we walked the short 15 minutes to Keelung's railway station and were soon boarding a train to Taipei, the capital of Taiwan…
The 45 minute journey was punctual and we were soon in the heart of Taipei and mastering their MTR system.
Top of our list was the Liberty Square Main Gate…
and beyond it, the  Chiang Kai-shek Memorial Hall
Our luck was holding and we even managed to witness the changing of the guard in the hall…
We additionally managed to visit the revered Longshan Temple…
…and other places of interest including Snake Street, Herb Alley, the Manga Fortified Gate and the Bopillao Historical Block.
Arriving back in Keelung around 7.30 pm we headed for the Miaokou Night Market…

Well known nationwide, Keelung's Miaokou Night Market is essentially a great diversity of food with the emphasis on seafood…
Day 2 in Keelung was again overcast but I was not to be deterred. After an early breakfast I was back on the train and heading towards Taipei once again.
What a difference 45 minutes made, no rain and not too much cloud so I headed for Taipei's iconic landmark, TAIPEI 101…
*****
Without further ado I was being whisked up to the Observation Deck…
…where the views were extraordinary…
I even spotted the next visit on my list, the  yellow roofed Sun Yat Sen Hall…
Before descending from the Observation Deck though I couldn't resist a photograph with what is loosely referred to as the 'Wind Damper'…
Don't take my word for it, this piece of kit proved invaluable during typhoon Soudelor…
http://www.popularmechanics.com/technology/design/a16819/tapei-101-mass-damper-record/
Lady luck remained with me and my arrival timing at the Sun Yat Sen Hall…
…once again coincided with the changing of the guard…
Other interesting sites I managed to visit before setting off back to Keelung included the Red House Theatre Ximen, the Jing Fu Gate on Ketagalen Blvd and the impressive Presidential Office Building…
On a hill sat above Keelung is Chung Cheng Park with a landmark 25-meter statue of Goddess Guanyin, the Goddess of Mercy. It is the biggest Goddess statue in Southeast Asia and inside the statue is a stairway leading to the top.
It had continually been shrouded in mist and rain clouds since our arrival but, again as luck would have it, a momentary break occurred as I arrived at Keelung railway station. With fractionally  over an hour before sail time I grabbed a taxi and after a little discussion made my destination known to the non English speaking taxi driver…
One can clamber inside the statue and climb the stairs to the top for an excellent view through her eyes or pause on the way up at several viewpoints through small holes in her side.
Needless to say I started my ascent…
…and around half way up I couldn't believe my eyes when I met, of all people, on his way down, our exceptional port guide Martin…
Shock horror when I eventually descended, there were no taxis and to follow the road would have definitely taken longer than the time I had. With local help I discovered a more direct route back to the cruise terminal. It really was more a 'locals' commuting route, no sign posts and pretty steep. I survived to tell the tale…
Overnight we steamed in a southerly direction along the western coast of Taiwan arriving the following morning at our penultimate port of call, Kaohsiung.
Kaohsiung is a major international port and industrial city. It is the largest seaport in the country.
From Kaohsiung we took our final Europa 2 excursion, a visit to the Fo Guang Shan Monastery…
Almost an hours drive from the port, nothing could have prepared us for this magnificent and spectacular monastery  situated on a hilltop site of some 100 hectares of land  overlooking the Gaoping River Basin.
It is the biggest Buddhist monastery in Taiwan, with the name literally means "Buddha's Light Mountain".
Entrance is made via the 'Front Hall' which leads to the avenue shown above which is flanked by 8 Pagodas, each representing different Buddhist ideas or precepts. Our excursion included guided visits of two of the Pagodas. This one, The Five Harmonies Pagoda which serves to celebrate family events in different ways, including Buddhist weddings…
At the head of the avenue is the Main Hall, a domed-shaped stupa built in the Indian style…
The statue of Buddha,  more than 30 metres high,  sits atop the main hall…
…which contains a number of individual shrines and Buddhist museums, including the Avalokiteśvara Shrine…
The shrine houses the Thousand-Armed, Thousand-Eyes Avalokitesvara statue.
And the view back down the avenue to the 'Front Hall'...
To the right of the above photograph is a higher area which is the home of the Main  Shrine of Great Buddha Land...
It too has an impressive Buddha…
with further commanding views…
Apart from being a spectacular monastery the overall excursion was an exceptional experience. In the event that we had had more time in Kaohsiung I would have dearly loved to have visited the 'Old British Consulate' building which sits on the headland above the harbour entrance…
 As it was I had to satisfy myself with this view of it as we sailed just after sunset…
We sailed overnight towards Hong Kong, finally arriving at the Kai Tak Cruise Terminal late afternoon on 19th March…
We had planned a 4 day post cruise stay in Hong Kong so despite Hapag-Lloyd providing shuttle buses we opted to stay onboard for the final evening.
The following day we availed ourselves of the Hapag-Lloyd's complimentary 'Farewell Point' programme. This offers a coach transfer to a city centre hotel, in this case the Marco Polo in Kowloon, and a  dedicated room with secure luggage storage, complimentary wifi, coffee, tea and beverages throughout the day.
On past visits to Hong Kong we have preferred to book into harbour front hotels with a harbour view but on this occasion we tried something a little different – a top floor deluxe room at the Dorsett Wanchai with a panoramic view over the Happy Valley racecourse. The view from our room…
What fun to start an evening with pre-dinner champagne while watching the races…
Many years have passed since we tried the Peak Tram and, since that last time a new feature has been added. The Sky Terrace 428, standing at 428 metres above sea level, is now the highest viewing platform in Hong Kong offering a stunning 360-degree panoramic view across the Hong Kong.
We purchased two concessionary 'Peak Tram Sky Passes' which gave us a return ride on the tram and admission to the new Sky Terrace 428…
In the distance, above our heads, Europa 2 can just be made out, still berthed at Kai Tak
The weather was remaining kind to us so over the next three days we covered some considerable ground. On day 3 we decided to get out of the heart of the city and head over to the other side of the island to the districts of Stanley…
and Repulse Bay…
We did this by using the local Hong Kong bus service which is very convenient and pretty well priced.
While in Stanley I made a point of visiting the Stanley Military Cemetery…
…while on our final day I used the Hong Kong MTR and headed out to the district of Chai Wan,  at the end of the line,  followed by a 25 minute walk for my final Military Cemetery visit of the cruise at  Sai Wan…
We enjoyed our stay in Hong Kong especially immersing ourselves once more in Wanchai and its amazing restaurants…
...especially those specialising in Typhoon Shelter style Fried Crab.
And so a three week Asian cruise adventure came to an end and what an experience it was.
Summary
A past  director of the German shipping Company Hapag, Albert Ballin, is said to be the inventor of the cruise. He led the corporation from 1888 and it was under his directorship that the first recorded 'pleasure' cruise was instigated in the Mediterranean on board the steamer 'Augusta Victoria', in 1891.
In my estimation Hapag-Lloyd remain determined to stay ahead of the pack and have a product that both my wife and I have found no equal.
This was one amazing cruise and it is so difficult to nominate the most defining moments: nothing disappointed and expectations were once again exceeded.
Big ships offer tremendous variety and activity, and for families those huge floating resorts may just be the ticket. But small ships like Europa 2, carrying 700 or fewer passengers,  often provide an experience that is so much better value.
With only a few hundred passengers in port rather than a few thousand, you're not part of a ultra-mass tourism  experience, plus you get to see destinations that you can't visit on big ships.
Another plus for small ships: They are like small towns. On big ships, you may meet friendly people and never see them again for the entire cruise. On small ships, however, you're likely to develop friendships with like-minded people.
Europa 2 is certainly more inclusive than the bigger ships. That could be worth hundreds or more pounds – or dollars,  euros or pesos  a day:  depending on your personal currency.  Certainly it can be comforting to know what your costs are generally covered before sailing.
And finally that interminable question, would we cruise with Hapag-Lloyd again? It's the interminable answer, YES most definitely.
This cruise was booked through www.sixstarcruises.co.uk and their excellent Cruise Concierge Mark Saxton.
If you have enjoyed this review of Oceana's Caribbean cruise and would like to be amongst the first to hear of new reviews including a forthcoming Rhine river cruise on Viking Eir and,  something a little different, Star Clipper …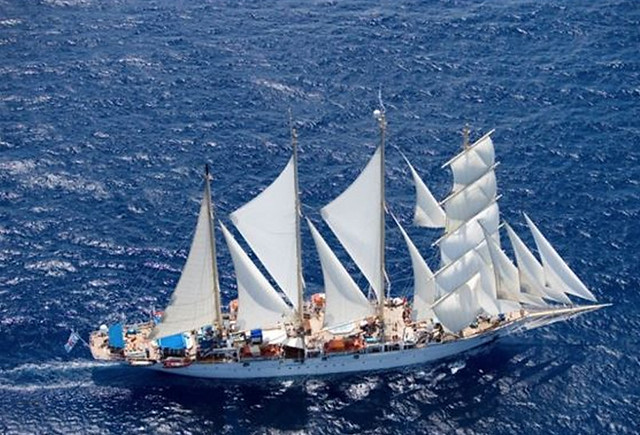 … also port reviews ( which will soon include One way to do Le Havre and Yangon in Burma), why not join the 505 other followers by clicking on the 'Follow' link on the front page.
You will be alerted by email immediately a new post appears.