My wife and I  have recently returned from a 35 night P&O Oceana round trip Southampton  to the Caribbean cruise. A review of the ship's facilities and the itinerary covered can be found here…
https://solentrichardscruiseblog.com/2017/02/17/oceana-35-night-caribbean-round-trip/
Due to the length of the cruise, and to keep the review proportionate, this second part covers our 'Life on Board' Oceana during the 23 sea days and 12 port visits.
We joined Oceana at Southampton's Mayflower Terminal on 4 January 2017. This was our first time on Oceana having sailed on all other P&O ships in the current fleet.
As qualifying members of P&O's loyalty Peninsular Club, we are at Caribbean level. This entitled us to priority boarding and, having arrived at the terminal just before noon, we were checked in immediately and ushered onboard.
Having dutifully posed for our 'welcome' photograph…
…we were directed to the Ligurian Restaurant for a welcome reception. Small eats and complimentary drinks flowed until well after 2.00 pm. Indeed, we were so engrossed in conversation we completely missed the announcement that cabins were ready for occupation.
Full details of our cabin accommodation can be found in Part 1 of this Oceana review.
Having settled in  our next task was to purchase a wine package and make reservations for the speciality restaurants. Desks for these and Spa packages had been set up on the Atrium lower floor…
Having studied the wine package we chose the Commodore's Collection 12 bottle package to start our cruise…
…and made our reservations in the two speciality restaurants, Cafe Jardin and Beach House, in order that we would sample both menus on offer at each venue.
Prior to dinner on our  first evening we enjoyed  pre-dinner drinks in Tiffany's…
…where live entertainment was provided each evening by a variety of musicians and singers. Except when in the Caribbean it became our chosen pre dinner venue.
Dining on board Oceana
We had selected  Freedom Dining in the Ligurian Restaurant…
Being the first night onboard this was not exactly running smoothly and we were asked to wait around 20 minutes and issued with one of the restaurants pagers…
…and were eventually called forward after around 15 minutes, halfway through a third gin back at Tiffany's.
We were pleasantly surprised at both the selection and quality of food on offer in the Ligurian Restaurant. A sample menu and some dishes we received during our time onboard…
…and the Parma Ham Starter…
Something different…
…and the Roast Lamb Cushion…
…and an unusual dessert interpretation entitled Baked Apple with Almond Crumble and Candy Floss…
A number of dishes did appear as 'standard' on each evening's menu, salmon, chicken and a sirloin steak…
(note that we had requested additional vegetables which duly appeared without fuss)
A cheeseboard was also available every evening with a minimum selection of 4 cheeses (plus a separate Stilton). P&O are to be commended for not pre plating thin slices of cheese as many cruise lines practice.
Continuing with dining arrangements on board, the venue that impressed us the most was…
It occupies a great position overlooking the Atrium…
and is open for breakfast, lunch and dinner. While a cover charge of £7.50 applies to the dinner menu there is no charge  for breakfast & lunch. Here's a sample menu for breakfast & lunch…
It is essentially a 'lighter' menu; the service was excellent and the ambiance calm. One example from the 'lunch' menu, a chicken, bacon and tomato panini…
Two alternating menu's were available for dinner…
and Marco's Italian Cheese and Deli sharing board…
followed by his 'Classic Meatballs'…
For our second visit for dinner at Cafe Jardin we were joined by friends we had met onboard. Again, the staff effortlessly organised a table for four when we had originally booked for two…
Great company and top marks for those delightful pizzas the boys chose.
The Beach House is the other 'speciality' restaurant…
At night, and in warmer climates,  the Horizon Grill is transformed into a select dining option, again offering alternate menus every three nights…
Here's my wife picking over the 'Speciality Kebab'...
…while I'm content with the 'Rib Combo'...
Indeed, we enjoyed the Beach House so much we paid three visits. There is a cover charge of £7.50 and, as can be seen from the menu, certain items carry a supplement. All in all the Beach House is a great venue, especially when in hotter climes. The service we received was very good, from both management…
…and staff…
and table position…
When the weather does not allow  'al fresco' dining the Beach House changes venue to the starboard side of the Plaza buffet restaurant…
Neither my wife nor I are great fans of buffets. Indeed, the only regular occasion that we used The Plaza…
…was on shore days when time was of the essence…
As buffets go it was okay but on occasions it could get pretty hectic, particularly when coaches returned from excursions.
P&O reward their Caribbean tier Peninsular loyalty scheme members with a lunch and a separate cocktail party.
In the past these lunches have always been great affairs and Oceana's was no different…
…a good sense of occasion dining with like minded passengers and a ship's officer…
…and the wine flows quite freely…
The food was pretty good as well…
Similarly the Peninsular Cocktail Party, held in Starlights, was another  occasion to mix with both officers and passengers over copious quantities of  their chosen tipple…
*****
I guess I should at this stage confess to another purchase onboard, the 'Photo Gallery Digital Package'…
It turned out to be a good deal and I know for a fact well over one hundred other passengers took advantage of the deal. Having looked at my order screen prior to checkout on the penultimate day of the cruise it would appear to be an exceedingly  good deal when compared to the face value of purchasing 177 individual photographs…
And still while on a bit of digression I made a note of some of the facts that were announced during the Peninsular Cocktail Party that go someway to answering those who would play down the support P&O receives from its loyal customers:-
The most travelled passenger onboard this cruise has clocked up 1,743 nights with P&O Cruises – a total of 4 years and 77 days.
The number of nights clocked up by all qualifying passengers at this Cocktail Party  was 288,089 nights equivalent to 789 years.
The number of nights of all  repeat passengers onboard was 332,414 nights, equivalent to 910 years.
Daily activities, entertainment and all amenity opening times are printed on Oceana's equivalent of a daily newspaper, The Horizon…
On our first sea day I also took the opportunity to sign up for the P&O wifi package…
Having bought 'The Browse Package', and used it extensively,  I can happily report that it was an excellent service. The wifi connections on the ship are very good and I tested them to the extreme – outside on deck and inside in the rather metallic confines of the deck 10 laundrette.
The package was simple to use, connection was easy,  and while multiple devices could be used on  the package only one device (iPhone, iPad or laptop)  could be connected at any given time. Here's an example of the log-off screen…
NOTE: all the timings on the screen were set to GMT. I'd hate for readers to think I was surfing at some of those hours.
Having internet available 24/7  proved invaluable especially when booking shore excursions ahead with local operators (Ponta Delgada) and purchasing Wembley tickets to watch Saints play Manchester United in the EFL Cup.
When we  sailed from Southampton we had one day at sea prior to our first stop at La Coruna. We then had 6 sea days ahead of us, and here came the first clash of daytime activities…
Meanwhile I had already signed up for the complimentary 'Camera Club' seminars being given by the Photographic Team which were proving very popular…
*****
…but it was a clash of Guest Speaker that caused a problem:  I wanted to listen to both Anne Widdecombe ….
…who needs no introduction, and  a chap called Tony White, the former head of the drugs branch of the National Criminal Intelligence Service, talking about, you guessed it…
Anne won the first round and fortunately I managed to catch up with Tony's first talk via the ship's television. Thereafter they didn't clash and I attended all their respective talks,  so all was well.
Other regular lectures,  well attended and always worth a visit,  were the port lectures…
Incidentally, P&O did offer a number shore excursions designed for those needing mobility assistance…
*****
Of particular note were  two most interesting presentations by the outstanding Manageress of the Whitewall Galleries, Natasha…
…who gave a most informative talk on the works and qualities of the British artist, Jack Vettriano.
Of course the Horizon covered a myriad of daily activities…
…from shuffleboard and other deck games to dance classes,  and from quizzes to bridge classes.
One activity that caught my wife's attention was the chorus. This was very popular and regularly filled the floor of Starlights…
The shops onboard always seemed busy and most sea days saw some form or other of a sale. The one permanent display item that really caught my eye though was duty free alcohol.
(those prices proved cheaper than at Bangkok and Doha airports last November)
There were two Costa Coffee outlets on board, both bordering on the Atrium, and both with ample comfortable seating. Coffee card packages were available and the venues were  popular and always busy. We didn't participate solely because we had an excellent complimentary coffee machine in our cabin…
Finally on daily activities was one feature that really appealed to the imagination, a 'Build a ship on a ship'. There were many entries…
…which had to be sea worthy…
…and capable of surviving rough weather – simulated of course…
It all proved good fun and kept many passengers, and crew, amused.
Often performing on deck during the warmer weather were favourites Front of House…
…seen above playing at the Tropical Night Deck Party and,  combining with visiting musician/ lecturer Chris Walker, The Oceana Trio giving a Jazz performance at the New Orleans sail away party…
Evening Entertainment
If I really had to nominate the best feature of this cruise, apart from the itinerary, it would be the evening entertainment. Both my wife and I fully appreciate that not all entertainment is going to be everyone's 'cup of tea' and on those odd occasions that the programme didn't appeal it wasn't too difficult to entertain ourselves or just listen in to one of the resident groups around the ship, like the versatile and chatty Protocol…
Central to the evenings entertainment was the 'Headliners' and on every evening that they were programmed they gave 3 performances…
The Headliners gave a total of 7 different shows culminating in probably the most spectacular, Killer Queen…
*****
Visiting acts that impressed included that old favourite and soul legend Jimmy James...
…the outstanding John Denver tribute act, Wayne Denton…
The glamorous Belle Noir…
Whoops, wrong photograph…
Here is my wife's particular favourite, five Liverpool lads in a versatile Ukulele band, Ukebox...
…and mine,  the violin duo Elektra…
The Itinerary
The itinerary was covered pretty comprehensively in Part 1 of this review, however there are a few points worth mentioning.
Of the 12 ports of call we paid for 5 of the ship's shore excursions – La Coruna, St Lucia, St Kitts, Cozumel and Port Canaveral –  and one privately arranged (Ponta Delgada). Each and every one was good value for money and, in the main, the ship's ones could not have been brokered privately.
Many ship's excursions were in fact either 'sold out' or wait listed' before the ship sailed…
…while it was interesting to confirm P&O's statement regarding cheaper prices when booking through the Cruise personaliser as being correct.
Due to the length of our stay in New Orleans we had to give up our prime position berth but,  fair play to P&O, they provided a very good shuttle service from the new berth. They should also be commended for the one day earlier arrival in New Orleans to facilitate the clearance of US Immigration.
That again worked a treat for most people. Yes, there were eventually queues but those that had thought about it first did benefit from a reasonably quick clearance.
Summary
At the risk of repeating my summary in Part 1 of this review, this turned out to be a most enjoyable cruise. The itinerary goes without saying but we were pleasantly surprised with both the entertainment programme and the dining.
P&O often come in for, in our opinion,  some unfair criticism. A true test of a cruise is when balance between sea days (23) and ports of call (12) is stretched in the former's favour. The selection  of daytime activities may not always suit everyone but certainly the variety on board for this particular cruise was excellent: something for everyone. Equally the same with entertainment in the evenings and the variety and quality of dining. This was the second occasion we have chosen 'freedom' dining and once again it proved worthwhile: particularly on a cruise of this length. We certainly met and socialised with considerably more different passengers than had we stuck with 'club' dining.
Prior to sailing we had no knowledge of anyone we knew personally sailing with us. As it turned out we did, after a number of weeks, meet such a friend and enjoyed a few meetings after that while striking up a number of other friendships.
Overall this was a most enjoyable cruise with an equally exciting itinerary: in fact it exceeded expectations and proved  excellent value for money.
If you have enjoyed this review of Oceana's Caribbean cruise and would like to be amongst the first to hear of new reviews including forthcoming cruise reviews of Viking Eir,  an out of the ordinary  return cruise aboard Europa 2 and,  something a little different, Star Clipper …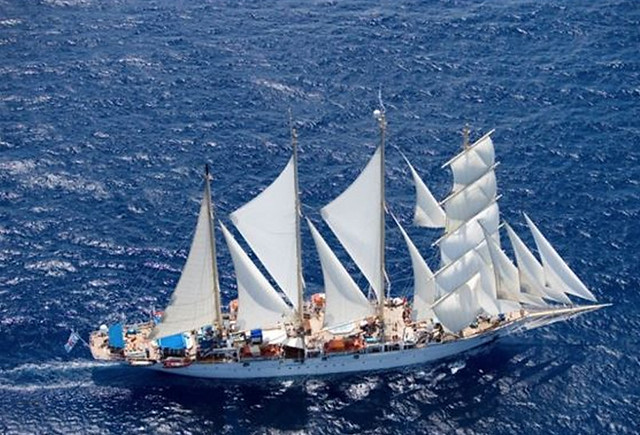 … also port reviews ( which will soon include One way to do Le Havre and Yangon in Burma), why not join the 528 other followers by clicking on the 'Follow' link on the front page.
You will be alerted by email immediately a new post appears.