My wife and I  have recently returned from a 35 night P&O Oceana round trip Southampton  to the Caribbean cruise, which included a number of ports of call on  America's Eastern Seaboard…
This was our first cruise on board Oceana, the only current P&O  cruise ship that we hadn't experienced, and we were drawn to her by the itinerary…
Due to the length of this cruise I have decided to write two reviews: one detailing Oceana as we found it, along with the itinerary,  while a second review will cover 'life onboard' over the 5 weeks –  a more personal review featuring activities, personalities, entertainment and other miscellaneous adventures that we experienced.
The 'Life on Board review can be found by clicking this link.
https://solentrichardscruiseblog.com/2017/02/24/life-on-board-oceanas-35-night-cruise/
We arrived at the Mayflower Terminal minutes before mid-day, offloaded our luggage and proceeded to check-in. As members of the P&O Loyalty Club at Caribbean level we were given priority boarding and in less than 15 minutes from arrival at the terminal we were enjoying a glass of champagne at the Caribbean members reception in the Ligurian Restaurant.
At around 2.00 pm an announcement was made that cabins were available.
For this cruise we had booked a mini-suite on Deck 10, Cabin B409…
*****
The Cabin benefitted from a double entry en-suite bathroom that came with a whirlpool bath and separate walk in shower…
Interestingly this whirlpool bath was actually larger than the one we had in our Queens Grill suite on Queen Mary 2.
There was a small 'walk-in' wardrobe…
…while the mini suite also benefitted from a double length balcony…
Additional  benefits included 2 pairs of binoculars, an atlas, bathrobes, iron and ironing board, champagne,  mineral water and chocolates…
…and probably one of the best coffee machines we have experienced at sea…
Around the Ship
On first embarking one cannot fail to  be impressed with Oceana's stunning Atrium, looking Aft…
and looking forward…
…and the small but popular dance floor…
The Atrium forms a vibrant showpiece for the ship's restaurants, lounges, entertainment venues and shops  which flow seamlessly out from a natural central hub.
At Deck 5 level can be found the main reception desk, future sales and loyalty club...
…while on the opposite side is the shore excursion desk neatly dovetailed into the Explorers Bar...
Entrance to the 'freedom dining' Ligurian Restaurant is also achieved from the Atrium Deck 5 level…
Moving up to the Atrium  Deck 6 level  is the entrance to the 'Club Dining' Adriatic Restaurant...
*****
There was an interesting notice displayed outside the Adriatic Restaurant…
An enquiry later revealed that the Adriatic Restaurant has only  7 tables for two while the Ligurian actually has thirty.
On both sides of the Atrium deck 6 level can also be found a number of retail outlets…
The Atrium Deck  7 level is the home of Tiffany's, a spacious lounge area which encompasses nearly the whole atrium…
Tiffany's also boasts  the second of the Costa Coffee outlets on Oceana so is popular throughout the day and was a very popular venue for pre and post dinner drinks…
The fourth level of the Atrium, Deck 8, is fully occupied by Cafe Jardin…
This is a light, airy, and informal eatery which is open for breakfast, lunch and dinner. In  the evening a contemporary Italian-inspired menu by  Marco Pierre White is offered with a cover charge. More about Cafe Jardin later in the dining section of this review.
Remaining on Deck 8, and just aft of Cafe Jardin, is  Oceana's dedicated sports bar,Winners,  and the adjacent ship's Casino…
With multiple TV screens Winners was a popular spot: particularly when live Premiership matches were being screened…
Along with Tiffany's, the largest of the entertainment venues were set along Deck 7. These included the  two main entertainment venues on board Oceana. Forward was the 530 seat  Footlights Theatre…
*****
and aft,  the Starlights Lounge…
Occupying the entire stern end of the Promenade Deck from the aft lifts, is Starlights. It is a  large multi purpose lounge offering ocean views through floor-to-ceiling windows, a full service sit-up bar and an offset ingenious stage. It is great venue for cabaret acts and the more popular guest speakers. The stage can be lowered on completion of the evening cabaret shows, to provide a spacious dance floor. 
Similarly, the floor is used during the day for ballroom
dance classes and choir rehearsals…
Near the Footlights Theatre was another large venue, Oceana's onboard pub, the well furnished Yacht and Compass…
*****

*****
Further aft, between Tiffany's and the Starlights Lounge were other venues including the ship's night club and disco, Le Club…
…The Whitewall Galleries…
..always worth a visit when the gorgeous gallery team were in attendance…
(More about the art lectures in Part 2 of this review)
Adjacent to the Whitewall Galleries can be found Magnums, the champagne bar…
Between Magnums and the Starlights Lounge is the  popular Photo Gallery and shop...
…the Library and Internet Centre...
…and the Card Room...
Oceana's buffet restaurant, The Plaza…
…offers an interesting alternative approach. It is positioned forward overlooking the ship's bow on 14 Deck  with floor-to-ceiling windows…
The final piece in the dining jigsaw is The Horizon Grill and Beach House…
Overlooking the Riviera pool the Horizon Grill is by day an 'Al Fresco' burger bar while in the evening…
…it is transformed into  the Beach House...
…a select dining option with a menu that  includes steaks and seafood.
Decks, Pools and Pool Bars
Altogether there are four pools on Oceana and three of those are served directly by pool bars.
As its name suggests, The Riviera Bar…
…serves the area adjacent to the Riviera and Crystal pools…
…while two decks higher the Pennant Bar…
…offers a more commanding view and service to the forward Sky Deck…
Aft on Deck 12 and set above the Oasis Pool…
…can be found what proved to be our favourite bar for a pre dinner drink on those balmy Caribbean evenings, The Terrace Bar…
Oceana is blessed with ample deck space, particularly away from the central Riviera Pool…
Again, we had our favourite here on Deck 11 Aft…
Oceana also benefits from a full wrap around wooden Promenade Deck…
…available for quiet sun worship moments or the more traditional deck games…
Finally on deck spaces there was this wonderful observation deck forward of The Plaza and above the Bridge…
No review of a P&O ship would be complete without a mention of the laundrette…
On Oceana there was a facility on each deck and, while often busy, a little forethought on timing would find them pretty well free of customers.
And one final feature that we did appreciate – the seats in the Footlights Theatre were each blessed with stowable drinks trays…
That just about covers the ship as we found it,  however  life onboard isn't always about the physical features. As stated earlier, a second review will cover life onboard, entertainment, dining and the people we met. But first, the…
Itinerary
The original itinerary had included a visit to George Town, Grand Cayman but this was sacrificed in order to give the ship an additional night in New Orleans.
Our first port of call was La Coruna where we took the first of our  ship's excursions – 'Santiago de Compostela on your own' where,  after visiting the Romanesque Cathedral…
…and other historical buildings like  Raxoi Palace...
 …we had enough time to walk to Fenadura Hill to admire the view over the city…
There then followed six sea days as we headed towards the Caribbean and our first warm port of call, St. Lucia. We have visited this island on numerous occasions so decided for this visit to once again take a ship's excursion: a catamaran cruise to The Pitons…
This turned out to be an excellent 4 hour trip with the added bonus of a swim in a sheltered bay and a call into Marigot Bay on the return journey…
The following day we arrived at the island of St Kitts and again we had booked a ship's excursion entitled 'The Best of St. Kitts'. This took in, among other places,  the rainforest gardens of Romney Manor and 'Bloody Point',  but the highlight was always going to be the visit to the UNESCO World Heritage Site of Brimstone Hill Fortress National Park…
The following day we berthed at Tortola…
Another island where we had made numerous previous visits and where we decided to spend the day on our favoured beach at  Brewer's Bay…
…for a bit of snorkelling…
and a few rum punches.
The $24.00 return taxi ride was good value. The driver even stopped to offer the opportunity of a photo call above Roadtown…
…with the added bonus of a view of the cruise ships.
There was a welcome and relaxing sea day between Tortola and our next stop, Montego Bay…
… which for Oceana was a tender port…
An enjoyable 30 minute walk from the Montego Bay cruise terminal covered local beaches, the most famous local hostelry…
…and the historic centre of town around Sam Sharpe Square…
Yet another sea day followed as we steamed westwards to Mexico and our next port of call, Cozumel…
I had pre booked a P&O shore excursion to Chitzen Itza, the one major Mayan ruin that we hadn't covered on a cruise the previous year. This was a long excursion lasting in excess of 8 hours and entailed a ferry ride from Cozumel to the Mexican mainland town of Playa del Carmen followed by a coach drive to Chitzen Itza.
It was well worth the P&O fare of £57.60 to see the magnificence of the Castillo Temple…
…and stand in front of 'The Temple of the Warriors'…
Our visit to Cozumel was a good example of the benefits of booking ship's excursions. Two of the three coaches that went to Chitin Itza were late arriving back at Playa del  Carmen with the result that we arrived back at the ship over an hour late and 40 minutes after she was due to sail.
We now had a further sea day as we steamed North East towards New Orleans, probably the highlight of the ports on this particular itinerary and where we were due to stay for three days.
Our first day was spent exploring Bourbon Street…
…and meeting other interesting groups of visitors…
…plus my pilgrimage to the Tomb of the New Orleans Voodoo Queen at St. Louis Cemetery #1, Marie Laveau…
While not  forgetting  the traditional wrought iron balconies on Royal Street…
…and a recce for the evenings jazz concert at the Preservation Hall...
Highlights of day 2 were a visit to New Orleans' famous World War II Museum…
*****
…and an evening's Jazz Cruise on the Creole Queen…
Highlights of day 3 began at the famous Cafe du Monde for their chicory coffee & beignets, famous since 1862. ….
…and one shot I couldn't resist…
Suitably refreshed we headed for Armstrong Park…
…to pose with some of the famous personalities immortalised there…
*****
All too soon our visit to New Orleans came to an end and we headed next for Florida and Key West…
The weather was kinder to us on this visit so we headed for the southernmost point to capture something a little out of the ordinary before heading back into town to our favourite haunt, Sloppy Joe's…
Our next port of call was the first call along the American Eastern Seaboard, Port Everglades or Fort Lauderdale if you prefer. We gave the ship's shuttle bus a miss preferring to walk the length of Fort lauderdale beach…
…before indulging in a spot of culture with a visit to 'Bonnet House' at the northern end of the beach…
Port visits were coming thick and fast and the following day saw us docking at Port Canaveral. We had booked a ship's excursion to the Kennedy Space Centre and had an excellent full day visit…
Lady luck was really with us as there was a unique opportunity to see one of the two 'crawler transporters' actually on the move…
*****
There are some awesome exhibition buildings at the KSC including one dedicated to the Apollo saturn project…
The following day saw our final American port of call – Charleston in South Carolina. We arrived mid morning after a spectacular sail into Charleston Harbour past Fort Sumter...
…where the first shots of the American Civil War were fired and then past Patriots Point...
…home of the historic aircraft carrier,  USS Yorktown, and eventually berthing almost in the centre of Charleston's historical district…
History buffs will enjoy Charleston, not just for its architecture, but for its cobblestone streets, horse-drawn carriages and pastel antebellum houses, elegant French Quarter and the Battery district where we came across this memorial…
 …and this museum at one of the old slave marts…
Having bid farewell to Charleston we settled into 6 full sea days as we steamed back across the Atlantic before reaching Ponta Delgada…
…another port with easy access from the cruise berth to the town. Here we had booked a private 4 hour shore excursion to Sete Cidades and the Crater Lakes…
We really appreciated Luis, our guide, whose flexibility in avoiding the worst of the mist over the volcano lakes…
…was especially appreciated  when we reached another view point for stunning views over the island's northern coast…
This proved an excellent tour and good value for money (€90.00 for the two of us)
I would be more than happy to recommend this particular tour company whose office is a mere 10 minute walk from the cruise terminal…
After a quick lunch I continued by myself to explore Ponta Delgada's Forte de São Brás…
…which is now a museum of  Portuguese military history…
Following our departure from Ponta Delgada we had three further full sea days before our return to Southampton.
Summary
At the risk of repeating my initial statement, this was our first time on Oceana. We had been attracted to this particular cruise more by the itinerary than a desire to sail on Oceana: though my wife and I always enjoy discovering and exploring a new ship
P&O often come in for, in our opinion,  some unfair criticism. A true test of a cruise is when balance between sea days (23) and ports of call (12) is stretched in the former's favour. The selection  of daytime activities may not always suit everyone but certainly the variety on board for this particular cruise was excellent: something for everyone. Equally the same with entertainment in the evenings and the variety and quality of dining.
Overall this was a most enjoyable cruise with an equally exciting itinerary: in fact it exceeded expectations and proved  excellent value for money.
If you have enjoyed this review of Oceana's Caribbean cruise and would like to be amongst the first to hear of new reviews including forthcoming cruise reviews of Viking Eir,  an out of the ordinary  return cruise aboard Europa 2 and,  something a little different, Star Clipper …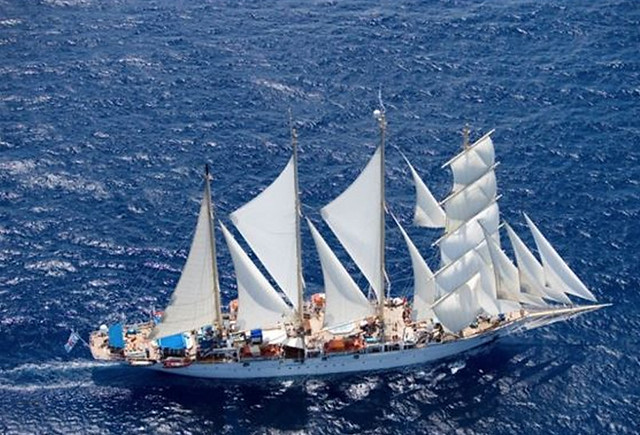 … also port reviews ( which will soon include One way to do Le Havre and Yangon in Burma), why not join the 505 other followers by clicking on the 'Follow' link on the front page.
You will be alerted by email immediately a new post appears.