My wife and I have recently returned from a trans-Atlantic crossing to New York onboard the Cunard flagship, Queen Mary 2. This was the first occasion we have had the opportunity to assess the ship's 'remastered' appearance which occurred during a refit in June 2016 and we were keen to see how the improvements had faired after 4 months in operation.
This 'voyage' was the first leg of Queen Mary 2's Christmas and New Year Festive Caribbean round trip cruise:  departing Southampton on 15 December and arriving in New York on 22 December.
On this occasion we had chosen to travel in the Queens Grill and booked a package through 'Cruise Nation' which included a Q5  Stateroom (9040), a 5 day stay in New York's Hilton Fashion Distict Hotel and flight home.
We had arrived at Southampton's Ocean Terminal at 11.35, were swiftly checked in,  and were onboard  by midday. We got our first taste of the new decor as we entered the Grand Lobby…
…enhanced on this occasion by the usual Cunard classic and elegant Christmas decorations: albeit that the central character figures had not changed since the last occasion we did the Christmas cruise in 2011…
As always with Cunard, passengers' staterooms are available on embarkation. We have occupied many Q5 staterooms in the past  and  were well impressed with the new layout and decor of this one…
*****
Both the new carpet design and the backdrop to the bed were seen as enhancements.
The Q5 comes with a large ensuite bathroom with whirlpool bath…
…and a walk in wardrobe and a ladies vanity area…
One remastering feature that really appealed to me was the innovative writing/ computer desk…
We quickly set about adding a few personal festive touches to our accommodation for the next 7 nights…
*****
*****
It is normal Cunard practice that lunch for Grill's passengers on embarkation day will be served in the respective 'Grills' restaurants.
We had, however, received  prior notification  that, due to some ongoing maintenance,  lunch for Queens Grill guests would be available in the Veranda Restaurant. A second 'tick in the box' for Cunard following the prompt embarkation: wine with lunch was complimentary.
For the remainder of the afternoon we set about discovering just what 'remastering' had achieved on one of our favourite ships.
It was easy to spot the new carpeting throughout the ship, just two examples…
*****
…while major refurbishment for the public areas had transformed the Kings Court Buffet Restaurant…
*****
*****
…and completely redesigned the area previously known as 'The  Wintergarden' into the Carinthia Lounge...
*****
This serene onboard venue serves lighter dishes for breakfast and lunch…
…alongside speciality coffees, teas and fresh juices. In the evening passengers can enjoy Iberian wines…
…complemented by regional dishes and relaxed entertainment…
Sir Samuel's 'coffee shop' also had a makeover and now has the additional decadence of Godiva...
*****
What had been the Todd English Restaurant had now morphed into The Veranda...
In addition to the new decor afforded to the ship's accommodation a number of new staterooms were added. These included 30 Britannia Club  and 5 inside staterooms on Deck 13,  6 single occupancy staterooms on Deck 3L and 9 single occupancy staterooms on Deck 2.
The additional row of 15 starboard Britannia Club balconies can be seen here…
In order to make room for the single occupancy staterooms on 3L deck it was necessary to reposition the Photo Gallery  which previously occupied that area. The new Photo Gallery has been 'slotted' onto 2 Deck  opposite the Golden Lion Pub…
It now embraces modern reviewing technology, though there remains limited facilities for the display of printed photographs. Once again the old cruise forum hot chestnut regarding the price of onboard photographs is laid to waste: the photo gallery was certainly very busy doing a roaring trade every time I passed by during opening times…
And finally on the remastering, before I move on to life on board, a look at the Queens Grill,  which was to be our dining venue for the week and which had been given a complete new look…
…and our table of choice in the aft section of the Grill…
Dining in the Queens Grill is of course the best you will find at sea. There is a daily changing  table d'hôte menu, here is a sample…
*****
and an a la carte menu with permanent selections…
Some dishes from firstly the a la carte, the Rack of Lamb prepared table side…
…and offered one evening on the  table d'hôte, a T-Bone Steak…
Special requests for items not on the menus are also entertained. For one lunch we enjoyed, again prepared table side by the Maître d' , a Steak Tartare…
Other Restaurants and Dining
A quick tour of the other dining venues not already mentioned.  The Britannia Restaurant…
The Britannia Club Restaurant…
…and the Princess Grill…
Life on board a 7 day trans Atlantic voyage on Queen Mary 2 often generates considerable discussion on how to fill one's time. 
That's never an issue for either me or my wife, and more often than not we can't find enough time in the day to engage with all the activities we would wish to.  So out of interest I will reproduce one day's programme…
*****
… to illustrate what is available.
The highlighted events are those we consider almost sacred and generally feature daily lectures and talks from the Cunard Insights Programme.
My particular favourites on this crossing were by Barry Cave…
Barry gave a series of fascinating talks on his time with Special Branch, in Northern Ireland and as a 'Protection Officer' in England…
These talks were mainly given in 'Illuminations'…
…which also serves as the only 'Planetarium' at sea and the ship's cinema.
Another lecturer that I found interesting was Cunard historian Brian Hawley...
One on board guest lecturer who actually needed a larger venue, and was my wife's favourite on this crossing, was the broadcaster and presenter Nicki Chapman…
who covered her life as a music promoter and a presenter, and took part in a Q & A.  Such was her popularity that her talks were scheduled for the larger Royal Court Theatre…
…also the venue for the evenings' production shows…
…and visiting entertainers like musical soloist Kenny Martin – that's him in the middle – who on one evening borrowed two clarinetists from the Royal Court Theatre's Orchestra to perform one amazing New Orleans tribute piece…
Live music features in many venues throughout the day. The ship's Caribbean Band plays most lunchtimes on the pool deck – weather permitting – or alternatively in the enclosed Pavilion Pool …
Known as Vibz, they also occupy a near permanent slot in QM2's late night Club, G32…
…seen here from their bandstand  and in a little better light….
Queen Mary 2's onboard traditional English pub, The Golden Lion...
*****
…hosts many types of quizzes, Karaoke and lunchtime 'Pub Melodies' by its resident pianist in addition to showing live sport including Premiership football action…
Ballroom dance and fencing classes are a regular feature in the Queens Room…
*****
…while there are regular iStudy classes, with a dedicated classroom, for computer users and photographers wishing to master the methods of Photoshop…
*****
Evenings onboard are  of course the time to dress up and enjoy the ambiance and sense of occasion on a true ocean liner. Pre dinner cocktails are available from numerous bars around the ship, usually to the accompaniment of classical harpists, string quartets or a selection of pianists. The more traditional and by definition the most popular venues for pre-dinner drinks are The Commodore Club…
…and The Chart Room…
Every passenger will receive at least one invitation to a Captain's Cocktail Party…
and the chance to chat to the Ship's Officers prior to the Captain introducing his senior crew members…
Those passengers who have travelled regularly with Cunard have the additional World Club party where it is traditional for the Captain to present  the couple with the longest Cunard sailing record with a token of Cunard's appreciation…
Among the facts that emerged at this particular World Club soiree was that of the 2,540 passengers onboard, 1,108 were sailing for the first time  while the regular Cunarders in attendance had amassed a total of  103,224 days onboard over 8,260 sailings: A quick mathematical calculation makes that equate to  the equivalent of 282 years.
Neither did the above figures include the 19 dogs and single cat travelling onboard in the newly extended kennels…
****
After seven days at sea our arrival in New York was once again spectacular. Despite the early hour, we passed the illuminated Statue of  Liberty…
heading towards an equally  well  lit Manhattan…
A good breakfast later and when daylight had broken, the view of Manhattan from Queen Mary 2's berth…
We had a swift disembarkation and took a fixed price  'Black Cab' from the Brooklyn Terminal…
…to our Manhattan Hotel, the Hilton New York Fashion District.  Our allocated disembarkation time was 08.15 and we were checked in by 09.05.
Our 5 days in New York were hectic to say the least. We had pre-booked entrances to The 9/11 Museum…
A very moving experience…
…and The One World Tower…
The view from the 101st floor is awesome…
Out of interest, I have also written a separate guide on the visit to the memorial and One World Tower. here is the link…
https://solentrichardscruiseblog.com/2017/10/06/one-way-to-do-new-york-memorial-edition/
We also managed to ride the Roosevelt Island Tramway...
…and complete our usual pilgrimage into Central Park to visit Balto…
Our time in New York will be more fully covered in a future edition of my 'One Way to do …' series.
Christmas Day we took the AMTRAK train from New York to Trenton…
…where we were regally entertained to an Anglo-American Christmas Day  by my cousin and his lovely hospitable American wife.
Our only disappointment in New York was on our final day. I had set my heart on experiencing a 'Pastrami Stack Sandwich' at New York's famous Katz's Deli…
We were eventually beaten by the length of the queue. The Deli was already full to bursting and the estimate for a seat was over an hour. Never mind, another time.
This cruise, flight and hotel package was booked with Cruise Nation at a pretty unbeatable price. 
If you have enjoyed this review of a trans Atlantic crossing on Queen Mary 2 and would like to be amongst the first to hear of new reviews including forthcoming cruise reviews of Viking Eir, P&O's Oceana and  a return cruise aboard Europa 2 and,  something a little different, Star Clipper …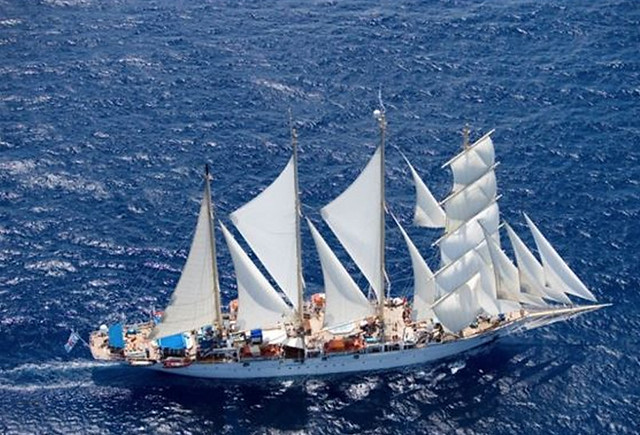 … also port reviews ( which will soon include One way to do Le Havre and Yangon in Burma), why not join the many other followers by clicking on the 'Follow' link on the front page.
You will be alerted by email immediately a new post appears.