Hard to believe that it is still less than 12 months ago when my wife and I visited the port of Pointe a Pitre on the Caribbean Island of Guadeloupe. Indeed, if the truth were known, it was the chance to visit Guadeloupe that was the deciding factor in taking that particular cruise…
https://solentrichardscruiseblog.com/2020/03/25/msc-preziosa-yacht-club-experience/
It all stemmed from the fact that my wife is a great fan of the British TV series, Death in Paradise…
…while I was prompted to  write this particular review when we spotted that a new series is due to be shown this coming Thursday,  7 January 2021.
The series is filmed on Guadeloupe, in and around the village of Deshaies –  which doubles for the town of Honoré on the fictional island of Saint Marie – which is some 41 Km from the port of Pointe a Pitre…
There were initially a number of obstacles to be overcome for us to get to Deshaies.  While there is normally a local  bus service,  they don't run on Sundays – the day we were visiting. Research directed us initially to a local tour guide, Mirva Lempiainen, whose web site is…
Unfortunately, due to other commitments, Mirva couldn't accommodate us on our dates but very kindly put us in touch with another tour guide operator,  Krisztina Kovacs, who can be found via Facebook..
https://www.facebook.com/karibialmok/     or email…     kovakriszta@gmail.com
On arrival at Deshaies…
…we took the opportunity of a photo shoot along the waterfront which featured prominently in the series…
*****
*****
*****
*****
*****

*****
We then headed for the centre piece and focal point of the series, The Honoré Police Station for the fictional island of Saint Marie. Honoré police station is next to Deshaies church in the centre of town…
*****
That, by the way, is Krisztina with my wife above in the car park of Honore Police Station which, as luck would have it,  was 'open to visitors'…
There was a small  charge of €10  per person…
*****
…which basically gave us the run of the place…
Come on inside the set…
*****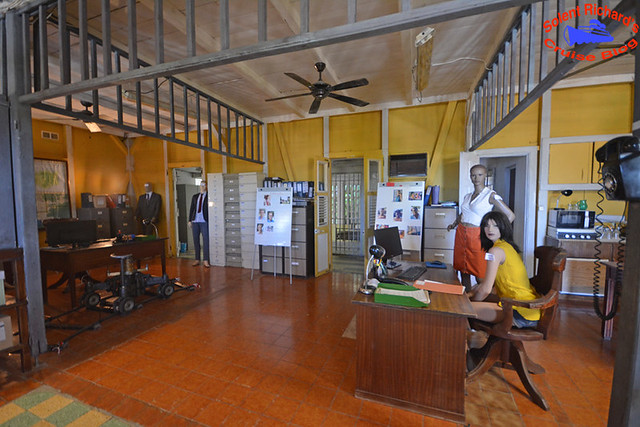 *****
*****
*****
*****
While of course neither of us could miss one particular photo opportunity…
*****
Plus a different take on a shoot….
There can be little doubt that after the police station the most popular venue in the series is Catherine's Bar and that was our next destination, but a short walk back to the waterfront…
*****
*****
…where a few drinks were in order…
*****
…along with more souvenir photos…
Krisztina was very good and took us to a number of locations where filming had taken place…
*****
*****
including to the beach near Deshaies where filming of the detective's beach shack  home takes place, three miles north of Deshaies on Plage de la Perle…
…though sadly the  actual shack gets dismantled between filming because a lot of the sand on the beach gets washed away in winter storms. But off season you can see the foundations at one end of the beach…
That basically concluded the 'Death in Paradise' element of our day which, thanks to Krisztina, proved  awesome.
But there really was more. Having collected us promptly at the cruise terminal she gave us a quick familiarisation drive through Pointe a Pitre…
*****
…before heading north across the island towards the area around Deshaies. Also included,  a short distance past Deshaies, was a visit to the island's famous Deshaies Botanical Garden…
*****
*****
…and then, on our return to Pointe a Pitre,  Krisztina even found time to navigate the town's streets in order that we saw much of the amazing carnival procession before returning onboard…
*****
That concludes this review of our visit to the set of 'Death in Paradise' which was an all-round  great success. I see that for 2021/2022 a number of different cruise lines popular with us Brits have programmed in visits to Guadeloupe and trust that this review will be of assistance to those wishing to follow in our footsteps.
As mentioned,  it is also possible to do this visit by local bus which would be cheaper. However, that would preclude a number of those  additional stops we made, as well as taking considerably longer for the basic journey to Deshaies.
If you have enjoyed this 'Death in Paradise' review  and would like to be amongst the first to hear of new reviews: including two new experiences for my wife and I, an  Emerald river cruise along the Danube to Bucharest  and  a cruise onboard P&O's latest offering, Iona, as well as  Solent Richard's next port guide review of Port Elizabeth and Charlottetown, Prince Edward Island   in his 'One way to do…' series, why not join over 600 followers by clicking on the 'Follow' link on the front page.
You will be alerted by email immediately a new post appears.
©2019 – 20 * Solent Richard's Cruise Blog * All Rights Reserved
Duplication in part or whole without prior written consent is prohibited by international laws.
Disclosure to potential conflict of interest:
It is common throughout the travel industry for travel journalists and many cruise bloggers to be provided with complimentary cruises for the purpose of their reviews.
Solent Richard has no 'conflict of interest' as he is not an accredited journalist, he pays for his cruises, and is happy to confirm that all his reviews are his own given without fear or favour.