" The best cruise ship that you've never heard of".
Around mid July this year I received an email notification from a well respected American cruise blogger that I follow. The text was along the lines …." the best cruise ship that you've never heard of".
That cruise ship was Hapag-Lloyd's Europa 2  and at least one industry guidebook has awarded Europa 2  its highest-ranking ever for a small ship:  5 stars plus from the Berlitz Complete Guide To Cruising & Cruise Ships, highest space ratio of all cruise ships, industry's youngest luxury ship, most dining venues for a ship of its size.
Now that has to be a challenge and, yearning to try a few different cruises before the year was out, I booked…
…and we were to discover even more attributes as  you'll hear about in this review of  our voyage last week.
The reservation was made through The Cruise Line …
… cruise specialists in the UK who focus on the Luxury cruise lines. Though not my regular cruise agent I was more than impressed by their service and aftercare.
Hapag-Lloyd does not offer it's UK passengers an air package with its cruises though the Cruise line staff were only to pleased to offer this service. We took into consideration the fact that the cruise started in Istanbul and terminated in Athens and, on this occasion, we utilised our BA Avios points and obtained 'Club Europe' flights for the one off administration fee of £50.00.
Having opted for our own flight arrangements we also decided to arrive in Istanbul 24 hours ahead of sail date and spend the day continuing  to explore that vibrant city.
Europa 2 is Hapag-Lloyds newest ship with a defined form of stylish cruising with elegance, clarity and space central to the companies ethos. It has a maximum of 516 passengers and a crew of 370: a rather awesome ratio.
Of the 500 passengers on this particular cruise some 160 were classed International – a euphemism for English speaking really and of that number 50 were from the UK. All staff were fluent in both German and English and announcements were always made in those two languages.
So what is it that makes Hapag Lloyd and Europa 2 so special? Well, let's go find out.
Our first inkling of the standards set by this cruise line was when we received our joining documentation direct via recorded delivery. It really was one of the most comprehensive sets of information we have yet received including, the biggest surprise of all, our ship passes…
and an additional folder containing cruise information and destination booklets…
Interestingly the boarding time on our joining instructions was given as 16.00 hrs though attached to this was the opportunity to use a "Welcome Lounge',  between 10.00 and 16.00, at the Intercontinental Hotel in Istanbul where luggage would be securely stored and transported to the ship and coach transportation for passengers would depart at 15.30.
We had pre-booked an hotel on the Bosphorus some few minutes from the cruise terminal so did not make use of the 'Welcome Lounge' facility though we did use the similar arrangements when disembarking at Piraeus: more about that later.
The reason for this precise timing became very clear at the time of embarkation. Our pre issued 'ship passes' gave us entry through the terminal security and Turkish Emigration and we were  soon onboard being greeted with the full panoply of a very special 'welcome on board' routine. The captain was on hand to greet us supported by  what appeared to be every member of staff lined along the passage to the Atrium. One member of staff was allocated to each couple, and the Champagne and canapés continued to flow while we mingled and chatted before being escorted to our suite by our host member of staff.
It's worth noting at this stage that although we were 'checked in' at the Reception Desk the only memorable event was the issuing of a 'blue' mini sticker to our ship's pass to identify our future Zodiac event group. At no time were we asked on check-in for a credit card or any other details of how we were likely to pay for any on board incidentals.
We had booked an Ocean Suite on 6 Deck (649) …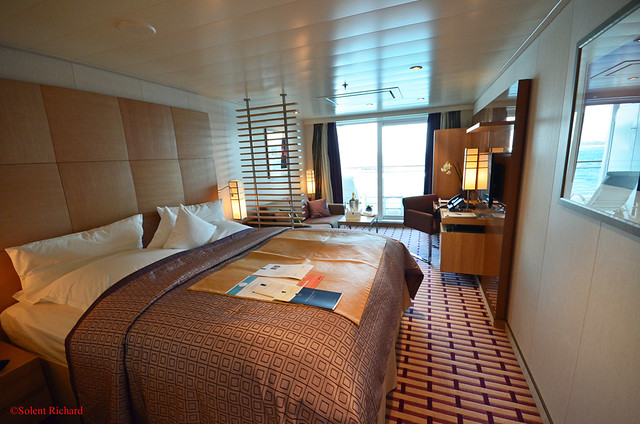 *****
*****
…which boasted a 'Natural Light Bathroom'…
*****
…with whirlpool tub and separate walk in 'rain shower'…
The Ocean Suite had a completely separate toilet room.
Ocean Suites have a generous sized balcony…
Other features of the suite included a Coffee machine…
…yes, with 5 varieties of intensity of coffee…
…a complimentary mini bar stocked with beers and soft drinks…
…an Ipad…
and probably the most innovative of additional items, your own suite mobile telephone…
(Never miss a call no matter where you are on board)
Enough of the suite then, particularly for those who claim it's only for sleeping in. What about the rest of the ship?
The Decks.
Central of course is the spacious Pool Deck with its teak flooring and 15 metre pool, seen here with the glass roof in the closed position…
…and here, from the opposite end, with the roof open…
Space and comfort abound on the decks, from the forward Sun Deck, with its multiple choice of luxurious sun beds…
…to the aft Sun Deck with its daybeds …
while along the length of the upper decks the choice is amazing, there are sun beds for everyone…
Relaxation. 
For those passengers who enjoy on board spas the Ocean Spa is a destination unto itself.  With numerous steam rooms, relaxation areas, a beauty salon, a gym, workout rooms and a lovely outdoor lounge area off the aft. Take a peep…
The Ice Fountain…
The Kneipp Pool…
…and the Spa Terrace I mentioned earlier, secluded relaxation…
Dining on board Europa 2.
There are no fewer than eight restaurants available to guests for evening meals. Europa 2 is surprisingly different and there is  no stuffy formality for evening attire, no formal dress code,  and no set meal times or seating plan. Having said that we did note that the quality of passenger's casual wear was exceedingly high and in excess of 80% of gentlemen wore jackets in the evening.
There are no charges for the speciality restaurants though dinner bookings are advisable. The speciality restaurants are also open for a daily limited lunch service: offering the opportunity to revisit a favourite dining venue.
The main dining room is The Restaurant Weltmeere. Very spacious, it it is designed to maintain a balance between openness and cosiness…
Dining in the Restaurant Weltmeere with our lovely German friends Andy and Kathrin…
One example of the Weltmeere cuisine, Tournedos with Foie Gras…
Restaurant Tarragon specialises in French themed cuisine and was for me the most authentic of the speciality restaurants and my favourite…
*****
…and a sample of  the speciality appetiser, Beef Tartar with Quails Egg…
Mediterranean flavours and Italian specialities can be found in Restaurant Serenissima…
This was my wife's favourite and one we visited on two occasions…
…with a serving of 'Dalla Griglia Lamb Loin'…
The diversity of Asian cuisine can be found in the aptly named Restaurant Elements…
…an amazing fusion of tastes, colours and flavours, topped in my opinion, by the 'Singapore Style Tuna'…

The Yacht Club, at the rear of Europa 2,  proved a multi purpose restaurant come buffet with both inside and outside seating, the latter enjoying panoramic views of the horizon when at sea or the hustle and bustle of harbour activity while in port…
Solent Richard and his wife are no great fans of buffet restaurants, but the Yacht Club definitely breaks the mould in the same manner as the Terrace cafe did when we cruised on Oceania's Nautica  did.
If one is going to sample a buffet at sea then this is the way to do it. On Europa 2 there was perfect waiter service. At breakfast all beverages and fruit juices were served at the table and orders for cooked breakfast were also taken. Similarly for lunch. Nothing was too much trouble for the staff. One example being that I do like a grapefruit on alternate mornings. I failed to spot one on the fresh fruits counter so casually asked the chef  behind the counter if they were available. Within minutes that chef brought to my table the perfect breakfast appetiser…
Amazing service! Enough said.
The evening sees a slight transformation. Internally there is the opportunity for a relaxed atmosphere dining experience while outside the 'Al Fresco' ambiance is paramount. Of course there are counters from which passengers can pick from a range of buffet style items while there are two additional chef stations: one for 'Grill' items and the other for 'Pasta' dishes. I don't recall gazing on an ocean going  seafood buffet quite as well stocked as this one…
Fresh oysters, mussels, lobster and snow crab to name but a few offerings and should one wish to follow up with some cheese, well how's about this for a small selection…
I make that 13 choices if you include the large Parmesan at the rear.
Two other dining options are the Sushi Sakura Restaurant…
*****
…and the Grande Reserve Wine Bar…
Entertainment and Bars.
Europa 2 has a multitude of entertainment venues. It's not easy to nominate or choose a favourite because we enjoyed socialising in all of them bar one – Herrenzimmer – which was the smoking bar.
As with other cruise ships The Theatre is the largest entertainment venue on board. With it's stylish and comfortable upper and lower auditorium levels and rather quirky entrance…
*****
…we were more than impressed with the evening entertainment performances that we attended. It seemed that, even in entertainment, Hapag-Lloyd went out of their way to 'break the mould' and offer something different. Whether this took the form of an amazing Cirque du Soleil by a troup called 'Cube', or the Dutch Acapella group, Rock4, giving their interpretation of Queen's "A night at the Opera', this was all special. Indeed, the cirque du soleil  performance was as good as, if not better, than any we have seen on considerably larger cruise lines with larger theatres.
As an aside it was requested during the 'Cube' show that those passengers sat in the front row remain seated during the performance – it proved  a fair warning.
Another favourite of ours was The Jazz Club…
Superb nightly musical entertainment and an opportunity to dance at this popular venue.
The real centre of later night life though is  Sansibar…
…where music and dancing mixes with the sounds of the sea…
A direct take on the legendary Sansibar on the German holiday island of Sylt, this venue enjoys as much cult status as does its original version.
For that quiet more cultured pre dinner drink there is The Piano Bar…
…or for those who would prefer a panoramic view over the ship's bows, The Belvedere Lounge…
…where incidentally afternoon teas are also served by white gloved waiting staff while listening to a Classical Pianist…
There were numerous occasions where additional 'social events' took place during this cruise. There was a very pleasant 'International guest' get together for cocktails and canapés but the mid cruise 'Pool Party' was the icing on the cake…
My wife and I were also very fortunate to be invited to a private wine tasting event. This was held in Europa 2's Cookery classroom and was presented by the award winning Austrian Winemaker Willi Opitz…
Willi is to be congratulated. No mean tasting that when you count the line up of empties (14) on the central table while not to forget the platters of tasty morsels, each specifically chosen to accompany a particular wine…
The Itinerary:
We sailed late the first evening on board enjoying the myriad of lights and vistas of midnight Istanbul. The next full day was a lazy Sunday sea day spent leisurely cruising along the Dardanelles…
…which afforded an excellent ith a full view of the Canakkale Turkish Martyrs Memorial… 
Our first true port of call was that of  Mytilene, on the island of Lesbos…
…and there central on the above arrival photograph, one of the landmarks that we had on our list, the Statue of Liberty…
Mytiline is a tender port and this was the first occasion we had to experience the total efficiency of our ship's tenders. No queuing, no ticketing, just turn up and they'd go…
This port of Mytiline was a first for us and we had done our homework well: we knew what we wanted to see.
Three and a half kilometres north along the eastern coast from Mytilene, is the  the village of Mori­a. A short distance from the village, and visible in the gorge to the southeast of the village, is  the magnificent 2nd Century aqueduct   of Mori­a….
The aqueduct brought water over a distance of more than 24km into the city of Mytilene, by a circuitous route from springs below the area of Megali Limni in the foothills of Mount Olympos. The aqueduct is a truly impressive structure and well worth the taxi ride…
*****
On our return to Mytiline we arranged for our taxi driver to drop us at a point that gave an outstanding view of Mytiline Castle…
…where we spent the following hour or so discovering the delights of this impressive fortress including, within its walls,  the ancient Ottoman Hamam…
*****
…and the Panagia Galatousa, or the 'Chapel in the Cave'…
*****
*****
The following day, Tuesday,  saw us visiting Volos on the Greek mainland.
From here we took our first ship's excursion, a whole day scenic journey to the Meteora monastery complex and stunning location of the James Bond film, 'For Your Eyes Only'…
…and a little closer, the Holy Trinity Monastery…
This excursion was really outstanding. It included visits to two monasteries and an excellent Greek lunch.
( The arrow indicates the route we took the The Holy Monastery of Varlaam) 
The following day, Wednesday, saw us visiting the only port on this cruise that we had previously visited, Kusadasi. Imagine our surprise and joy when approaching  Kusadasi to see, already berthed, another of our favourite ships, Queen Victoria. The challenge was on to climb to the Attaturk Memorial
…along a rather steep path…
…to the memorial…
…and capture this view…
Europa 2 remained in port for an extended period and we sailed from Kusadasi at Midnight.
Thursday saw us arriving early at the port of Skala on the Greek island of Patmos. Here we had booked our second ship's excursion which took us on visits to 'The cave of the Apocalypse'….
….and with a little bit of zoom…
******
*****
******
Our visit to the cave complete we then moved on to the Monastery of Saint John the Theologian....at the hilltop township of Chora…
*****
….where we were given a full tour of this most impressive monastery and the surrounding narrow streets…
******
This particular excursion included a hike back down from the Monastery along the old Biblical 'Path of Culture' from where some great photo opportunities arose: looking down at the port of Skala…
…taking in the view and back up to the Monastery of Saint John…
Our final visit before arrival at the disembarkation port of Piraeus was to Hydra in the Saronic Islands…
Once again yours truly scaled the heights in order to capture that view with a difference…
Hydra is an amazing port, a romantic town that rises up like an amphitheatre and is untouched by many of today's touristy paraphernalia. There are no buses and very few motor vehicles. Indeed, hotel guest luggage is generally transported by donkey. An excellent place to visit and fortunately well off the beaten cruise visit track.
This review would not be complete without a summary but, before that I must mention one other piece of Europa fun that we had.
Readers will possibly remember that I mentioned a coloured 'zodiac' sticker being attached to our ship identity cards. Well on the day we visited Patmos we were informed that before sailing there would be a little surprise for us. Patmos was a tender port so we were anchored some short distance off the island.
In the event we were all to be treated to a 'special'  zodiac ride. Called forward in groups of eight we in turn boarded one of Europa 2's zodiacs…
…(she actually carries 12) and initially headed off…
…for a speedy zodiac tour of Skala harbour…
before continuing around the coastline to a secluded bay where there was waiting for us…
…other zodiacs manned by the crew offering copious quantities of bubbles, with timely replenishment…
…and for those who didn't spot it in the background…
…musical accompaniment.
Our Zodiac ride was completed with another speedy sail past Europa 2 giving everyone the opportunity of some great shots of the ship…
The Summary.
After just one week there was no doubt in my mind that Europa 2 and Hapag-Lloyd fully deserve their Berlitz award.
My wife and I never cruise with the intention of looking for faults and that is a good job because we would have searched in vain on this ship. From the moment we were greeted at the gangway on day one and noticed the 'tailored' uniforms of all staff, to the moment we arrived at the farewell lounge in Athen's Royal Olympic Hotel, everything was directed towards quality, organisation and excellent administration.
The ship, while having such a high rating, is not all- inclusive. Having said that we found prices on board more than reasonable and unencumbered by added service charges. Staff Gratuities are included in the fare.
Throughout the ship the availability of complimentary non alcoholic drinks is amazing. Every venue from poolside to Yacht Club buffet displays continuously replenished fruit bowls…
…some  with additional items suitable for those days ashore.
The excursions we took were excellent value for money, organised into coaches for both English and German speakers and with local guides of the highest calibre.
While the ship is to all intents and purpose currently aimed mainly at the German market this should not put off English speakers from any country. The staff go out of their way to treat every passenger equally, and all have  the ability to swap between languages at the drop of a hat. Indeed, rightly or wrongly, we found ourselves more in social harmony with the German guests than the British. But hey, we are social folk at heart and boy could some of them party.
But it is often those small details that can impress the most. Returning to one's suite to discover that day's  full edition of The Times…
…or spotting other details such as the brail insets on the handrails of all staircases…
Small details that all add up.
Every member of Europa 2's crew excelled in our eyes and as I have indicated elsewhere, nothing was too much trouble. A special mention to the International Hostess Susanne Cheung for her enthusiasm and social chat and to Hotel manager Frank Neumann who kindly invited us to join his table one evening for an amazing dinner with such convivial company: The Monkey 47 Gin was a real eye opener Frank.
For us Europa 2 proved to be a  formidable cruise ship and  our only regret being we allocated only the week to discover what was on offer.
Many smaller cruise ships bear a standard – ONE SETS IT …