Having recently booked for 2017 a second cruise on board Europa 2,  my wife and I were delighted to receive an invitation, courtesy of Emma Taylor at  Six Star Cruises and Hapag-Lloyd, to lunch onboard during her visit to Southampton last week…
There were a number of other guests and we were directed immediately on arrival to the ship's theatre for a champagne reception and briefing by a number of Hapag-Lloyd executives…
…before splitting into small groups for a ship's tour.
A full review of the week we had previously spent on Europa 2 can be found at this link…
https://solentrichardscruiseblog.com/2014/10/03/europa-2-raising-the-bar/
With a maximum passenger level of just 500, Europa 2 exudes space everywhere: it is a feature of this ship. From the moment passengers board and enter the foyer area…
…to the moment  they step out on to  the open decks…
…nothing appears crowded…
*****
The same principles apply with dining on board Europa 2 where there are 7 restaurants, none with fixed seating plans or set meal times: and what's more, the speciality restaurants can also be found open at lunchtimes for that favourite gourmet experience. Here are the restaurants…
Serenissima – offering Mediterranean flavours with a classic Italian ambiance…
Elements – Asian cuisine in an  intimate Oriental setting…
Tarragon and Grand Reserve – a Parisian art deco brasserie setting for French specialities…
…with the adjoining Grande Reserve where guests enjoy world class wines paired with complementary dishes…
The Yacht Club – Indoor and 'al fresco' casual dining. mainly buffet style with dishes freshly cooked at the Chef's stations…
Oozing quality and don't you just love to see the carver chairs?
Adjacent the Yacht Club is Sakura – where guests can sample innovative creations from Europa 2's master Sushi Chef, prepared as you watch…
…or served at tables with a panoramic view…
And finally, but certainly not a runner up, Weltmeere – the flagship main restaurant at the heart of ship's dining…
Weltmeere is where we were entertained for lunch and excellent it was too…
The Carpaccio of Beef tenderloin 'Cipriani'...
The Grilled fillet of Codfish with a Dijon mustard sauce…
and Mousse of  Valrhona chocolate with strawberries scented with Grand Marnier…
And now to two of our favourite venues onboard. Firstly Sansibar – the part open-air iconic bar and late night entertainment venue…
*****
…which has been upgraded and redesigned since our previous cruise on Europa 2.
At lunchtime and during the early evening light snacks are available at this prime positioned stern venue.
The second outstanding entertainment venue is the Jazz Club…
…where we enjoyed so many evenings both listening to the music and having the occasional dance.
No review of Europa 2 would be complete without mentioning the Ocean Spa.
Covering a total floor area of 800 square metres, Europa 2's Spa offers more space per guest than any other spa on a cruise ship…
*****
*****
All complemented by its own Ocean Spa Terrace…
Europa 2 oozes quality everywhere. From the Cookery School…
…to the choice of oils and teas in the Yacht Club…
*****
…and even to the poolside ice-cream and snack service…
When considering the quality it's not all about facilities, its also about the staff. Onboard Europa 2 there is a dedicated bi-lingual team of  370 to look after just 500 guests, a task they shoulder in an exemplary manner…
And on that note what a pleasure it was when the first member of staff to greet us onboard was the Hotel Manager from our previous cruise, Frank Neuman…
Good to see you again Frank and all the very best from Barbara and myself.
If you have enjoyed this review of a visit to Hapag-Lloyd's Europa 2 and would like to be amongst the first to hear of new reviews including  forthcoming cruise reviews of  Seabourn Sojourn, the river cruise ship Scenic Diamond and for 2017 a cruise review from Europa 2 and something a little different, Star Clipper …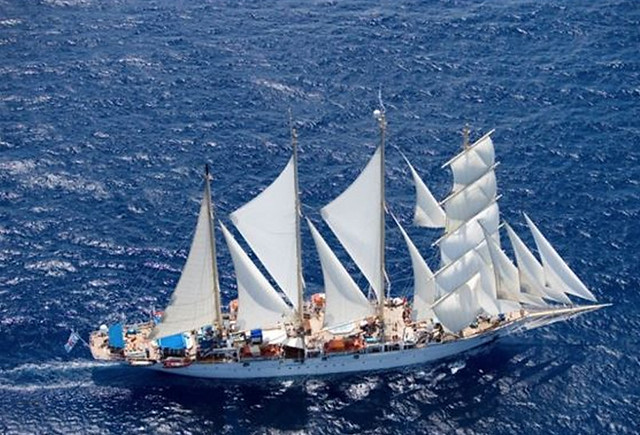 …  plus port reviews ( which will soon include One way to do  Salem from Boston and Yangon in Burma), why not join the many other followers by clicking on the 'Follow' link on the front page.
You will be alerted by email immediately a new post appears.