The name Salem has been synonymous with witches and witchcraft since 1692 when a puritanical  mania spread through what was in those days a harsh  Puritan coastal community.
Today, Salem is a colourful coastal city, located at the mouth of the Naumkeag River, some 25 miles north of Boston.
It is a very popular tourist destination for both domestic and international travellers. Indeed, tourism is now the backbone of Salem's economy.
It can be reached from Boston within a driving time of 45 minutes or a high speed catamaran ride of 50 minutes.
This review is specifically intended for those cruise passengers who have maybe previously visited Boston and would like to look a little  further afield.  My wife and I visited Salem on a good value ship's excursion from the Queen Mary 2 during her 2015 call into Boston…
Tourism is the backbone of Salem's economy and without any doubt this centres and focuses on the 1692 Witch Trials.
(Courtesy of Wikipedia)
While Salem is best known as the site of the witchcraft trials of 1692, this  coastal city has much more to offer visitors, with its rich maritime heritage, impressive historic architecture and many museums.
It was with the maritime element that our excursion started as we explored the area known as the Salem Wharves…
*****
The three wharves that now extend into Salem Harbour at Salem Maritime are the best examples of the over fifty wharves that once lined the harbour during the height of Salem's international trade. Derby Wharf, seen below, dates back to 1762…
…and viewed from the other end of the wharf…
The sail ship in the centre of the above photograph is the   Friendship of Salem, a 171-foot replica of a 1790s East Indiaman which was  built in 2000 in the Scarano Brothers Shipyard and is currently  operating  as a stationary museum…
The original Friendship made 15 voyages during her career including to India, China, South America, the Caribbean, England, Germany, the Mediterranean and Russia.
She was captured as a prize of the War of 1812 by the British in September 1812.
In the background of the third photograph above can be seen some of the historic buildings. In addition to the wharves, the Salem Maritime National Historic Site preserves a number of these buildings, each of architectural  and historical interest and each with a story to tell.
The Custom House…
Derby House…
…and Hawkes House…
Hawkes House was designed by the famous Salem architect Samuel McIntire and  building was begun in 1780. The unfinished building was purchased and completed around 1800 by Benjamin Hawkes.
One notable property that we discovered away from the wharves was Lydia Pinkham House…
Lydia Pinkham was renowned as an iconic concocter and shrewd marketer of a commercially successful herbal-alcoholic "women's tonic"
Her "medicinal compound" has been memorialized in the folk song "The Ballad of Lydia Pinkham" though a somewhat sanitized version of 'Lily the Pink' by 'The Scaffold' will be more familiar to United Kingdom readers where it reached the N0. 1 spot in 1968/69…
And so to Salem's most famous attraction…
Situated across the road from the Roger Conant  statue
Roger Conant was a salter by profession who arrived in Plymouth Colony from London in 1623.  He was associated with those opposed to the Puritan authorities in Plymouth and led the settlement to outlying areas, particularly in the Salem area, which he is credited with founding. He was the first governor of English settlers in Salem from 1626 to 1628.
The Salem Witch Museum is housed in a purposefully refurbished brownstone church and examines one of the most enduring and emotional events in American History…the Witch Trials of 1692.
Inside, stories of the trials are presented and depicted through trial documents, testimonies and memorabilia…
…and visitors experience the drama of that dark time though thirteen life-size stage dioramas, figures, lighting and a stirring narration as they are witness to the web of lies and intrigue of the Salem Witch Hunt…
The  Museum presentation doesn't shy away from utilizing supernatural scares either…
…while the  names of the accused twist in a deep red 'devil' circle on the floor…
The museum is open year-round, every day except Thanksgiving, Christmas and New Year's Day. Presentations are every half-hour and the full guided tour takes around an hour.
If time allows there are numerous opportunities to pick up a souvenir in the Salem Witch Village store …
…or visit one of Patrick Dougherty's local 'Stickwork' exhibitions…
*****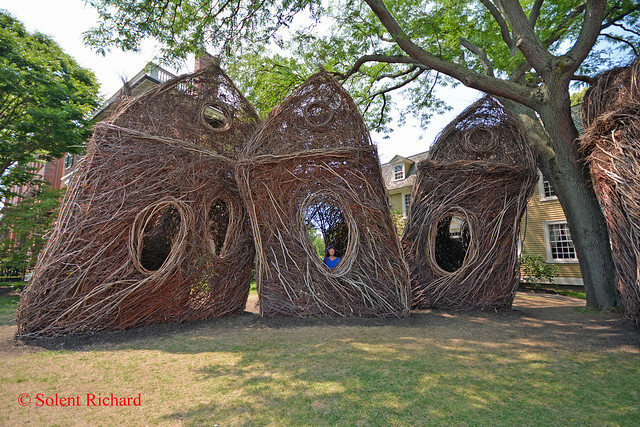 For my wife and me Salem certainly proved a viable option to a second look around Boston and good day out.. It's certainly different –   a culturally diverse area with a rich maritime heritage, an impressive display of historic architecture that spans 4 centuries.
If you have enjoyed this review of a visit to Salem and would like to be amongst the first to hear of new reviews including  forthcoming cruise reviews of  Seabourn Sojourn, P&O's Oceana, Star Clipper and the river cruise ship Scenic Diamond, and a return cruise on Hapag-Lloyds' Europa 2 plus port reviews ( which will soon include One way to do  Le Havre and Yangon in Burma), why not join over 440  followers by clicking on the 'Follow' link on the front page.
You will be alerted by email immediately a new post appears.