My wife and I have recently returned from a 10 night Scenic River cruise from Bordeaux with an itinerary that took us along the Gironde, Garonne and Dordogne rivers…
This was our first river cruise with Scenic. We were equally  attracted by their much heralded 5-Star Space Ships plus their claim that the experience would be "…what you would expect from a 5-star river cruise taken to a whole new level."
Scenic Diamond is a 135 metre long river monster with 78 suites catering for 156 passengers…
*****
We were certainly impressed with all pre-cruise administrative arrangements, online cruise personaliser and quality of pre-cruise documentation…
Our included scheduled airline flights between London Gatwick and Bordeaux were with British Airways.
On arrival at Bordeaux we were met by efficient Scenic staff and transferred to the ship by private transport. Our flight arrival at Bordeaux was at 9.45 am and we were onboard Scenic Diamond by 1035 with our accommodation available before 11.00 am.
For this cruise we had booked a Junior Balcony Suite (202) on Sapphire Deck…
At  250 square feet (23 square metres)…
…which included a private balcony with Scenic Sun Lounge…
…all balcony cabins are fitted with exclusive Scenic 'Sun Lounges', – which allow guests to enclose the entire balcony at the touch of a button-  for a unique indoor lounge with full window views…
and spacious bathroom with walk-in bath tub…
The Junior Suite is attended by both a butler and room attendant and services offered by the butler include…
The suite contained a well stocked complimentary bar, a selection of complimentary nibbles…
and a Samsung HDTV linked to Mac mini internet system offering passengers full internet facilities…
Complimentary still and sparkling water, a daily replenished fruit bowl, and a pressing service for two items of clothing per day were also a feature of the Junior Suite.
Guests in a Junior Suite are also invited to Table La Rive which will be covered under the dining section.
Around the ship.
Despite its size Scenic Diamond mirrored the usual layout pattern for river cruise ships with a central staircase and reception area…
and small shop…
…leading into the main Diamond Lounge…
The Diamond Lounge acts as the centre for most onboard activity and features the main bar dance floor…
and two separate 24-hour hot beverage stations, one for coffee and one for tea…
*****
Forward of the Diamond Lounge is the River Cafe…
…where daily snacks provide casual all-day grazing and an alternative to the main restaurant for lighter lunches…
Further forward was the 'Al Fresco' section of the River Cafe…
Access to the sundeck could be gained from this 'Al Fresco' section or from either side of the Reception area…
Indeed, the sun deck featured two distinct areas, one aft of the ship's bridge – seen above – and the other forward of the bridge…
It was at this forward section that a number of lunch BBQs were held…
…in addition to an evening concert that will feature later in the entertainment section of this review.
The mention of food takes us nicely into Scenic Diamond's dining arrangements.
The main dining facility is the spacious Crystal Dining Room…
…which is open for breakfast, lunch and dinner.
Breakfast and lunch are semi buffet affairs…
…with all beverages, save fruit juices at breakfast, served by waiting staff.  One can even enjoy a glass of Moët with one's smoked salmon at breakfast.
Dinner is a single seating affair with open seating and is entirely table service with no buffet. The Crystal Dining Room has an added feature for passengers occupying suites and is by invitation only, the Table La Rive, for a dégustation experience. More of this facility soon.
Without any doubt our dining experience on board Scenic Diamond was the highest we have experienced on board any river cruise ship. A sample menu…
*****
Two examples from the above menu,  the Main course dish, Cod a la Oseille…
…and the dessert dish, Calvados Flavoured Apple Fritters…
Scenic Diamond was of course truly  'All Inclusive' and when it came to wines they really excelled. Most river cruise lines offer wines etc with lunch and dinner but with Scenic they are available all day. And not just house wines: this was to prove one of the very best wine selections we have experienced.
Wines served at both lunch and dinner were offered in a choice of no less than 12 varieties…
Check out what was on offer from the wine list that accompanied the menu…
And so to Table La Rive…
…and a 6 course dégustation menu with an outstanding collection of paired wines not featured on the previously described selection…
*****
This was pure dining theatre with the butlers offering descriptions and presentations of both food and wine. The Chateaubriand…
The 'Les Hauts D'Ecole' Cotes du Rhone…
Two examples of dishes served at Table La Rive, the Marinated Tuna with Olive Beignet…
…and the Pumpkin Soup with Scallop…
This was an excellent meal and one not to be rushed and indeed, that is how it was taken. We were still at the  table long after the remainder of the restaurant cleared.
Neither is Table La Rive the only exceptional dining experience. On board Scenic Diamond there was an additional 'Speciality' that is available to all passengers through an onboard booking system. It is called L'Amour…
*****
…and offered a 7 Course dégustation menu…
*****
Once again the meal and service were pure dining theatre with staff introducing themselves, a description of the dishes and  wines that would be served.
Having originally booked a table for two my wife and I were delighted to accept an invitation from a group of American friends to join their table which, at 10 minutes notice was easily arranged by the professional staff…
Some examples of dishes served at L'Amour included the Tarte Flambee au Homard...
Garlic and Pea Soup with Cod Brandade…
Steak Tartare with Quail Egg…
and Praline of Roquefort on Raspberry Sauce…
Entertainment
With eight river cruises now under our belts Scenic certainly surpassed anything we have experienced when it came to entertainment.
It certainly helped  having a larger than normal dance floor, an excellent onboard musician and an enthusiastic Cruise Director. On numerous evenings we were also treated to onboard concerts given by visiting entertainers. Most notable were an outstanding New Orleans style Jazz Trio…
…and, for the scheduled night cruise around Bordeaux, the talented Jérémy Dupouy…
Neither was evening entertainment confined to the ship. On one occasion Scenic had arranged an evening of musical entertainment and dining at the resplendent  Château Giscours in the heart of the Margaux appellation…
*****
*****
The Itinerary
No river cruise is complete without an interesting itinerary and this particular cruise certainly excelled in what was on offer. Make no mistake, sailing around the Bordeaux region was inevitably going to include a plethora of Chateaux and Vineyards: and why not?
However, in both retrospect and  fairness to this excellent 10 day itinerary I have decided to somewhat precis this section and follow this ship's review with a second more in-depth review of the itinerary to follow.
Needless to say that on many days Scenic offered a number of alternative excursions to meet  passengers varied interests and activity levels while I feel it is also appropriate to mention three particular aspects of Scenic's excursion programmes to set the scene for those interested.
As with a number of other river cruise lines Scenic operate their own dedicated coaches and guides…
while for the more active there was also the alternative mode of transport, Scenic's fleet of e-bikes ( electronic assisted bikes)…
…which proved most popular…
Thirdly, Scenic have taken excursion communications technology to a new level with their 'Scenic Tailormade'…
This exclusive Tailormade GPS touring devices allows passengers to easily  customise their cruise excursion experience, whether on board or onshore.
Whether you follow the crowd or steer your own course around the various stops, you can do so with this device. Or even just sitting on one's balcony while cruising along a river, a commentary is available that will point out what is passing on either river bank.
Bordeaux
Having settled onto the ship prior to lunch on our first day I utilised that afternoon of free time to make some head way into my list of personal choices to see in Bordeaux. Amongst these was to scale  the  free standing bell towers  of the Basilica of Saint Michel and the Saint-André Cathedral: I achieved both aims. The view from the former across Bordeaux and Pont Pierre made it most worthwhile…
Saint–Émilion
The morning of Day 2 we cruised along the river Garonne and into the Dordogne before stopping at Bourg in order to catch our excursion coach to Saint–Émilion…
We spent the afternoon in Saint–Émilion where the highlight was a guided visit to the subterranean, and UNESCO World Heritage listed, 12th century Monolithic Church.
Meanwhile Scenic Diamond had sailed further up the Dordogne to Libourne where we  spent a gorgeous evening and witnessed a spectacular sunset on the opposite bank…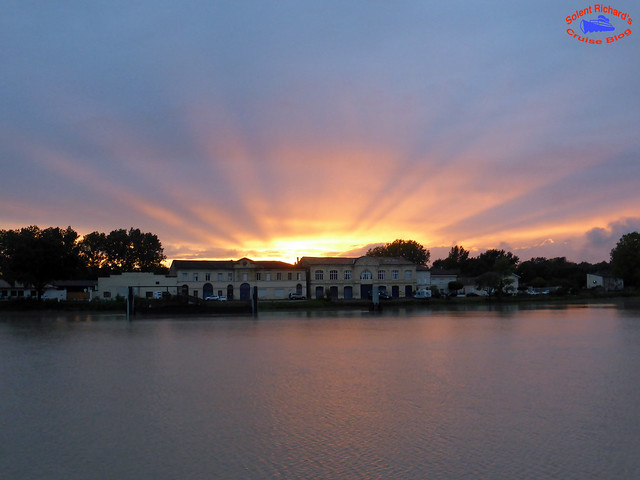 Day 3 saw us start the day in the town of Libourne from where a choice of excursions departed. We had chosen to take the visit to a unique duck farm, 'La Ferme de Biorne', which included a tasting of Foie Gras. This was followed by a guided tour of the picturesque old town of Bergerac…
Mid afternoon we once again sailed, heading towards the Medoc region and the town of Pauillac on the Gironde River…
Day 4 saw some serious Chateau visits and wine tastings. Scenic once again organised this just right with different coaches heading to different Chateau in order to avoid a log jam. Our coach was allocated to Chateau Lagrange in the Saint-Julien appellation…
Please excuse my photoshop add on, made purely to illustrate the Chateau's features on the wine label. The visit included all aspects of wine making at this Chateau including a visit to the cellars…
and a three wine degustation.
During the excursion we also visited, among others,  the rather grand Chateau Pichon-Longueville...
It was also from Pauillac that we went to the Chateau Giscours evening reviewed under entertainment above.
The morning of Day 5 saw us sail back to Bordeaux where, after lunch, a variety of guided excursions were  available. We chose the 'active' group in order to maximise the experience.
Bordeaux's iconic Grosse Cloche...
On completion we were given the option of 'free time' which we put to good use in a very aptly named local hostelry…
Who said the French don't have a sense of humour? 
Day 6 was another excursion day from Bordeaux though this time part of Scenic's 'Free Choice' selections. We chose to take the coach excursion to the coastal area of Arcachon where we stopped at the famous huitre (oyster) farms at Gujan-Mestras…
Included in this excursion was an Arcachon Bay fresh oyster tasting…
at Gujan -Mestras followed by a short drive to a seafood restaurant for a full lunch. Both venues included complimentary wines.
Following dinner this evening Scenic Diamond did a night cruise around Bordeaux. Pretty spectacular, here we are passing the famous Bordeaux Bourse…
Day 7 and Scenic Diamond departed Bordeaux at 7.00 am for the town of Blaye, famous for its 17th Century Citadel which was also our chosen guided excursion…
*****
Early evening we sailed  back along the Gironde and into the Dordogne before berthing at Bourg ready for the following day's excursions.
Day 8 and our chosen excursion was a full day to Cognac. On arrival we had a guided tour of the town before reboarding our coach and heading to the Remy Martin Estate…
…for a fascinating private tour followed by a tasting of a number of this legendary Cognac vintages.
Lunch followed at a particularly well appointed riverside restaurant before we returned to the town of Cognac and a choice of either free time or a further guided tour. My particular interest lay in Otard, also known as Château des Valois or Château de Cognac…
Though not particularly imposing when viewed from across the River Charente this particular Cognac  house was founded in 1795 by Jean-Baptiste Antoine Otard and the company has remained in the hands of the same family since its establishment. To the right of the Chateau is the well preserved historical Cognac landmark, Port Saint-Jacques.
In the evening we sailed back to Bordeaux.
Day 9 was critical for this was the day in our programme when both tides and water levels would permit  Scenic Diamond to timely navigate under the Pont Pierre and head further up the Garonne to Cadillac.
A pilot  embarked and there was an early start for the keen photographers…
Some 2½ hours later and we arrived at Cadillac. Once again there were a number of activities available including a guided bike tour and visits to Chateaux renowned for their Sauternes wines. For those wishing to DIY locally complimentary admission tickets were available for Château de Cadillac: our chosen option…
Visitors interested in historical detail will be amazed at this particular Chateau and its history that is on display.
Built during the reign of King Henry IV of France and then King Louis XIII, this French-style château combines splendour and military pomp.  Much of its sumptuous decoration has been preserved, including monumental fireplaces, tapestries and painted ceilings…
From the 19th century to the 1950s, the château was used as a women's prison and the harsh conditions that prevailed are well displayed in one section of the Chateau.
All aboard was at 14.30 ready for our delightful sail back along the upper reaches of the Garonne witnessing typical French river scenery…
******
*****
During this transit I was delighted to have been invited onto the bridge…
…in addition to  witnessing the Garonne Tidal bore…
…eventually making our timely tidal rendezvous, and lowering of masts, for the return transit under Pont Pierre…
Day 10 and our final full day again saw a choice of some four differing excursions. My wife and I chose the one that offered a visit to Roquetaillade Castle. A 45 minute coach ride from Bordeaux and billed as  unquestionably the most famous medieval castle in the southwest of France, it is effectively a castle within a castle…
It is the only fortress in France approved by the English king Edward I. The castle has been inhabited by the same family for 700 years.
Our guided tour was impressive, particularly as Scenic had managed that the guide on our visit was indeed an English lady believed to be  one of the current owners.
We returned  on board for lunch and the afternoon was dedicated free time. With this in mind I left my good lady to commence packing while I indulged the military historian in me and set off in search of two WWII Bordeaux icons.
The first was a memorial plaque, not too distant from our berth, which immortalised Operation Frankton – better known as the Cockleshell Heroes, it immortalises those Royal Marine Commandos who raided German shipping in the port of Bordeaux utilising six canoes…
My second interest was a little further distance: a 45 minute walk to one of Bordeaux's water basins which, during WWII, was the home base of the German 12th U-boat flotilla…
The protective U-boat pens,  to protect the submarines from the bombings, were built with slave labour between September 1941 and January 1943 when the U-178 first entered the bunker for refit.
A dedicated full review of the whole itinerary, including many more photographs, can be found in my Port Reviews section…
https://solentrichardscruiseblog.com/2016/10/25/scenic-diamond-the-full-monty-itinerary/
Mention has been made earlier of the excellent internet and cabin computer facilities available to guests. On the final day a supplementary service was offered to assist guests with their following day flight check-ins.
The Reception desk issues a note with their email address on and guests wishing to receive a boarding pass having checked in online need only add this email address to their boarding pass request on completion of check-in. Within a very short period of completion the butler delivers the Reception printed boarding pass –  pretty slick service that.
In addition to this service a comprehensive briefing on departures was given by the Cruise Director; this was supplemented by a set of comprehensive printed instructions.
On Departure Day morning breakfast was available from 06.00 and luggage was required outside of cabins just 40 minutes prior to scheduled departure. Transfers were arranged and a Scenic representative accompanied the transfer coach to Bordeaux airport.
Our scheduled British Airways flight departed on time and arrived back at London Gatwick ten minutes ahead of the scheduled time.
SUMMARY
Scenic 'Space-Ships' have always been a benchmark for luxury river cruising and our expectations were met and on occasions exceeded.
All tipping and gratuities were included. We were never asked to register a credit card with reception and it was obvious that guests needn't spend a penny more if they don't want to.
The crew and level of service were on the whole exceptional. We did however have occasion to notice a few waiters who really did go the extra mile and it was a pleasure to make an extra reward as a gesture of our appreciation: otherwise this was our first cruise ever where we left the ship with a zero account.
There were a number of BESTS worth a mention.
The internet was the BEST we have ever experienced on any cruise.
The quality of dining  was the BEST we have experienced on any river cruise.
The quality and selection of complimentary wines and  alcoholic beverages was the BEST we have experienced on any river cruise
The entertainment was the BEST we have ever experienced on any river cruise.
The breakdown of passengers by nationality was 88 Australians,  33 British, 17 Canadians and 15 Americans plus 4 others.
If there was to be one complaint it would concern the standard of dress of some passengers. The Scenic brochure clearly states that evening/ dinner wear is smart casual with specific mention to the wearing of  trousers. Sadly a small number of Australian guests regularly flaunted this requirement unchallenged which regularly  lowered the tone and ambiance of what otherwise would be totally perfect evenings.
This cruise was booked through http://www.rivervoyages.com and the excellent service of Cruise Concierge Ben Trinder.
If you have enjoyed this review of Scenic Diamond and would like to be amongst the first to hear of new reviews including  forthcoming cruise reviews of  Seabourn Sojourn, Queen Mary 2 and P&O's Oceana: plus a return cruise aboard Europa 2 and something a little different, Star Clipper …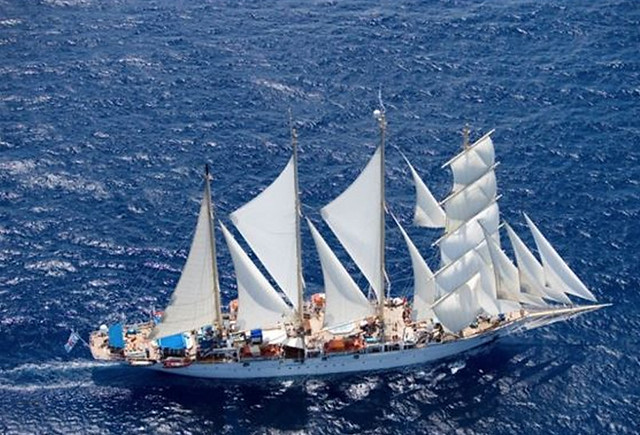 …  also  port reviews ( which will soon include One way to do Le Havre and Yangon in Burma), why not join the many other followers by clicking on the 'Follow' link on the front page.
You will be alerted by email immediately a new post appears.