My wife and I have recently returned from a one week cruise onboard Seabourn Sojourn. The cruise was entitled…. 'Yachtsman's Mediterranean: it could easily have been entitled 'beyond the beaten track', such were the  unusual ports of call on this short itinerary…
We had booked directly with Seabourn UK and had opted for a  'cruise only' fare: preferring to use our British Airways Avios points to fly to and from Monte Carlo ( Nice) where we were to embark and disembark  Seabourn Sojourn.
We travelled the day prior and stayed at the Hotel Columbus which is ideally situated in the old port area of Fontvieille: a lively area with numerous restaurant…
Pre cruise administration, information and documentation were of a high quality and standard…
Seabourn's cruise personaliser was easy to navigate and we booked a number of excursions in advance of joining the ship…
We arrived at the Monte Carlo Cruise Terminal minutes before mid-day and  handed our luggage to the porters. We were quickly processed  and were soon heading for the gangway…
We had been pre-warned that accommodation would not be ready until approximately 2.00 pm and we were directed to 'The Colonnade' where lunch was being served.
For this cruise we had booked a 'guaranteed' Category V2 Veranda suite  and were allocated Suite 529 three weeks before joining…
At 365 Sq ft it offers reasonable size accommodation…
In-suite dining is available 24 hours a day. During restaurant dinner hours items can be ordered from the restaurant menu. Though we did not use this facility it was noticed that there was a decent sized table for that service already in place in the suite…
The Veranda Suite benefitted from a  deep Balcony with comfortable furniture…
The ensuite bathroom…
…with his & hers sinks, came with separate bath tub and glass fronted and  spacious shower cubicle…
En-suite toiletries were a mixture of L'Occitane and 'Molton & Brown'…
…with the addition of a choice of fine bath soaps by Hermés and Bijan…
There was a complimentary in-suite bar stocked daily with one's  personal favourites both alcoholic and non-alcoholic.
In addition there was a good sized walk in wardrobe…
Seabourn are to be complimented on their provision of storage space around the suite. It was phenomenal and cleverly concealed…
*****
*****
Suite amenities also include complimentary champagne upon arrival, 24-hour room service, personalized stationery, fruit basket replenished daily, fluffy terry-cloth robes, Eqyptian Cotton linens, a fluffy duvet, World Atlas, clock/barometer/thermometer and an umbrella.
Sojourn is the second of her class to join the Seabourn line. She was built in 2010  and can accommodate 450 guests with a crew of around 350.
The Tour.
Seabourn Sojourn is unusual in that it does not have a central Atrium hub area. Let's take a tour first and see just what it does have, starting at Seabourn Square…
Welcome to Seabourn Square…
*****
 Situated   aft on 7 Deck it's a  spacious, multi purpose venue  combining a coffee bar…
*****
…internet stations….
…an open plan library…
…and a discreet guest services area, shore excursion and future cruise sales…
…and a further comfortable seating area with reclining chairs, electronic printed newspaper a number of tablets that allow guests to catch up on internet news from their global area.
*****
*****
The ship's shops are conveniently located just to the side of the Square.
As previously mentioned, there is no atrium as such but there is a circular staircase, roughly midships, that expands between Deck 4 …
…and Deck 9, the Sky Light…
There are two sets of elevators, forward between Decks 4 and 11 and aft between decks 4 and 9.
Passageways are generally wide and contain some classy contemporary decorative features…
*****
*****
Time to see what's on out on deck and our first stop is the main pool deck…
Features include twin whirlpools and the main swimming pool, well spaced sunbeds and some excellent double daybeds/loungers.
The pool deck is also home to the Patio Bar…
and, in the opposite corner, the Patio Grill…
Deck 9 wraps neatly above and around the Pool Deck – again with well spaced sunbeds, and additional seating in the vicinity of the Sky Bar...
Moving forward and higher is the sheltered multiple games area, The Retreat…
…with shuffleboard courts and a nine-hole putting green, while even further forward on Deck 11 is the Sun Terrace...
Leaving nothing to chance this deck boasts its own well stocked cold drinks fridge…
Even further forward, accessed from Deck 5, is the almost private Bow Whirlpool...
There are an additional number of terraced decks aft where there are areas for sun worship and, one assumes, a somewhat quieter experience. These include the 5 Deck aft Pool Terrace, again with twin whirlpools…
while aft of Seabourn Square there is more comfortable seating…
The Spa at Seabourn is located aft on Deck 9 and enjoys its own sun terraces on two decks…
Seabourn Sojourn boasts the  largest spa facility on any luxury cruise ship, with six treatment rooms, a thermal area featuring a large hydro-pool, dry float, sauna and steam rooms, a full-service salon, well-equipped gym and a motion studio featuring a Kinesis Wall and Thai massage area…
*****
Other facilities around the ship included the  availability of a number of complimentary laundrettes…
…and an incredibly  sized Card Room…
Dining on board Seabourn Sojourn
Dining is of course an important aspect of any cruise ship and there's no better venue to start this section of the review than the main dining room, rather unspectacularly called, The Restaurant…
The high ceilinged central area is complemented on either side with side wings…
The Restaurant has the unique feature of being capable of accommodating all guests at once, serving  breakfast, lunch and dinner on an open-seating basis.
We dined in The Restaurant on 6 occasions, three of which were on invitations to hosted tables. The following are examples of The Restaurant menus…
*****
*****
In addition to the daily changing 'table d'hôte' selection there was a standard 'Seabourn Classic' a la carte menu available…
…and on selected nights there were additional offerings  from Seabourn's partner, American  Michelin Chef, Thomas Keller…
On a number of occasions when a seafood dish that I fancied appeared, I requested it be served as a fish course between my appetiser and main course selection. I also invariably chose a cheese before dessert. Here is a selection of the five courses…
Appetiser: Smoked Salmon and Poached Egg 
Fish Course: Pan Fried Sea Scallops
Main Course: Thomas Keller's Interpretation 'Homard Au Vin'
Cheese Course: Saint Nectaire
Dessert: Tentation au Chocolat
While we enjoyed the company at all our hosted meals, one occasion was particularly special – in place of the usual table for 8 we were joined by two of the glamorous and talented entertainment team, singers Ashley Ricci and Ellie Sandars…
Thank you ladies for a wonderfully fun evening.
Seabourn Sojourn has one 'speciality Restaurant' capable of serving up to 40 covers. It goes by the name Restaurant 2...
It is an intimate alternative dining venue serving innovative small-plate tasting dishes and is open nightly  for dinner. Reservations are required due to limited capacity and there is no extra charge.  Reservations can only be made on board and guests wishing to avail themselves of this restaurant are advised to so  immediately on joining the ship.
Over the period of the week we noticed that the menu does change. This is the menu we experienced…
Service at Restaurant 2 was most attentive…
…while the food exceeded our expectations.  Here are the plates we experienced on our visit…
Chef's Cocktail: Caviar in the Cloud, Foggy Potatoes.
Seared Flank Steak and King Salmon Roll
Porcini and Chestnut Cappuccino
Floating Lobster and Beef Tenderloin main
Apricot Beignets Dessert
We were very impressed with Restaurant 2.
Deck 8 Aft and the ever popular buffet restaurant, The  Colonnade…
An expansive indoor-outdoor dining venue serving  station buffets for breakfast and lunch, and themed dinners served tableside.
These dinners did however puzzle us. Open from 7.00pm till 9.00pm the daily dining programme continually reminded guests that 'reservations' were required.
Despite the time of year the 'Al Fresco' section of the Colonnade continually proved popular.
Bars and Entertainment
Our favourite bar for pre-dinner drinks turned out to be the panoramic Observation Bar on Deck 10…
*****
A bright and airy rounded  lounge with a square bar offering panoramic 270 views. For early risers who wished to witness the approach to the day's port, tea and coffee  is available.
The Observation Bar is also home to the resident cocktail pianist, Jamie…
In addition to the evening entertainment the Observation Bar also offers  high tea each afternoon at 4.00pm…
*****
Next up for entertainment is the Grand Salon…
Considering the small size of Seabourn Sojourn this is a particularly spacious show lounge with very comfortable seating. It is the venue for the production shows, guest cabaret performances, classical recitals and the showing of films. It has an excellent dance floor though in our week onboard we never had the occasion in which to put it to the test.
I liked the rear raised seating, available I presume for late comers…
In our week on board we watched two production shows by the Seabourn Singers and Dancers and both were excellent…
The second entertainment venue, and the one we used the most, is known as 'The Club'...
A lively spot for dancing, both before and after dinner, and the odd welcoming party. The resident band plus The Trio performed nightly.
Seabourn certainly know how to party. It just so happened that we were onboard for Halloween and despite being keen party animals we hadn't legislated for what had been organised.
As a kind of 'warm up' or, 'get you in the mood' the evening's first events kicked off at 6.30 with an Officers Deck Event…
*****
*****
…basically cocktails, canapes and nibbles and some gorgeous company…
…followed after dinner by the full monty Halloween Party…
*****
*****
*****
*****
We received invitations to a number of other 'parties'. As part of the overall entertainment programme though there was, on our final evening onboard,  a scheduled  Classical Caviar Sailaway.
Unfortunately the weather at Portovenere precluded that happening on deck and, without further ado, the event was transferred to the Grand Salon…
*****
…and made all the more special with classic performances of opera and contemporary classical crossovers performed by the extremely talented Seabourn Singers, including Ashley and Paul…
and Assistant Cruise Director, Judy…
Two other on board activities worth a mention were the 'Galley tour' and the 'Bridge Visit'.
As galley tours go this one was pretty unique. The first 30 minutes entailed being served copious quantities of champagne and caviar in a shiny stainless steel environment while Executive Chef Paul told us how good he was…
When we  eventually got to see the workings of the galley it was good to see the baker doing a great job…
…while it certainly appeared 'Room Service' was busy –  more caviar…
The 'Bridge Visit' was excellent…
…and very informative.
I even got to sit in the driving seat...
That just about covers everything other than the itinerary. There seems a lot there for just a week but I hope it has given a fair insight and  objective view of how we found Seabourn Sojourn on our first Seabourn cruise. So now for the itinerary.
The Itinerary
As previously recorded, we started this cruise in Monte Carlo, a port we have visited a number of times…
https://solentrichardscruiseblog.com/2015/05/24/monaco-one-way-to-do/
Day 2 and our first port of call was Bonifacio...
(Note: the slanted cliff line below the tower; it will feature later.)
This was a tender port and gave us our first experience of Seabourn's outstanding tender service. Bonafacio is a town and yachting harbour at the southern tip of the island of Corsica. The well protected harbour…
…is dominated by The Citadel...
Bonifacio proved easy to navigate on foot and for the more adventurous a decent, and subsequent ascent, of the 187 step Staircase of The King of Aragon (Escalier du Roi d'Aragon) is recommended…
It is an interesting challenge. Cut into the cliff side at a near 45° angle – visible on the first photograph – a path then leads to a grotto and natural spring.
Day 3 and our second port of call was the French yachting port of Le Lavandou...
 Set in the heart of the French Riviera, and another tender port, the local tourism office put on a traditional welcome for us at the marina jetty…
Le Lavandou boasts a dozen gorgeous beaches as well as being famous for  its dozen fountains. As a keen photographer it was the challenge of finding these fountains that occupied our morning in Le Lavandou.
The Fountain Le Bassin de la Place Mado…
…and the  Fountain of Saint-Louis…
…are just two of the twelve.
Mission accomplished we then enjoyed a ride on the beachfront Ferris Wheel…
…before following the Littoral Path…
…in the direction of the next beach at Saint-Clair...
The Littoral Path, or 'way of the painters' allows visitors to follow in the steps of writers and painters who journeyed along the coastal path in the neo-impressionism period. Along the way are tableaux illustrating copies of their paintings…
From La Lavandou to Saint-Clair is a walk of around 40 minutes.
Day 4 and our third port of call was Sete…
It was also the port from which we would take our first Seabourn Shore excursion: to Montpellier and Chateau Flaugerues…
Montpellier is a university city with a thousand years of trade and culture and our excursion included an interesting  walking tour through a part of the city dating back to the 12th Century. The tour started and finished at Montpellier's central cultural hub, Place de la Comédie…
…and another opportunity I couldn't miss in the back streets…
Without any doubt the highlight of the excursion was the visit to Château Flaugergues…
…where, on arrival, we were met by the current owner, Monsieur de Colbert, and given a personal guided tour of the Château's rooms…
…before being treated to a tasting of the wines produced on the estate by the owner, ably assisted by his grandchildren…
Having returned to the ship for lunch we spent the afternoon exploring Sete,  known as "Venice of the Languedoc" for its canal network, including a walk the Royal Canal…
…a climb to the top of Mont St Clair for the view over the city featured in the first photograph, and a successful search for the grave of the famous French poet and philosopher,  Paul Valéry…
Day 5 and our fourth port of call was the Spanish port of Palamos…
…and our second Seabourn excursion to the Catalan city of Girona…
Girona is a popular destination for tourists. The old town stands on the steep hill of the Capuchins to the east of the river Onyar, and is dominated by the ancient cathedral which stands on the site once used by the Moors as a mosque.
Approached by 86 steps, the Cathedral is an excellent example of Catalan Gothic architecture…
…and whose nave, at 22 metres,  is the widest in Christendom.
Our guided walking tour included entrance to  Girona's well restored and famous Arab Baths…
…and the Jewish Museum.
Girona proved to be an amazing city to visit though our time there was somewhat cut short due to a number of passengers with mobility issues and the guide's concern for their safety. This was not the fault of Seabourn as the excursion brochure clearly indicated that this tour required 'more dexterity and exertion' than normal.
Day 6 and our fifth port of call, another tender port,  was to the prestigious French town and super yacht port of  Antibes...
Antibes is home to the Nomad statue – seen above from a distance just under the bow of Seabourn Sourjourn, and during a little closer inspection…
Who would have thought we would be that close to the Nomad when we flew over Antibes on our way to join the ship…
…or, for that matter, the famous Picasso Museum…
An all round excellent port to visit with so many attractions. We managed to walk around the historic Le Fort Carre…
…and squeezed in a visit to the somewhat infamous Absinthe Bar...
This gem of a bar is tucked in a little corner cellar close to the Marche Provencal (the covered market).
We also walked across the narrow Cap d'Antibes isthmus to the once highly fashionable playboy town of Juan Les Pins…
…made famous by the singer  Peter Sarstedt in his song…
*****
Now I couldn't resist a photograph with the Alphonse Grebel statue, La Baigneuse, on the Juan Les Pins corniche.
Day 7 and our sixth port of call, and final tender port, was to the Italian port of  Portovenere…
Portovenere, in the Gulf of la Spezia,  was the first day that the weather became very cloudy and threatened rain. The weather was also responsible for the cancellation of our third excursion which should have been a local cruise boat trip to see the Villages of Cinque Terre – that's them over on the left of the photograph.
Seabourn however made the offer of a full refund or a place on an alternative coach route for the major Cinque Terra villages at no extra cost: which we gratefully accepted and that gave us an additional two hours on tour.
Once again we had an excellent guide and here are a few photographs from our day out at Cinque Terre:-
First stop at Manorola…
*****
Second stop, Vernazza…
…and its harbour…
We fortunately had enough time for me to climb up to Castello Doria, a fort that towers above Vernazza…
This view of that tower within the fort's walls, taken from the opposite shore,  will give some idea of its commanding position…
Travelling between Manorola and our final stop, Monterosso…
…was by local train and we were reunited with our coach at Monerosso for the return journey back to Portovenere.
The following day we were back in Monte Carlo where we disembarked and used Seabourn's coach transfer to Nice Airport  for our British Airways flight home.
Summary:
Another excellent and interesting cruise under our belts with the added attraction of gaining an insight into the world of Seabourn.
The breakdown of passengers by nationality on this cruise was 136 from the USA, 110 from the UK, 34 Germans, 31 Australians, 29 Belgiums and 15 Italians and 21 other nationalities out of a total of 449 passengers
You know there is quality when those nice touches are in situ while alongside…
…or ashore when tendering…
…and that included complimentary iced water and shuttles where they were needed.
Seabourn has for a long time been a benchmark for luxury ocean cruising. All tipping and gratuities were included and guests were always aware that the staff wanted to give the best service and on the whole we found that  level of service particularly good and consistent.
We did however have one or two issues which should not have arisen at this level of cruising. The first occurred on embarkation when our luggage took just over 3 hours to arrive: and only then after I had personally found it in a service area.
Secondly,  Seabourn do make strong claims as to their dining. With the exception of the fare and service in Restaurant 2 my expectations fell short on more than one occasion: to run out of Signature Chef Thomas Keller's dishes with a half full restaurant was poor form.
Wifi and internet coverage was good as was the pricing and value of Seabourn's packages.
The quality and selection of complimentary wines and  alcoholic beverages was excellent while the entertainment onboard was outstanding and, when measured in professionalism and quality,  it was up there with the best we have enjoyed at sea.
Excursions proved good value for money, were limited to small size groups, and tender operations were excellent.
If you have enjoyed this review of Seabourn Sojourn and would like to be amongst the first to hear of new reviews including  forthcoming cruise reviews of  , Queen Mary 2 and P&O's Oceana: plus a return cruise aboard Europa 2 and something a little different, Star Clipper …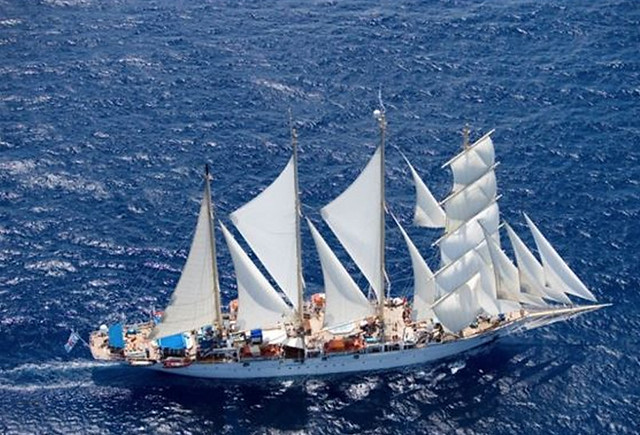 …  also  port reviews ( which will soon include One way to do Le Havre and Yangon in Burma), why not join the many other followers by clicking on the 'Follow' link on the front page.
You will be alerted by email immediately a new post appears.