When initially booking this cruise it was hard to decide whether our minds classed it as a cruise or an adventure. Certainly we had never ventured into this area of cruising before and from the moment of confirmation of the booking our expectations and excitement heightened with each passing week.
Added to our anticipation of life onboard a sailing ship was the prospect of the unusual itinerary that this particular cruise offered.
This was a 'cruise only' booking as there was no other package on offer at the time of booking, and flights were additionally out of range.
As always one of the benefits of booking early is a wider choice of cabins. This was of particular interest to my wife and me as our preference was for one of the eight cabins accessing the open decks. We therefore considered ourselves fortunate when, even booking 18 months in advance, we managed to reserve the last 'on deck' cabin.
The itinerary was a 14 night repositioning cruise from Bali to Singapore with just 3 sea days…
We joined Star Clipper at the Balinese port of Benoa, and had our first glimpse of her after emerging from the Benoa's cruise terminal…
We had booked cabin number 532, a Category 1 Cabin on the aft Sun Deck…
That's it on the right…
…with very easy access to the aft swimming pool. Meanwhile its reasonably spacious 14.5  m2  floor space offered comfortable accommodation…
…with two windows and 5 portholes.
…with reasonable storage and hanging space…
…and an ensuite bathroom with whirlpool bath with overhead shower…
Cabin toiletries were plentiful and branded by Star Clipper…
Each cabin (except the lowest grade) is equipped with a DVD player and  a comprehensive range of DVDs are available from the Purser's office. Certainly in our onboard experience we never found time to even read the machine's instructions, let alone watch Pirates of the Caribbean.
We were also pleased to receive a complimentary copy of 'The Star Clipper Saga' which appeared one evening at turndown…
…while Catergory 1 Cabins also benefitted from an early evening canapé service…
The cabin décor was reflective of the whole ship's internal décor and reminiscent of the grand age of sail: a rather warm nautical affair with deep blue carpets and a dash of faux luxury. Antique prints and paintings of famous sailing ships abound, while brasswork, teak and gleaming mahogany rails are richly reminiscent of Star Clippers' proud nautical heritage.
Star Clipper has a passenger capacity of 170, though on this particular sailing, entirely due to single cabin occupancy, total passenger numbers onboard stood at 143.
Public areas consist of two bars and the Library. The Piano Bar has a warmth and charm all of its own…
(note the central port holes offering a view into the forward swimming pool)
*****
The Piano Bar is also the venue for the 'early bird' breakfast buffet…
…and also the 24 hour warm 'beverage station'...
The Tropical Bar is essentially an 'Al Fresco' venue and the social hub of the ship…
*****
*****
…which serves a multitude of activities and purposes including port briefings, evening entertainment,  dancing, and afternoon snacks…
…the odd Deck Lunch on a sea day…
…the 'Sloop Shop' table top sale…
…and the Sailmaker's workspace on a port day…
And of course, on disembarkation day, the luggage store…
As a point of interest, the deck area of the Tropical Bar also plays an important function  that passengers are unlikely to witness.
In simple terms it affords major access to the ship's storerooms, fridges and freezers during turnaround days. Unless one is aware of it,  the hatch, giving access to a further 3 decks below, is neatly blended just in front of the actual bar…
The final 'public' area onboard is The Library…
With its central Belle Époque fireplace the Edwardian style library is both reminiscent and a reminder of the grand age of sail…
When not utilised as a small lecture or presentation room it offers a peaceful haven to those not wishing to be influenced by the distractions of the open decks.
The library also offers two computer stations…
…and is additionally the centre for the simple ship's tours and excursion booking system…
Moving around the ship it is easy to consider that Star Clipper is a near true reflection of the heritage of this type of sailing ship in almost every detail. Polished brass, gleaming brightwork and rich teak: seamlessly emulating the traditions and romance of the legendary era of sailing ships…
*****
*****
Dining onboard Star Clipper is open-seating  in an elegantly appointed dining room on Clipper Deck…
*****
Breakfast and lunch are 'buffet' affairs…
The breakfast buffet generally consisted of the usual fare…
…complete with  the ubiquitous egg station…
Lunch buffets were generally of a national themed nature, this particular one being Indonesian…
At each  lunch there was  a 'daily roast': no prizes for guessing this one…
Dinner was an altogether  much grander affair with full waiter service and a 5 course offering. A Sample Menu…
*****
Some dishes served at dinner…
Salmon Tartare:
Salad Caprese:
Breast of Duck:
Turban of Sole:
Braised Knuckle of Lamb:
Baked Alaska:
We considered that the on board wine selection was very good and all reasonably priced…
*****
…and for those who aren't tempted by the higher quality wines there were  perfectly acceptable bottles of House Red and White on offer at €16.00 a bottle…
It can be noted that there was no service charge added to the  price of wines onboard.
That just about covers the domestic side of Star Clipper which leaves the one area I have deliberately left till last…
The Upper Deck and Life Onboard a Sailing Ship.
And sail this ship does:  probably the most interesting  sensation is the the lack of any vibration that so epitomises main stream cruise ships.
The Sun Deck boasts two swimming pools, one midships…
…and the other aft…
…with an adjacent permanently shaded area…
The after pool benefits from an adjacent shaded area though when not at full sail shade canvas is promptly rigged directly over the both pools…
Star Clipper claims that it possibly offers more outdoor space per passenger than most conventional cruise ships…
…and we found that that is probably true.  As with most cruise ships sunbed availability can be a contentious issue and Star Clipper was no exception. There were a total of 58 sunbeds, 26 all in shade on the Aft Sun Deck and 32 mid-ships where shade was only possible when sails not rigged.
Passengers are, however, aware that the ship is a working sailing vessel and some deck spaces are not available all of the time: as such, Star Clipper provides a very different experience to the average cruise ship…
*****
Each passenger was given a comprehensive diagram in order to identify the Clipper's masts and sails…
*****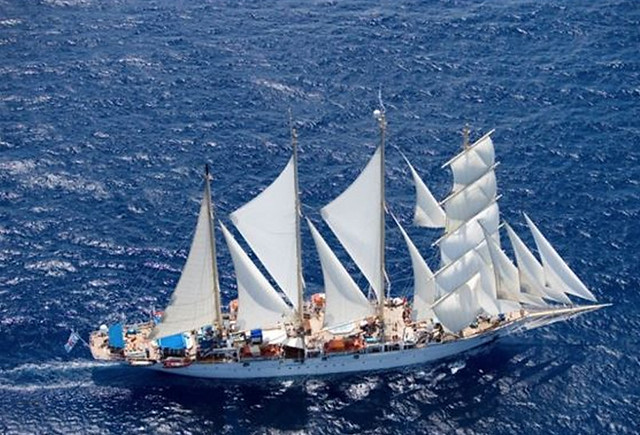 *****
'Ship shape and Bristol fashion' springs to mind…
There was never any objection to a bit of exploration, the 'nets' proving an ideal photographic location…
improving the further forward along the bow sprit one was prepared to go…
(always of course under the watchful eye of Solent Barbara)
*****
For those not content with keeping their feet on deck, there were a number of occasions when a mast climb was organised…
*****
…and here's my wife photographing me photographing her during the climb…
…Yee Ha – eat your heart out Hornblower…
…and an attempt at a selfie…
Generally there was total freedom around the decks and the only time any restriction was in place was when, during sail setting, anchoring and port entry the foredeck forward of the bridge was 'out of bounds'…
On other areas of the Sun Deck the crew had no problems working around passengers, indeed one quite often felt part of the the operation – none more so on the bridge…
…while the Captain was always happy to brief passengers on particular points of sailing interest…
Talking of the bridge, there was never a problem with a visit either…
…or for that matter, having a drive…
Life Onboard
With just three full sea days this was obviously a port intensive cruise and our port visits will be covered in more detail in the following itinerary section.
There was a passenger mix of 10 nationalities, the majority being German (52) followed by the USA (31) and then the UK (26). There was also a strong contingent of 15 from Sweden.
Like all cruise ships the onboard daily routine is governed by the ship's daily programme…
*****
The daily programme was supplemented with a notice board placed in the area of the Tropical Bar…
In the event of any last minute changes, this board would be amended in RED to reflect the changes as this one was following our abandonment of attempting to land at Bilitung (more about this in the itinerary section)…

Each evening prior to a shore day there was a 'port' presentation given by the Cruise Director in the Tropical Bar…
In the cabin review section I mentioned us receiving a complimentary hardback copy of 'The Star Clipper Saga'. It turned out that the author, Erling Matz, and his photographer wife Carina were actually onboard for this cruise and it was a delight to meet up with them and exchange a few stories…
On one particular sea day we were given a presentation by the Chief Engineer followed by a tour of the very compact engine room and mechanical workshop…
*****
On another of our sea days the captain loved-to and announced that there would be an opportunity for a sea swim. The crew busied themselves lowering gangways and launching zodiacs to act a s safety boats and it was, to quote an old Royal Naval expression of mine…"Hands to Bathe"…
*****
 It was on a sea day that we crossed the Equator and in true cruising tradition there was a 'Crossing the Line' ceremony complete with  a visit from King Neptune and Queen Salacia…
…to oversee the ceremony…
Evening entertainment onboard was very low key and centred mainly on the versatile pianist, Antonio. He kept the few of us, who avoided the dinner bell stampede,  regularly entertained with pre-dinner music in the Piano Bar each evening between 7.15 and 8.30   and then provided the musical backing in the Tropical Bar for post dinner dancing, music quizzes, a Karaoke night and a crew and passenger talent show.
The onboard highlight of each port day was the departure, with sails going up and music playing. Pretty emotional stuff and unlike anything we had witnessed before. Indeed, once experienced we never missed the daily ritual with  Vangelis' Conquest of Paradise a perfect fit with Star Clipper's departure routine, here's my video take of it…
Here's an alternative version of the music though not from Star Clipper…
That basically conclude this review of Star Clipper, the ship and a glimpse of life onboard. It wasn't however the only attraction that drew us to this particular cruise. This was, on paper, a most unusual and interesting cruise itinerary and one you would find considerable difficulty in fully matching.
Join us for our journey as we cross the Java Sea…
The Itinerary
We had booked this cruise as a 'cruise only' booking some 18 months in advance and very pleased we were that we did as we secured the last of the deck access cabins. As soon as flights came into range we booked direct with Qatar Airways for the outbound flight to Bali and the homeward journey from Singapore.
We opted for a pre-cruise 4 night stay in Bali at the Rayamanp Resort and Spa Hotel in Kuta: this booking was made with Booking.com.
Our research into our itinerary was mainly on the internet however, we did make two small purchases, in the form of guide books, for the trip…
In between rediscovering Kuta we also fitted in a pre-booked  whole day private excursion with http://www.amazingbalitours.com which proved to be one of the most astute excursion bookings we have ever made. Our day included visits to the Taman Ayun Meru Royal Garden Temple…
…the Ulun Danu Beratan Water Temple…
The UNESCO listed Jatiluwih Rice Terraces…
…and Bali's most iconic temple, Tanah Lot…
…where we stayed to witness the sunset…
A full review of the excursion we took with Amazing bali Tours is now available on this website. Here is the link…
https://solentrichardscruiseblog.com/2018/03/21/one-way-to-do-bali/
We embarked the Star Clipper on Saturday 14 October and sailed eastwards early evening for the Lombok Strait for an overnight transit. (Interesting to note that it was almost 53 years to the month that I first transmitted the Lombok Strait on board HMS Victorious also bound then for Singapore)
Day 2. Gili Meno and Gili Trawangan
Two islands sat close to Lombok's North Western corner. The Approach…
Only two kilometres long and one wide, Gili Meno is the smallest of the two islands and by far the most peaceful and under developed. It's possible to walk around the island along the beach or paths of Gili Menoin under two hours. This was to be one of Star Clippers famous 'Wet landings'…
A combination of tender and zodiac: all dependant on the state of the tide. We enjoyed our island walk and instantly recognised one of Bali's famous 'fire pits' dating well before the western BBQ…
and were equally pleased we made it to the turtle sanctuary…
Day 3  – Lovina Beach
Having left Gili Meno the previous evening we were now going to be heading in a general westerly direction. This took us along the northern coastline of Bali where our next stop, Lovina Beach, was scheduled…
Another 'wet landing' but this time considerably easier due to the make up of the fine black sandy beach. There was also a nice welcome here…
Lovina Beach is actually the centre of a resort area on the north coast of Bali.  Best known for its black volcanic sandy beaches, coral reefs, outriggers  and dolphins. Having already spent four days on Bali prior to joining the ship we decided to explore the more local area rather than take any of the ship's excursions which were generally to places we had previously visited.
Research indicated a number of 'local' attractions that would interest us and to this end we pre-booked a local guide. Meet Herman…
…who actually turned out to be a gem. I had presented him with a number of sites I would like to visit and he really came up trumps taking us to them all with an added bonus. The sites included the Aling Aling Waterfall…
The Brahma Monastery, famous for its miniature copy of the world's largest Buddhist monument at Borobudur…
… and a visit to the sacred Banjar Hot Springs, locally referred to as 'Air Panas Banjar'...
We took in two other sites of personal interest and Herman's bonus was to take us to the 'lookout post' to capture the view of the ship anchored off Lovina Beach…
A full review of the tour we took with Herman is now available on this blog, here is the link…
https://solentrichardscruiseblog.com/2018/04/07/another-way-to-do-bali/
Herman runs his own tour business and is not only highly professional but considerably cheaper than any of the ship's excursions: and that's for a 'private' tour. Here's his website…
Day 4 – Probolingo, Java
Continuing our westerly passage overnight we arrived at the Java port of Probolingo around 8.00 am. Today was to be our first ship's excursion, an all day affair,  that would take us to the volcanic complex of Tengger, an Indonesian National Park.
Star Clipper anchored off Probolingo and we were tendered in for our first 'dry' landing…
…and a 2 hour coach ride before we stopped at an hotel for refreshment and transferred to jeeps…
for the next part of our journey to Bromo Tengger caldera…
…where a new caldera of volcano forms inside a larger and more ancient caldera. Once on the floor of the caldera – described as a sea of sand –  we again transferred to yet another form of transport, horseback…
for the trek to the base of Mount Bromo, a very active volcano…
At the base we still needed to climb the steps to Mount Bromo's crater rim…
It was all well worth it…
*****
*****
Day 5 – East Madura & Giligenteng Island
I'll be commenting on Star Clippers levels of administration I'm my summary at the end of this review but this particular visit was not all that was promised.
It transpired at the previous evening's  port talk that the only passengers landing at East Madura were those who had signed up for the ship's excursion.  Having dropped those passengers off Star Clipper would continue the short distance to Giligenteng Island where the remainder of passengers would be free to go ashore. At no time previously was this arrangement made clear so those not having signed up for the excursion were restricted to Giligenteng and another 'wet' landing…
Interestingly my pre-cruise research had indicated that possibly the best beach to visit while on the island was known as Pantai Sembilan. Star Clipper kind of redeemed themselves when, on stepping ashore, I discovered that this was the very beach…
…which lived up to it's internet billing, a gorgeous sandy beach, one of many we were to visit over the next 9 days…
…which leant itself to the ship's sports staff to offer most of their water sport equipment…
while keeping yours truly very happy with some cracking frames for keen photographers…
*****
Day 6 – A Sea Day
The sail between Giligenteng and our next port of call, along the northern Java Coastline, was the longest transit we would do on this particular cruise, a distance of 287 Nautical Miles. The day was filled with a number of lectures, sextant lessons and the previously mentioned 'mast climb'. Early evening was the Captain's Cocktail Party on the Midships Sun Deck.
Day 7 – Semarang, Java
We arrived off the port of  Semarang at 6.30 am and embarked the pilot…
*****
…before berthing alongside adjacent to the cruise terminal…
This was the port from which we had booked our second ship's excursion – to Borobudur.
Barabudur is the worlds largest Buddhist temple. Built in the  9th-century it lay hidden for centuries under layers of volcanic ash and jungle growth and  remained so until 1814 when the British Governor, Stamford Raffles,  took  interest.
Borobudur from Semarang is a 3 hour coach drive and we were given a police escort…
…for the whole journey…
This was not a security exercise but solely a means to speed up our journey time, the escort clearing a lane of oncoming traffic wherever and whenever necessary.
Sat in the front seat my wife and I had a bird's eye view of this amazing journey, not for the faint hearted…
Little wonder Star Clippers made us all sign an excursion disclaimer.
The journey was worth it as this UNESCO site is probably the most unique and spectacular one we have visited especially for it's grandeur and position…
The temple consists of nine stacked platforms, six square and three circular, topped by a central dome..
Steps on all sides leading to all levels…
*****
Each level  is decorated with 2,672 carved relief panels on the temple walls…
…each illustrating various aspects of the Buddhist  doctrine of human life…
Our guide explained the significance of this particular panel – the ring exchange – and the sanctity of marriage…
Over the whole complex there are a total of 504 Buddha statues and, at the top level, the  main stupa (bell) at its peak….
…is surrounded by 72 Buddha statues, each seated inside a perforated stupa…
*****
I must admit to being eventually thwarted in my quest to gain a visitor free panoramic picture the main stupa surrounded by perforated ones…
…as this nice pair of legs illustrate. Similarly I just couldn't resist adding a personal touch to this headless Buddha…
*****
This was an exceptional excursion and one we'd never want to miss. The grounds surrounding the temple are vast with beautifully kept gardens and other visitor attractions. As part of the excursion we had an excellent included lunch with local dance entertainment at the…
…Manohara Restaurant…
*****
*****
The exhilaration of our outward journey continued on the return journey with the added excitement of fading light: we lived to tell the tale.
Day 8 – Karimunjawa Archipelago
Karimunjawa Archipeligo is an Indonesian offshore Marine Nature Reserve consisting of 27 coral fringed islands, only 5 of which are inhabited. One of these islands, Pulau Mejawaken…
…was our specific beach call today.
It always amused me that, at each and every port or island call,  the ship had to go through some form of local custom and environment inspection: irrespective of the fact we were always in Indonesia. This is the team about to board…
*****
Needless to say not once were we ever refused entry/landing and one can only assume the local officials had an excellent onboard breakfast.
Pulau Mejawaken is in fact  home to the Kura Kura Resort and once ashore a member of their staff briefed us on the island…
…and basically  gave us the run of the island.
They do say the early bird catches the worm and today was no exception. We passed a number of delightful spots…
*****
*****
…before finally settling
for some real comfort which was pretty close to the bar…
*****
…viewed from the lagoon…
…and into the lagoon…
A truly excellent day. All good things must come to an end and our ship was waiting…
No need to paddle back, there was a pretty regular tender service from the resorts mini dock…
Eventually back onboard we watched the sun set over Pulau Mejawaken…
The final tender was raised…
'Conquest of Paradise was once again playing…
…as we headed westward in the direction of our our next port of call, Jakarta, with another sea day in-between….
Day 9 – A Sea Day
There were the  usual sea day activities  supplemented, as it was a Sunday,  by a church service taken by a Eucharist Minister from California travelling as a passenger.
During the course of our sail between Kariminjawa Archipeligo and Jakarta we sailed 224 Nautical Miles.
Day 10 – Jakarta
We arrived at Jakarta's Passenger Cruise Terminal around 8.00 am…
This is not what could be referred to as an ideal cruise terminal. It is 12 Km from the city centre, a drive of 45 minutes depending on traffic. As with the calls to Probolingo and Semarang, Star Clippers made no provision for a shuttle bus service: if you hadn't booked an excursion you were on your own.
Prior to the cruise I had looked at the excursion Star Clipper were offering and to be quite frank, it fell considerably short of our expectations. I therefore researched our day here and with that plan we headed ashore, first off the ship.
We negotiated a taxi price to take us to our first destination, Sunda Kelpa harbour...
Sunda Kelapa, was formerly the harbor town where the Portuguese traded with the Hindu Kingdom of Pajajaran in the early 16th century. Since than this port has belonged to the portuguese and then the Dutch.
Sunda Kelapa is at present a fisherman's wharf and an inter island port. Tall-misted Bugis schooners from South Sulawesi berth here : they belong to one of the last-fleets of sailboats in the world and still ply the seas between the islands, as they did centuries ago, carrying merchandise and spices.
We spent half an hour wandering along the  old Sunda Kelapa wharf, not the whole 2km length I may add,  fascinated to watch gangs of sinew-stretched coolies load and  unload cargos of timber, coal and spices from stunning wooden schooners stretching as far as the eye can see…
*****
Sunda Kelpa was a good start because it was inextricably linked to the building that was top of my list to find and, as luck would have it, just a 15 minute walk from the harbour. It was the Menara Syahbandar Tower…
Occupying the former old bastion Culemborg site, the old Dutch Harbour Watch Tower was built in 1839 as a monitoring tower for ships coming in and out of Batavia City by sea while additionally  functioning as a  'customs house' collecting the taxes on goods landed at the port of Sunda Kelapa.
The tower is well preserved and today it is part of the adjacent maritime museum that we will also visit shortly. In the meantime we couldn't resist the climb inside…
Worthwhile if nothing more than to capture this further view along Sunda Kelpa wharf…
…and an overview of the adjacent Museum Bahari (Maritime Museum)…
The well planned and maintained museum is  occupies  a former Dutch East India Company warehouse and focuses on the maritime history of Indonesia and the importance of the sea to the economy of present-day Indonesia…
There are some great displays centring on many and varied aspects of the sea…
…and trade, particularly that in spice…
Batavia was the old Dutch name for Jakarta for about 320 years until, in  1942, when the Dutch East indies fell under Japanese occupation during World War II, it changed to Jakarta.
To get a feel for what Batavia was like it is necessary to explore the area of the 'Old Town' between Sunda Kelpa and Glodok, more commonly known as China Town.  Central to this area is the Old Dutch Colonial Square now known as Taman Fatahilla Square...
That is the Jakarta History Museum on the opposite side, formally Batavia's City Hall while on the right hand side is the World famous Museum Wayang, or Puppet Museum…
There were many other interesting buildings surrounding the square including the Old Post office, the Museum Seni Rupa (Fine Arts) and Cafe Batavia.
We next walked the short distance to Chinatown and for half an hour wandered through a  maze on street markets…
…selling all manner of seafood and vegetables…
Anxious to cover ground a little quicker we took a Tuktuk ride from Chinatown to the Istiqlal  Mosque…
…the largest Mosque in South east Asia. We included an internal visit…
On completion we visited Jakarta's Catholic Cathedral…
…and the National Monument in Merdeka Square...
The final two items on my wish list was the 'Proclamation Monument' and 'Kampung Tugu', an old Portuguese coastal enclave. We opted for a taxi to take us to the last two places as Kampung Tugu was not too distant from the Cruise Terminal. Both final objectives were achieved…
…and we returned to the ship with an hour to spare before the early evening sail time.
We covered considerable ground during our visit to Jakarta and not all the sites visited have been recorded here. It is my intention to write a full guide to Jakarta under my 'One way to do…" series.  Watch this space.
Out of interest our two taxi rides and one tuk-tuk ride came to Indonesian Rupiah 700,000 which in pound sterling is just under £40.00. The Ship's excursion, which included less than fifty percent of what we saw, was charged at €65.00 per person.
Day 11 Pulau Seribu (Thousand Islands)
Following our Jakarta departure we sailed overnight on a northerly course for 41 Nautical Miles to our next destination, Pulau Seribu…
The name 'Pulau Seribu' means a thousand islands though this archipelago consists only of 128. The particular one we anchored off was Pulau Pantara, home of a resort by the same name…
*****
The resort offered us the run of the island…
…along with what seemed an unlimited supply of complimentary fresh coconuts…
*****
Pulau Pantara proved an idyllic snorkelling venue due mainly to its extended pier, outer reef and drop-off wall…
An all-round excellent stop sadly shortened mid afternoon due to the distance required to sail to our next destination.
Day 12 – Belitung Island.
Another basic northerly course saw us sail the 150 Nautical Miles to the island of Belitung. WELL that is where we believed we were heading and I guess as a general direction it was correct.
Except that Belitung was not really our destination: it really was Pulau Blatok…
…a smaller island that sits off its larger neighbour.
One of course could be forgiven for believing we were going to Belitung,  Star Clipper's pre-cruise written itinerary, and the ship's daily programme,  clearly indicated thus…
So having anchored off Pulau Blatok there is some discussion as to the sea conditions around the island and whether it is safe to land. The Captain, Cruise Director and Dive Master head off to investigate…
*****
On their return it is decided that landing passengers will be difficult and therefore the visit is cancelled. No coincidence of course that the very same result occurred on the same island on Star Clippers stop here when re-positioning to Bali from Singapore.
Nevertheless we did get to see some of those characteristic granite rock formations thanks mainly to a zoom lens…
*****
*****
Day 13 – Bangka Island
Bangka Island lies just to the east of Sumatra and is Indonesia's 9th largest island with a population of around  1 million people….
Having anchored off we could clearly see our venue for the day, the Parai Beach Resort and Spa...
As we prepared to board our tender for the transfer ashore, we had our usual reminder as to when we needed to be back onboard…
…only this time it was also a timely reminder that this was our final visit before disembarkation at Singapore.
Another superb beach venue…
The resort certainly pushed the boat out with the welcome…
*****
*****
And what a delightful spot it was, another first choice, take your pick,  for the early birds…
…and no time hanging around…

Also enjoyable was a little exploration over on Rock Island…
…which offered a different perspective of the ship…
This evening was the Captain's (farewell?) Dinner with the officers and waiting staff suitably attired in smart dress. It was particularly good to note that the Brits on board, and more generally the British men, made  more of an effort and set the dress standard for the evening.
Day 14 – Final Sea Day
Having made our departure from Bangka  Island yesterday we spent the next 38 hours on a 263 nautical mile passage to Singapore.
During the day we were kept reasonably busy  with various activities including the 'crossing the line' ceremony (already mentioned earlier), returning our 'on loan' snorkelling equipment, attending various dis-embarkation briefings and of course the dreaded packing.
Day 15 – Arrival at Singapore
There was no way yours truly was going to miss the sail in to Singapore…
…with the morning sunrise reflecting on glass buildings of Singapore's business district…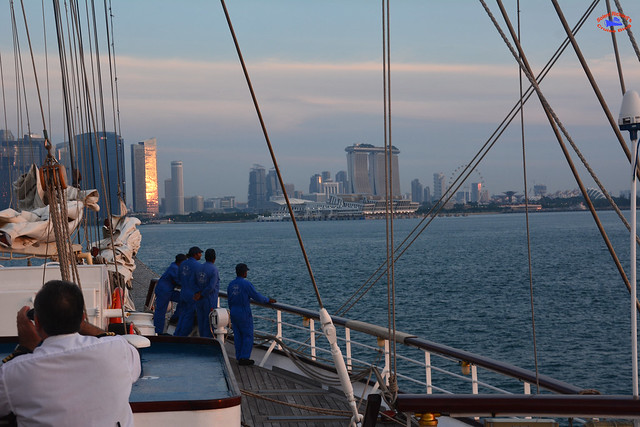 …as we edged closer to the Marina Bay Cruise Terminal…
As luck would have it we headed for my favoured side of the terminal…
…which allowed us an excellent backdrop of the hotel we stayed at prior to another cruise earlier in March this year…
This is Singapore and disembarkation, unlike embarkation back in Bali,  was amazingly efficient…
Having only spent 4 days in Singapore earlier in the year  prior to joining Hapag-Lloyd's Europa 2 we had no wish to stop over on this occasion. We had an evening flight  so arranged a private transfer and 'Club' Day room at Changi Airport's Crowne Plaza hotel…
…while enjoying all the available hotel facilities including the beautiful pool…
A calm, fitting and relaxing end to what had been a very interesting cruise adventure.
Summary
Our two weeks on Star Clipper will no doubt remain for some time as the most eagerly anticipated cruise that we have booked. From the very beginning we looked upon it not just as something new but as a completely different experience and adventure.
And so it turned out. We had a marvellous time, interesting and exciting, and both agreed that we would not have wanted to miss the experience. We found Star Clipper  a totally unique style of cruising: like nothing we have experienced before and would certainly recommend it to anyone who would like to try something different in the world of cruising.
It may therefore surprise readers that we both also agree that while it was our first Star Clipper experience it will also be our last.
To many that may seem a strange remark, particularly when 90% of passengers on board this particular cruise were repeat Star Clipper passengers. Yes – there were just 17 of us onboard who hadn't sailed Star Clipper previously. So we would be the first to recognise that to many it has an appeal.
The Pros:
It was different and it was an adventure. The new experiences were exciting, the style of cruising different and the itinerary was simply wonderful.
Wines were very reasonably priced and were of both good quality and interesting variety.
The Cons:
The company organisation and admin, both prior to and during the cruise, left a lot to be desired. The 'Cruise Personaliser' was next to useless for information and most pre cruise information/tips were better sought through Cruise Critic's pages.
Embarkation was a shambles when compared to other cruise lines. Even accounting for the ship's structural limitations, with a little forethought this exercise could have been better refined.
Food was a bit like the old 'Curate's Egg'. Dinners were excellent, good choices, well sized portions and all well cooked. The buffet breakfasts and lunches however fell well short of what was expected. Tomato juice and fresh grapefruit were unavailable and requests for some decent 'English' bacon were met with blank looks and a request to talk to Head Office and God only knows where they sourced their sausages. Apart from colourful national decoration the dishes on the themed buffet lunches bore no resemblance to the 'theme' of the day.
We could never understand why, when dinner was 'open seating' between 7.30 and 10.00 pm, there was a veritable stampede through the bar right on the dot of 7.30. Indeed, being regulars for a pre dinner aperitif in the Piano Bar,  it was always amusing to see various numbers from the different nationalities, beating a path to the dining room early, presumably to 'reserve' tables.
It often felt that Antonio the pianist was the personal entertainer to us and one other British couple each evening. When we eventually descended into the dining room well after 8.00 pm we more often than not found the 'staff' table had been cleared and relaid for our use. Nice touch.
If you have enjoyed this review of Star Clipper and would like to be amongst the first to hear of new reviews including  a forthcoming cruise review of  Carnival Dream, a Mississippi  river cruise onboard the American Queen, plus  Solent Richard's next  port reviews featuring Hong Kong and New Orleans,   why not join over 600  followers by clicking on the 'Follow' link on the front page.
You will be alerted by email immediately a new post appears.
©2015 – 17 * Solent Richard's Cruise Blog * All Rights Reserved
Duplication in part or whole without prior written consent is prohibited by international laws.