My wife and I recently completed a cruise on board Oceania's cruise ship, Riviera…
… a  10 night fly-cruise out of Miami entitled 'Mayan Mystique'…
This was our second cruise with Oceania, a cruise line that exudes both class and quality and is renowned for its cuisine. We found Riviera to be a very stylish and comfortable ship with an informal 'country club' atmosphere and casual on board manner.
It was also the second time in two months we have experienced a cruise line with impeccable administration procedures. From the moment one receives their pre-cruise documentation, each personally annotated, one realises there are no corners being cut. Take for instance the personalised 'Cruise Vacation Guides. Yes plural, we received one each…
Each personal guide contained 57 pages of information, facts, tips and the small print entitled 'Ticket Contract'. Just take a look at an example of what it offers…
your deck, your suite floor plan and even a picture of what your suite will look like. How refined is that?
As part of the overall package Oceania arranged scheduled flights from London Heathrow to Miami. As with all Oceania cruises,  flights sensibly arrive one day before the cruise departs. We organised our own pre cruise hotel accommodation overlooking Biscayne Bay and a short taxi ride from…
We had booked a Penthouse Suite which offered us an 11.00 am check in at Miami cruise terminal. Check-in was faultless and we were on board within minutes.
Riviera is a 66,000 tonne, mid-sized,  four year old ship that accommodates 1,250 passengers with a guest to staff ratio of  1.57 to 1.
From the moment we stepped aboard there was a distinct feeling of  sophisticated  elegance, an overwhelming sense of space and wall to wall quality of fixtures and fittings. All this was immediately apparent in the central atrium  area which features two spirals of stairs decorated with Lalique crystal pillars and a hand-crafted Italian chandelier  sporting 380 crystal spheres…
*****
*****
…not to mention some pretty stunning casual seating arrangements…
As previously mentioned, we had booked a Penthouse Suite (PH2 Grade, 10027) on Deck 10…
*****
…with one of the most spacious ensuite bathrooms that we have experienced outside of a Cunard Queens Grill suite…
(Out of the picture to the left is a walk in glass doored shower unit)
The suite additionally benefited from a spacious walk-in wardrobe…
Needless to say the suite boasted a balcony with excellent quality reclining wicker chairs…
The Penthouse Suite comes with the services of a butler and suite attendant. The benefits of  'Suite Life' will be covered later in this review.
Riviera, and her sister ship Marina, are the larger of the Oceania fleet ships and subsequently offer more facilities than their smaller siblings. Let's take a tour starting on Deck 5 and the Atrium/Reception area and seating between the Concierge desk and Reception desk…
While across the floor the Speciality Restaurants 'Reservations' Desk and another intimate seating area…
Leading off from Atrium Deck 5 is the Destination Services Desk…
…the Boutique shops…
… and passageways to Jaques and Red Ginger Speciality Restaurants and the Riviera Lounge theatre: each of which will be dealt with later in this review.
Moving up to Deck 6 we find the main bar areas and venues for evening musical  entertainment. By far the largest venue is Martinis...
In fact it spreads the width of the ship…
*****
*****
Well spotted, yes that's a grand piano at the end of the central bar passageway…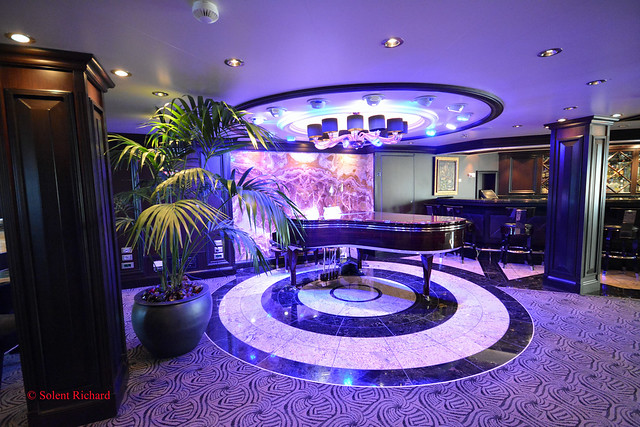 …next to The Martini Bar itself…
Moving  aft along the starboard side of Deck 6 is the appropriately named Grand Bar…
This bar was the general venue each evening for the resident string quartet…
…and, due to its position a great place to people watch those heading for the Grand Dining Room.
Adjacent to the Grand Bar was the Riviera's Casino which had its own rather glitzy  Casino Bar...
…which just so happened to be our favourite pre dinner haunt for the odd Hugo…
Further aft on Deck 6 is the Grand Dining Room which will be covered in the Dining section later.
Taking the lift up to Deck 15,  we next visit the largest of Riviera's bars, Horizons...
……..a bright and airy venue with stunning panoramic views. 
Horizons is actually a multi function area and the venue for evening cabaret shows, dancing to either the Riviera Orchestra or the resident musical duo, Nectar & Ed. Cocktail parties and traditional afternoon teas are also held here, and will  again will be covered later under dining.
Dropping down a deck is the extensive well stocked  library…
…consisting of  a number of spacious, comfortable though intimate recesses linked by passageway banquette seating…
Next to the library is another favourite of ours, Baristas…
…Riviera's trendy coffee bar serving espressos, cappuccinos, pastries and homemade biscotti. Floor to ceiling oval windows offer a panoramic view over the pool deck…
(that's Baristas behind yours truly)
And so onto Riviera's open decks, the centre piece of which is the Pool Deck…
…with its wrap around overhead Sun Deck with elegant shaded wings...
…with additional extended covered areas named The Sanctuary…
…and The Patio…
At the forward end of the Sun deck is the Canyon Ranch Spa Club….
*****
*****
…and what appealed most, a dedicated 'Couples' facility…
For those guests participating in Spa treatments, and as a 'perk' for Suite guests, there iss also the Spa Terrace...
an access controlled sun deck,  pool and jacuzzi…
Mention of the Casino Bar has already been made and obviously there is a casino on board, albeit a reasonably small one. There is, however, no Photographic Gallery which may appeal to some readers.
And finally on the tour we come to the laundrette…
How's that for laundrette style? A couch, wide screen TV and a drinks cabinet, not to mention the store away ironing boards…
Dining on board Riviera
Dining is of course Oceania's forte. They proudly boast that their cuisine is unrivalled at sea and, with the exception of Cunard's Grills, we would certainly agree. On Riviera there are a remarkable array of dining choices that include no less than four speciality restaurants, none of which carry a surcharge.
There's no better venue to start this section of the review than the Grand Dining Room….
…a multi level venue with an elegant ambiance and open seating dining for breakfast, lunch and dinner. Cuisine is generally Continental supplemented with Canyon Ranch Spa 'healthy options'  and selected signature dishes from internationally recognised French chef Jacques Pépin.
One evening's menu…
The Terrine of Oxtail from the menu…
…and again from that menu, the Braised Black Cod with Sweet Ginger and Vegetable Ragout...
The Terrace Café offers buffet style dining, both indoors and al fresco…
Breakfast and lunch laid…
…and rather more refined for dinner…
Not forgetting the al fresco terrace…
Also open for breakfast and throughout the day till 4.00 pm is Waves Grill on the pool Deck…
The Grill Menu is available from 11.30 am…
…and The Maguro' from the above menu – Soy and Ginger Marinated Ahi Tuna Seared rare with Wasabi-Garlic Mayonnaise…
First up for the speciality restaurants and  with all the elements of a classic steakhouse,  is Polo Grill…
…with a serving of their 16 oz Prime Rib…
Next, the essence of Tuscany is available at Riviera's Italian showpiece Toscana...
…where we dined twice and, on both occasions, it proved faultless. The Carpaccio of Octopus...
…and the Costate di Vitello a Modo Tuo…
(Bone in Milk-Fed Veal Chop with Wild Porcini Mushroom Sauce)
For those  yearning for a contemporary taste of the Orient, Riviera offers  Red Ginger…
Paying deference to the Chinese philosophical feng shui system,  Red Ginger radiates harmony and tranquility to the diner. . The interior simply glows with ebony woods and striking, modern Asian artworks.
…and their Bay Scallop Trilogy…
…was a dish to die for.
The final Speciality restaurant on board this ship is an exquisite French bistro, named after Oceania's Executive Culinary Director,  Jacques Pépin…
Decorated with heirloom antiques and  pickled wood furnishings Jacques has both an eclectic and comfortable ambiance of the quintessential Parisian bistro: a pure French dining experience.
Where else to savour the Master Chef's interpretation of the French classic, Lobster Thermidor…
There are two further dining venues on board, each in a more private setting and both rightly subject to an additional charge.
Guests wishing to experience wine seminars, tastings and pairings with fine wines can book places at La Reserve…
Or, for guests seeking the ultimate exclusive experience, the reservation of Privee…
…where the full menu selections from Polo Grill and Toscana are available to be served by white tail-coated staff.
Earlier I mentioned afternoon tea. This traditional event occurs each afternoon in Horizons where tiered carts display all manner of tasty tea-time treats while the classical String Quartet softly play …
*****
*****
Entertainment.
Riviera has a very talented Production Show cast of a dozen singers and dancers. During this ten night cruise they put on four full production shows in the Riviera Lounge…
A number of visiting entertainers also gave performances and a number of special movie nights were offered – each accompanied by complimentary popcorn.
As previously mentioned, a second large entertainment venue for dancing and cabaret shows was the Horizons Lounge and Bar.
The Riviera Lounge was also the venue for the very popular port lectures and enrichment programme. I was most impressed with the quality and presentation of the particular port lecturer on this cruise. Indeed, I'd go as far to say she was an outstanding orator: one of the very best I have experienced…
On one excursion I was delighted to catch up with Sandy Cares and thank her for her contribution…
Itinerary
Our first port of call after leaving Miami
Our first port of call after leaving Miami was Key West on the southern most tip of Florida…
Riviera berthed at the naval base and Oceania provided a free shuttle service into the town centre. Key West is a bustling holiday town with many attractions available. We managed to walk to all the  sites that interested us including the Old Lighthouse Museum, Key West Cemetery, Earnest Hemmingway's Home and Museum and the Key West Shipwreck Museum...
We also managed a few beers in Key West's most infamous bar, Sloppy Joe's.
The following day was a sea day as we headed for the first of our Mayan experiences at the Mexican port of Costa Maya…
Essentially a dedicated cruise port in Mexico's developing Costa Maya Region, Costa Maya is surrounded by dense jungle and turquoise waters …
Here we undertook the first of our four Oceania excursions: a full eight hour day to visit two Mayan sites that few ever get the opportunity to visit.
Dzibanche, is credited with being  by far the most spectacular Maya ruins site accessible from Costa Maya, and is a great example of Maya architecture and urban organization. Remarkably visitors are still allowed to climb these ancient temples.
The Temple of the Owl Pyramid
…and I must confess, that experience was pretty exciting being above the treetops with spectacular views of the surrounding jungle.
Our two guides were excellent for this first visit which was a perfect  introduction to  the daily life, political, and military organization of the Maya.
The Temple of Lintels has a funerary temple atop for one of the kings of the dynasty and is the highest building in Dzibanché…
Dzibanche is away from the crowds which guarantees a peaceful  atmosphere,  just perfect to explore and  enjoy the relaxing sounds of the jungle. Dzibanche is Costa Maya's best kept secret and a must for the Maya ruins enthusiast.
The second of the Mayan sites visited on this excursion was that of Kohunlich , massive site dominated by its Acropolis...
The recently excavated archeological site is named after the giant cahoon palm trees that inhabit the immense site.
The 'Building of Figureheads', recently restored, was fascinating. Again, for those who are up to the challenge, you can climb the high temple and see up-close the unique, sculpted masks that run up the front stairway.
*****
The following day we arrived off Belize City, the first of our tender ports. Top marks to Oceania for chartering large tenders for the 20 minute journey from the anchorage…
This was to be the venue for our second Oceania excursion entitled 'Lamanai Mayan Ruins and New River Cruise…
I'm not sure about the 'New River Cruise' piece of the description but the 40 minute river ride was certainly invigorating and great fun.
Fascinating too to discover, not for the first time on this cruise, an Amish farming community on the riverbank…
….before arriving at Lamanai…
to explore even more Mayan gems including the Mask Temple…
and the site of the Mayan Ball Court,  a solemn game experience, filled with ritual importance to the Mayan people…
The following day we arrived in Santo Tomas, Guatamala.  For our third Oceania excursion we chose to have a break from Mayan ruins and  visit a Spanish colonial fort at the entrance to Lake Izabel,   Castillo de San Felipe…
The fort is listed on the Unesco World Heritage Tentative List…
*****
This particular excursion included a 40 minute guided coach ride, water transfer to the Castle and a riverside lunch at a marina restaurant.
The next day Riviera arrived at Roatan, Honduras and berthed at Mahogany Bay…
We had booked, in advance,  a private island tour for this visit, choosing…
This, at $40.00 each proved a great success and gave us a break from Mayan and other historical sites and the opportunity to enjoy this unique island and its not so wild life…
*****
*****
…as well as some great sightseeing…
…a chance to sample the local beer…
and some local produce, Rum and, would you believe, Rum Cake…
*****
This was an excellent value full day private tour and can be booked through  Victor Bodden's website…
http://www.boddentours.com/bestofroatan.htm
We were back to Mexico for our penultimate port of call, Cozumel where we were joined, at our central town berth at San Miguel de Cozumel,  by Silver Wind…
Cozumel also marked our last Oceania excursion – Cozumel by Jeep & Snorkel…
Got it in one folks, we, the participants,  were the drivers.
As the excursion title indicated we made a stop for an hour of  snorkelling…
…before completely circumnavigating the island and making stops for a tour of a Tequila hacienda…
…and scenic locations…
Let me introduce my co-driver Etienne and his wife Leive…
…who themselves like a bit of photography…
Our final destination of the afternoon was Barracuda Beach Hotel where we enjoyed an included lunch of assorted Mexican specialities.
Our final port of call was George Town, Grand Cayman…
Surprise surprise, or should it  be shock horror? There were FIVE cruise ships calling at George Town that day. From left to right, Holland America's  Westerdam, Riviera, Carnival Glory, RCI's Freedom of the Seas and Costa Deliziosa.
With disembarkation just three days away we had planned a day on the beach and headed for Tiki Beach which is one section of the famous Seven Mile Beach…
They make a charge here for hiring your sun bed on the Tiki Beach section: it obviously fluctuates but, on the day of our visit, they wanted $25 each. No big deal normally if it had been reasonably exclusive but:  these beds were packed tighter than sardines. After a quick re-appraisal we walked a couple of hundred yards back along the beach and hey presto…
Our day in George town was completed in good Solents' tradition – on the balcony of Jimmy Buffet's Margaritaville…
*****
…a great spot to watch the American cruising world at play below.
There was one final sea day before we arrived back at Miami ready to disembark and head home.
The 'Suite Life'
I mentioned earlier that I would cover our suite accommodation and services in more detail.
Penthouse suite 10027 was, at 420 square feet, a generously sized accommodation space which included a very large en-suite bathroom with separate bath and walk-in shower and a walk-in wardrobe (all pictured earlier)
The suite also came with a Butler and additional suite attendant. In addition to their services suite occupants also have exclusive card-only access to the private Executive Lounge on Deck 11 and services of a dedicated Concierge and  24 hour beveragesa and snacks…
*****
…plus daily international newspapers…
The same key card that gives access to the 'Executive Lounge' also gives access to the previously mentioned private Spa Terrace...
Back to the suite though. Priority embarkation and luggage delivery go without saying as does the Champagne on arrival…
…and the Bvlgari  toiletries in the en-suite…
…not to mention the complimentary pressing of garments on embarkation.
The full list of amenities is extensive, ranging from a complimentary Laptop computer (or iPad on request)…
That's the laptop in the drawer and, on the desk, the mobile direct phone to the suite's butler.
…unlimited complimentary non alcoholic drinks available in the fridge as well as  the provision of unlimited mineral water…
Other nice touches include the private reading lights at the bedside, the Cashmere lap blankets…
…and for the ladies a desk top vanity mirror…
Included in the Butler services list is course-by-course in-suite dining where orders from any of the four speciality restaurants are available. We just had to put it to the test  one evening…
*****
*****
…as we also did with a champagne breakfast…
Late afternoon canapés are a feature of most suite perks no matter what the cruise line. Oceania take this feature one step further…
Yep, with Oceania you get to choose your canapés…
The butler is  a good source of information and readily retrieved answers to our many questions and organised late collection of our luggage on final evening onboard.
Summary
This was our second cruise with Oceania and it was good to compare Riviera's  considerably larger offering than that of our previous time on Nautica. Of the 1081 passengers on board, from 26 different nationalities, 133 were from the UK and 597 from the USA.
Culturally Oceania fits into the  American style of cruising and it was no surprise to note the various restaurants very busy   between 6.30 and 7.30 pm. Additionally there was only the one main show each evening, normally scheduled around 9.30. My wife and I do prefer to take a more leisurely later dinner and on the evenings of the production shows we adapted our dinner seatings to match the entertainment programme.
Riviera is a beautiful ship with a distinctive comfortable feeling and atmosphere,  supplemented by its design, refined ambiance, artwork and fixtures and fittings that could be straight out of 'Homes and Gardens'.
Oceania make the immodest assertion that their passion is for serving the finest cuisine at sea and who are we to challenge that: it certainly is up there with the very best.
With an impressive staff-to-guest ratio of 1:1.57 there is a distinctive service ethos in the warmth, commitment and charm  shown to all passengers: a rather epicurean cruising style.
Gratuities for suites are $23 per person per day( $16 pppd for other categories) with an added  18% to bar bills and spa treatments.
This was  a port intensive ten day cruise and little opportunity arose to make a judgement on daytime onboard activities. However, from what we did witness that area should pose no problem whatsoever.
We had an outstanding cruise and greatly appreciated the class and quality offered by Oceania. And the answer to your question is YES, we would more than happily return to Riviera.
This cruise was booked with The Cruise Line…
If you have enjoyed this review of Oceania's Riviera and would like to be amongst the first to hear of new reviews including  forthcoming cruise reviews of  Seabourn Sojourn and the new Irrawaddy river cruise ship Princess Panhwar,  plus port reviews ( which will soon include a One Way to do Toulon, Salem from Boston, as well as a number of Australian ports of call including Perth), why not join the many other followers by clicking on the 'Follow' link on the front page.
You will be alerted by email immediately a new post appears.