On 2nd of July my wife and I embarked  Queen Mary 2 at Southampton for Cunard's 175th Anniversary Voyage between Liverpool and Halifax.
This celebration was to mark the occasion when Samual Cunard's tiny steamship, Britannia, set out from Liverpool bound, for the first time, for Halifax and Boston…
We do not normally cruise during the months of July and August, preferring to make the most of the United Kingdom's summer.  However, this particular Cunard Voyage was a 'no-brainer' and we were exceedingly pleased we made the decision to join Queen Mary 2 for this very special occasion.
Having sailed many times on QM2, and written many reviews, I have decided that the gist of this review will concentrate on the people, the ports and the onboard life and entertainment that made this voyage so memorable.
Queen Mary 2 was unusually berthed at Southampton's City Terminal…
…with her bows dominating Mayflower Park…
There was of course a reason for this. As part of the celebrations the Royal Air Force's Red Arrows Display team had been scheduled to give a display on the afternoon of sailing.
It was therefore very fortuitous that, earlier in the afternoon, I had the pleasure of meeting and talking to a number of the Red Arrow's Support Team in QM2's Winter Garden…
Having established the Red Arrows proposed display pattern I proceeded ashore in order to find a position from where I could hopefully photograph both the ship and the display. This had to be on the Southampton City Walls…
Alas the weather at the scheduled time of the display was not conducive with safety, and the proximity of Southampton's airport limited any flexibility in timing,  and so the display had to be cancelled.
As we pushed off from the City Terminal the Band of the Irish Guards played us away…
…while on Deck 8 we started to party as we intended to go on…
…that's my girl…
Sod's law dictated that 30 minutes after casting off, and a short distance down the Solent, the weather improved and we were treated to clear blue skies and a great view of our humble abode on the shores of the Solent…
Such was the party mood that we and many other passengers were still enjoying ourselves on deck as we passed 'No Man's Land Fort' off Portsmouth…
Our first day at sea saw us transiting the Irish Sea heading north for Liverpool: passing close to the Pembrokeshire coastline at midday and the Anglesey coastline early evening before arriving at Liverpool late evening on 3 July…
*****
As part of the 175th Anniversary Celebrations Cunard had organised a 'Commemorative Concert' at Liverpool's Anglican Cathedral…
Two identical concerts were held in order that all passengers and  a selection of Liverpool dignitaries could attend…
The Royal Liverpool Philharmonic Orchestra and Choir, and the Cathedral Choir, were joined by the Band of the Welsh Guards and soloists Laura Wright, Jenny Williams and Jon Christos.
Between music and song there were orations from many well-known  celebrities with real, and some tenuous, connections to Cunard.  These included  descendants of founder Samuel Cunard, former Cunard steward John (Lord) Prescott,  Falklands' Veteran Simon Weston,  BBC correspondents Jennie Bond and Michael Buerk, Carol Thatcher and relatives and the great-granddaughters of Carpathia Captain Arthur Rostron. (The Carpathia was the first rescue ship on the scene of the sinking of Titanic)
The concert ended with traditional British patriotic anthems including 'Rule Britannia' and the 'Pomp and Circumstance March' with much waving of flags and banners – and not a dry eye in the house.
It was a great privilege to have attended what turned out to be a magnificent and emotionally moving  moving event and Cunard can be well proud of the professional manner in which it was organised.
I had organised on completion of the concert a special treat for my wife who had spent some teenage years living in Liverpool.
I had pre-booked a dedicated 3-hour  Fab 4 Taxi Tour…
We just about covered  everything possible that had a connection to Liverpool's most famous sons, The Beatles. From the Registry Office where John Lennon  married  Cynthia, to the gates of Strawberry Fields…
…and from the Penny Lane Barber's Shop to Eleanor Rigby's tombstone…
What a FAB tour and a must do for all Sixties music enthusiasts.
Back on board there was little time to record the Mersey waterfront
before it was time for yet another sail away party. Always good to mix and meet at these, especially some of the many German guests onboard. Cheers Konrad…
As we sailed from Liverpool we witnessed the first of some spectacular firework displays…
*****
Some 400 passengers had embarked at Liverpool and of course, some 400 had disembarked. It was interesting to learn that the major nationalities in the international passenger breakdown was as follows:-
United Kingdom : 1353
United States : 433
Germany : 241
Australia : 106
Canada :54
Amongst those embarking at Liverpool were the remaining members of the 'We Are Cunard' Fanzine, a Facebook group of like minded Cunarders administered by myself…
https://solentrichardscruiseblog.com/2013/11/03/we-are-cunard-fanzine-launch/
…making a total of twelve,  though some shared other tables with other friends…
Interestingly, 5 of the Fanzine members are also members of the Bolsover Cruise Club Forum…
http://www.bolsovercruiseclub.com/forum/
Five sea days lay ahead and in true Cunard trans Atlantic tradition there was a more than adequate daily programme to pass the time.
In keeping with the Anniversary theme, the  Cunard 'Insights' programme was suitably bolstered with high profile speakers with a Cunard bias.
Taking top place was Stephen Payne OBE, the Queen Mary 2's Architect whose series of lectures were so well attended that his  penultimate offering was moved from Illuminations to The Royal Court Theatre…
The second most popular speaker was Dr. Seth Gopin, Professor of Art History at Rutgers University. His specialist subject on this particular crossing centred on the buildings and skyscrapers of New York, their historical origins, development and architectural attributes…
Another popular series covering the history and lifetime of Samuel Cunard was presented by Cunard Historian John G. Langley  Q.C,  founder of the Nova Scotia Cunard Steamship Society…
Other lecturers included popular Maritime Expert Bill Miller, retired Cunard Commodore Ronald Warwick, former legendary Cunard Social Hostess Maureen Ryan and Cunard artist Robert Lloyd.
The odd one out to the Cunard themes was Dr. Chris Crowe of Cambridge University and the Royal Astrological Society. He gave a fascinating insight into the cosmos over a series of lectures…
Indeed, so intense and interesting was the programme that on a number of days there was, certainly for me,  conflicts of interest when I had to miss a number of lunchtime Jazz sessions in the Golden Lion Pub…
(missed the Jazz lunch)
(missed it again)
At last, maybe not the Jazz but made it for that Pub Lunch…
A special brew for the Anniversary year…
…and a Steak, Ale and Mushroom Pie in Suet Pastry…
In addition to the the Insights lecture and talks programme many other activities were on offer. Where better to have line dancing classes than in the magnificent  Queens Room…
…or if ballroom dancing is one's forte, an afternoon Tea Dance…
…complete with 9 piece orchestra…
As always on an Atlantic crossing a team from the Royal Academy of Dramatic Arts were on hand to give both a number of workshops and performances…
One particular daytime musical programme appealed to both my wife and me. We were treated to a number of afternoon classical concerts by a Zoco Duo…
Please excuse my photograph of Jacob and Laura taking a bow, but as we were in the front row I didn't wish to disturb their performance which combines the classical guitar with either the oboe or cor anglais. Here they are from a much more flattering angle.
This particular Atlantic crossing coincided with Wimbledon. Tennis enthusiasts were grateful to Cunard for allocating the Winter Garden for live screenings right up to the finals…
*****
Of course for those not into what Cunard have to offer by way of daytime entertainment there are always those areas where individual preferences of a more leisurely nature are catered for. One such area is what I refer to as the games passage and you can trust me on this, it took a number of visits to capture this on a quieter moment…
Thoughtfully, even hand gel is provided at the jigsaw table…
And for those who just prefer a quiet space for a daytime read, well there is always the Chart Room…
or the  Commodore Club…
…and even, on a warmer day, the acres of deck space…
Oh yes, there are warm days on an Atlantic crossing…
Our arrival in Halifax was soon upon us – where did those 5 sea days go?
It hardly seemed so long ago that my wife and I visited Canada's major Atlantic port though on this occasion we were blessed with considerably better weather.
As the Home of Samuel Cunard there was one 'must do' photograph…
…before we set out to explore Halifax.
One of the visits on our list was St. Georges Church, also known as the 'Round Church'…
Within easy walking distance of the waterfront we arrived before it's official opening time. We were however in luck and  were greeted  by James Rawding, an absolute gentleman who allowed us early entry…
James was rightly proud of his beautiful church which had suffered a serious fire on June 2, 1994, causing the dome to crumble and destroying approximately 40 per cent of the building. It has now been lovingly restored and is well worth a visit
The church  was involved in the tragedy of the Titanic when the funeral of the Unknown Child (since identified as Sidney Leslie Goodwin) took place at St. George's. Sidney Goodwin's remains have since been moved to the Fairview Lawn Cemetery.
I shall be writing a more detailed review of our visit to Halifax in the near future and will include more of St. Georges Church.
Indeed it was the Fairview Lawn Cemetery that was our next planned destination and  which took us around an hour to reach …
The gravestones are arranged in the outline shape of a vessel of the sea. Many have touching stories and many are thought provoking. This one belongs to one of the musicians on board, John Law Hume. Someone has placed a miniature violin case on the plinth…
The grave stones either side are for victims never identified.
On our return to the waterfront area we enjoyed a 'Lobster Slider' lunch…
…before having a little bit of fun around the waterfront's 'Historical Buildings' District…
My thanks to the two gorgeous props.
We planned a Fanzine get together, well a  balcony party really, for our Halifax sail away…
*****
The debris…
…and not a wine box in sight.
As we passed Canada's floating naval memorial, HMCS Sackville, the Canadian Navy fired a 21 Gun Salute and dipped their ensigns on the jetty…
Our next port of call was Boston but we had a sea day before that call. So what about evening entertainment?
For most passengers central to an evenings enjoyment on any Cunard ship is dinner. For many that requires a pre-dinner drink in one of the many venues. Without any doubt our favourite will always be, when not participating in an early ballroom dance, The Commodore Club. A great meeting place…
with exceptional service, not to mention the arrays of canapés that seem to just appear…
On other evenings there are the seemingly endless round of Cocktail Parties prior to dinner…
*****
The World Club Cocktail Party is always the most enjoyable especially when that particular voyages' 'Top Sailor' is wheeled out…
Yep, Maxine has had to suffer 8¼ years of her life sailing with Cunard.
Music features prominently around the ship every evening. Whether it's the harpist in the Chart Room…
or a pre-dinner jazz concert in the Winter Garden…
…there is always musical entertainment to be found.
After dinner entertainment centres on either the Queens Room for dancing or the Royal Court Theatre for visiting entertainers or performances of the ship's own production shows. My wife and I had previously seen the production shows however we were delighted to learn that an old favourite of ours, Mike Doyle, was scheduled as a visiting performer…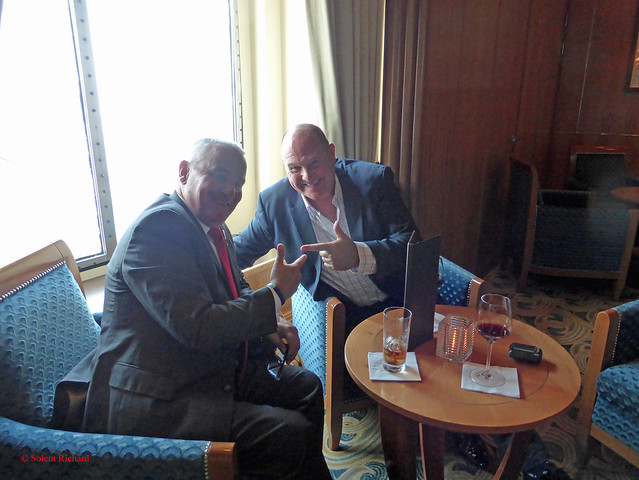 Since our last time on Queen Mary 2 the Caribbean band had changed. Many post dinner evenings we opted for a spot of ballroom dancing in the Queens Room followed by the G32 Night Club and  a 'bop' to the excellent XTASEA…
Well worth a mention is the evening transformation of a section of the Kings Court into a speciality a la carte restaurant. Inter-changing menus from Italy, the Orient , India and the United States operate for a 3 to 4 day period. We chose to dine one evening at Coriander – the Indian menu…
*****
Wow, the food was as superb as the company…
Our next and  third port of call was Boston. Again a port we had visited in the last few years so we opted to take a ship's excursion to Salem – I'm interested in Witches.
No problem there then, they are all safely tucked-up in the museum…
Meanwhile of course I'm pleased to note that Salem, just a 45 minute coach ride from Boston,  has lots to offer for a  most interesting visit. It actually pre-dates Boston on the tea trade…
That evening we were in for a treat. Boston laid on yet another amazing farewell show including the most spectacular of firework displays…
And so a final sea day before arrival in New York. I have lost track of how many times we have sailed into New York but on this occasion I chose to rise early and witness it from an advantageous position. I was not alone and glad to have arrived early…
Approaching the Verrazano Bridge…
…and passing under it…
Sunrise over New York…
New Yorkers heading to work…
And finally alongside at the Brooklyn Cruise terminal…
Later that day we flew home from New York.
Summary:
As I said at the beginning of this review, it was to be my intention to cover the people and life onboard this Anniversary voyage.
One person who was responsible for it all was only onboard in spirit, Samuel Cunard…
Many others who have sailed the Atlantic with his legacy were also there in photographic record…
We met old friends…
…and made new ones…
Life on Cunard is like that.
We brought home some great memories and a few mementoes. Cunard presented all passengers with this excellent souvenir book, 'The Story of Cunard's 175 Years'…
…and a pair of pin badges…
Stephen Payne, the Queen Mary 2's architect, kindly signed a copy of his book for me…
*****
But most importantly both my wife and I had another excellent and enjoyable cruise aboard Cunard's Flagship during this epic voyage. Thank you Cunard, you really pushed the boat out.
If you have enjoyed this review of QM2's Anniversary voyage and would like to be amongst the first to hear of new reviews including port reviews ( which will soon include Cartagena and The Shetlands,  as well as a number of Australian ports of call)  and forthcoming cruise reviews of  Viking Hermod and the new Viking Ocean cruise ship Viking Star, why not join the many other followers by clicking on the 'Follow' link on the front page.
You will be alerted by email immediately a new post appears.