My wife and I have just returned from the maiden voyage of P&O's latest cruise ship Britannia...
The previous week we had been among the crowds at Calshot Spit, welcoming her to Southampton…
…and had watched the naming ceremony on television with great anticipation…
With P&O's advertising slogan  of 'evolution with innovation' echoing in our ears we joined Britannia at Southampton's Ocean Cruise Terminal on 14 March 2015. We immediately had that feeling that  this was to be something special: even the red carpet was out...
…with an invitation that was hard to refuse…
We had arrived some 20 minutes prior to our allocated embarkation time and after a short wait we were processed,  security checked and heading onto P&O's newest ship. What a lovely surprise when, having cleared security, the first person to greet us was Captain Paul Brown, the Master of Britannia…
Our first glimpse of the actual interior of Britannia was as we entered the Atrium, the spectacular centrepiece and social hub of the ship…
A number of days prior to embarkation we had received a letter from Captain Paul Brown informing us that, for the Maiden Cruise,  our cabins would be ready for occupation immediately on embarkation: with the added bonus we didn't have to carry hand luggage to our nominated Caribbean Tier embarkation lounge for a few glasses of champagne and small eats.
We had booked what P&O describe as a 'Superior Deluxe Balcony Cabin' on B Deck (Deck 14), port side mid ships (Cabin B324)…
It was spacious, fitted with two large flat screen TVs, and ensuite facilities that included a full size bath. There was also a large walk in wardrobe with plentiful shelving and hanging space. In addition there was an abundance of 'British 3-Pin' electrical sockets throughout the cabin and a bottle of Champagne and box of chocolates as a nice gesture from P&O.
Britannia is designed for a normal capacity of 3,640 passengers and at 141,000 tons is P&O's largest ship. So it was with interest that we explored the upper decks to assess how she would cope in warmer climes and from what we discovered would say 'quite admirably'.
There is an abundance of outdoor deck space. Central is the double pooled Lido Deck…
Viewed from a higher deck the extensive 'Sun Deck' above the  Lido Deck becomes more prominent with its jacuzzis,  extended areas alongside the twin funnels…
…shown here in greater depth…
Forward on the Sun Deck are two great facilities. Firstly the Serenity Pool, a designated quiet zone with more elegant poolside furniture and covered cabanas..
…and forward of that The Retreat, P&O's exclusive outdoor spa area with more luxurious day beds and the best forward views on the ship…
Aft on the Sun Deck, sitting above the Sunset Bar, is the Terrace Pool…
But wait a minute. Check out your brochure deck plan and you'll be inclined to think that Deck 18, the Sports Deck, just above the Terrace Pool,  is the highest deck on Britannia.
Wrong! There is actually a mystery deck at level 19 – Deck 19…
A hidden gem for sun worshippers wanting that  little more privacy it wraps around the front with a small number of additional beds and offers great views over Lido Deck.
Dining on Britannia.
This was to be the first cruise my wife and I had chosen 'Freedom Dining'  when there had been an option. There are three 'main' dining rooms on Britannia, The Oriental for 'Club' dining and the Peninsular and Meridian for those passengers opting for 'Freedom' dining.
The Oriental Restaurant…
There are on Britannia many excellent options for alternative dining and, with the exception of the Horizon 'buffet' dinner, we tried them all.
The Horizon self service buffet restaurant is positioned high within the ship on Lido deck. It has multiple access routes,  is bright and colourful…
 *****
The serving counters and beverage stations are well laid out…
On the odd occasion we used this facility the experience was good. Within the Horizon buffet is a facility  for self service wines and beers…
…though waiter service is also available.
From 6.30pm each evening a section of the Horizon Buffet is sectioned off and serves as a casual waiter service dining option named The Beach House… 
The Beach House carries a £5.00 per person cover charge and there are additional charges for some of the higher end dishes like fillet steak. It is however a more casually atmospheric place for an evening dinner and we much enjoyed our visit there with friends.
At the top end of the speciality restaurants is the Epicurean…
The equivalent of '17' on Azura, The Epicurean is designed to celebrate fine dining traditions. We visited the restaurant twice in order to sample its two alternating menus. The fine dining quality is there however we would have hoped that the menus had shown a little of that proclaimed innovation rather than being almost identical clones of  the 17 menu on Azura.
Atul Kochher's Sindhu Indian fusion restaurant is also a near clone to that on Azura. It is however popular and one aspect of it we were delighted to try once again was the lunchtime 'Nashta' small bite selections…
…great fun with friends.
Around the lido Pool can be found a Grill for burgers, hot dogs, etc and a separate Pizzeria. There is also an Ice Cream Parlour and one facility that, for us, was one of the great innovations on Britannia: the Grab & Go…
…where a  good selection of fresh, healthy, pre-packed snacks, rolls, salads and wraps were offered.
Finally on the food front there is another first for P&O, the Market Cafe…
…a continental-style deli at the heart of the Atrium that is open all day. Tempting bites including freshly baked artisan breads, antipasto, charcuterie and a range of fine cheeses to die for…
The idea is to choose a set platter or create your own Deli Board from the selections available. Five items for a single portion attracts a modest £6.95 charge while a double sharing platter for two a mere £10.95…
…washed down with a good Pinot Grigio and an hour of people watching the Market Cafe is well recommended.
The Entertainment.
Where better to fit one special entertainment venue than right after the reviews of food. Because that venue, The Limelight Club, combines superb entertainment with an excellent dining experience…
Capable of seating 200 guests and with a cover charge of £22.00 per person it is another first for P&O. It also proved extremely popular: many passengers who failed to book in advance were left disappointed.
We had made two advance reservations and both cabarets exceeded expectations. We saw Kiki Dee who was just great but the real show stopper was Madeline Bell…
The Headliners Theatre is a real state of the art entertainment venue. Amazing 'digital walls' effortlessly glide through changes of scenery and 3D effects.  Seating 960 passengers the more popular shows were staged over three nightly performances…
*****
The Singers and dancers were a very talented cast and the three shows we saw were all new. Guest entertainers included the excellent Peter Howarth, lead singer with The Hollies, the soul singer Jimmy James, the outstanding comedian Kev Orkian, winner of The Voice 2012, Leanne Mitchell, The 4Tunes, whom we have heard before and are excellent and the Dusty Springfield Tribute artist, Maxine Mazumder.
Cleverly programmed in for the final night's show were The Patriot Girls who received a well earned standing ovation for their performance…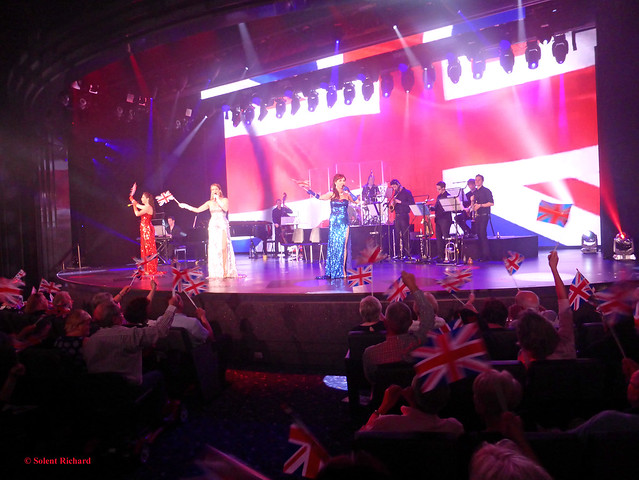 Made all the more memorable by the fact I had dinner with the girls the previous evening…
Another of Britannia's key entertainment venues is The Live Lounge…
Each evening the Live Lounge hosts a variety of entertainment including, on the Maiden Voyage, comedians, tribute acts, live bands and singers. So popular was this venue that on a number of occasions there was standing room only. From around 10.30 each evening the Live Lounge becomes Britannia's night club with its resident DJ.
One particular venue that appealed more than any to my wife and myself was The Crystal Room…
Dedicated to dancing it has a good sized wooden dance floor and an abundance of comfortable seating. Every evening there was a live band covering Ballroom, Latin and Sequence dancing. Music was provided by a live band while the resident 'dance hosts' utilised the floor for both group and individual dance classes during the day.
Below The Crystal Room on 6 Deck was P&O's take on the classic upmarket pub, Brodie's...
A sizeable venue with an plenty of of flat screen TVs for sport coverage, Brodie's is also an ever popular venue for quizzes, bingo and various party games. It boasts something in the region of 60 British beers and lagers.
When being broadcast Brodie's made available up to three live Premiership football matches per day. It was  noted that live Premiership matches were also available on cabin televisions.
A reasonably sized casino is adjacent to Brodie's.
Another venue for entertainment was The Studio...
A multi purpose state of the art venue built to resemble a TV set, it hosted a variety of entertainment ranging from music recitals to guest speakers and from cookery classes to a small cinema.
One such guest speaker was Dale Templar, the Television  Producer of the BBC's Human Planet series. Her series of presentations were awesome.
Other bars that featured around the ship included The Crows Nest..
The Blue Bar…
…with its interesting little side annexes…
The Glass House…
…and the impressive Sunset Bar…
There are of course many other bars around the various pools and open decks.
The Itinerary.
This was a 14 night cruise…
…with two sea days before we arrived at Gibraltar. Time for this visit was limited but we managed to climb to the Moorish  Castle and visit the WWII Tunnels. This also gave us our first distant view of Britannia berthed at the Cruise Terminal…
Our next port of call was Barcelona where we set out to visit eight of the cities most famous buildings including Casa Milà…
We achieved our aim with time to spare so we rounded off our day  with a visit to Barcelona's famous Old fashioned Gin & Tonic Bar where we were well hosted by one of the charismatic owners, Bruno…
It really is a must, view it here on Facebook…
https://es-es.facebook.com/oldfashionedbcn
Monte Carlo was next in a busy four day port call schedule. We covered most of the sites though the icing on the cake was a visit to the Jardin Exotique, a world famous garden dating back to 1933, which has a rich collection of over a thousand species of plants and the largest collection of cacti in Europe. High above the Principality and an excellent place to take that panoramic overview photograph with Britannia in the background…
Civitavecchia was next on the itinerary. Most passengers feel obliged to visit Rome from here but we have done that on numerous occasions. We preferred this time to catch the same train as those intrepid travellers but left at Ladispoli for a second visit to the Etruscan Necropolis at Cerveteri, a fascinating burial site that pre-dates the Roman period by some 600 years…
As part of the visitor experience the historic sites authority now have  3D light presentation displays following the life styles of the Etruscans in three of the tombs. It  would be no surprise if cruise lines soon included this 'attraction' on their excursion lists.
The Corsican town of Ajaccio was the next stop. Birthplace of Napoleon Bonaparte and a very attractive and easy place to explore. We had actually visited Ajaccio last May while cruising on Ventura. We did however, apart from being ourselves an attraction to another forum's photographer, stock up on some delightful cheeses at the local Farmers' market…
Madness not to at those prices…
Somehow we fitted in a sea day before our penultimate port of call, Cartagena…
…where I continued with my morbid fascination of burial sites and visited the crypt inside the Old Roman Punic Wall.
Our final destination, before returning to Southampton, was Cadiz. We have visited this Spanish port on numerous occasions so,  in search of something different,  we headed out of Cadiz to the old Moorish town of Jerez where we spent four hours exploring the town on our own. During that time we visited, amongst other tourist attractions,  the Real Escuela Andaluza del Arte Ecuestre ( Royal Andalusian School of Equestrian Art)…
…where we were fortunate to witness a number of the training routines both in the Arena (above) and on the tracks in the grounds.
Centre piece of Jerez is the Alcázar of Jerez – a Moorish fortress dateing back to the 12th century,
Within the fortress  walls is the 18th century Villavicencio Palace that has a square tower, some six storeys high. At the top of the tower is the 'Camera Obscura'…
By means of a simple optic device, the viewer is able to enjoy a bird´s eye view of the town´s landmark monuments and surrounding countryside. It is a simple but amazing piece of kit. Demonstration tour are available every hour, on the hour and is something not to be missed.
Summary:
All in all this was an excellent cruise and  it would be very difficult to find any valid criticism outside of the 'minor' hiccups to be expected on a maiden cruise. Indeed, those that did occur paled into insignificance when balanced with the overall enjoyment of the occasion.
Britannia is a technologically advanced ship: she now boasts a fully automated Photo Gallery and similar self service machines for booking  Shore Excursions. Digital notice boards abound with updated information on social programmes, dress codes and other significant notices.
The crew from the captain down were excellent, charming, polite, efficient and constantly with a smile on their faces.
The entertainment programme was beyond reproach though no doubt there will be those that it did not suit: P&O can be well pleased with their planning and execution of  this important area.
Our philosophy is to cruise with a positive attitude and that's exactly what we did.  Britannia has so much to offer and I believe we made the most of everything. We were certainly far too occupied with enjoying ourselves with equally  like minded passengers to worry about the odd moaners that one inevitably comes across.
And on that subject, if there is any doubt as to the fun to be had, ask these fellow passengers…
That was some sailway party from Cadiz.
Would we cruise on Britannia again? Of course we would and certainly on the right itinerary outside of school holidays.
If you have enjoyed this review of Britannia and would like to be amongst the first to hear of new reviews ( which will shortly include Oporto and a new insight into Venice, as well as Tahiti)  why not join the many other followers by clicking on the 'Follow' link on the front page. You will be alerted by email immediately a new post appears.