My wife and I have recently returned from a 22 night multi-centre full-on adventure rather than a holiday, which included a 7 day river cruise along the Mekong River, a 3 day boat cruise around Halong Bay, and various visits to Vietnamese and Cambodian historical sites, towns and cities.
The full package was booked directly with Australia Pacific Touring (APT), the tour operator, for reasons that will be explained in the summary,  and included varying length stays in Hanoi, Hoi An, Hue, Saigon, Phnom Penh and Siem  Reap.
Due to the diversity and nature of this 'adventure' I have decided to write this review in three parts, each covering what I consider to be one of the three distinctive elements that made our  time in Vietnam and Cambodia such a great time
The cruise around Halong Bay, a UNESCO World Heritage Site, was on the Au Co…
The Au Co is a very modern ship with just 32 cabins, thirty of which have a private balcony or terrace.
We were allocated a Deluxe Cabin…
…with balcony…
…and viewed from the outside…
…and very practical en-suite with double size walk in shower…
Located on the spacious terrace deck of The Au Co, and designed along Feng Shui principles, the restaurant and Lan Ha Bar offer the perfect spaces for guests to connect with their surroundings: whether simply relaxing with a cocktail or savouring an incredible array of fresh local dishes…
The Restaurant
The Lan Ha Bar and Terrace…
A further spacious Sun Deck occupies almost the entire length of the ship, offering  full panoramic viewing of Halong Bay's stunning scenery…
Other facilities on board included a small Spa…
and Jacuzzi…
One novelty was that the Au Co operated its own tenders, both of which were actually towed behind the ship…
Our arrival on Au Co was a noisy one, drums beating and banners waving…
…which just added to the excitement of the day.
The Itinerary.
Once departed from Ha Long City we were soon out into the bay which features thousands of limestone karsts and isles of  various shapes and sizes:the very signature of Ha long Bay itself…
*****
Heading into the Vung Ha area our first stop was for an optional  programme of water activities or alternative free time for exploration on Vung Ha beach itself …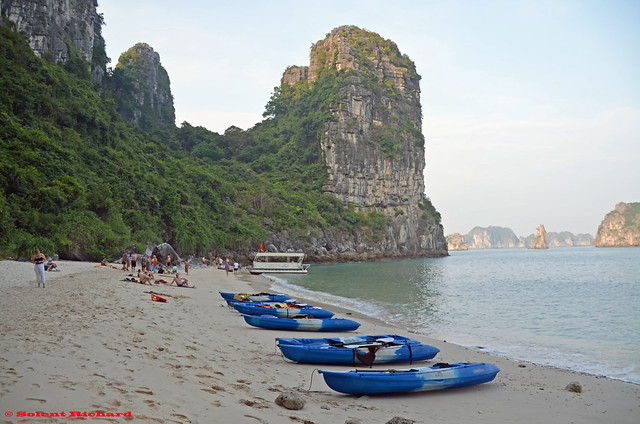 All equipment was provided by the Au Co including a small mini-bar.
What better way to spend a first balmy warm evening with an extended Happy Hour, a good selection of  wines,  complimentary nibbles and a few cocktails…
…sat peacefully at the Lan Ha Bar…
…having just watched a Ha Long Bay sunset…
First stop on day two was a visit to Vung Vieng floating village where, once we were tendered to the village pontoon, we were met by a fleet of traditional bamboo boats that would take us in small groups on a circular water tour…
*****
…into the cave known as the Gate of Vung Vieng…
…past clutches of floating homes…
…and the odd fisherman…
…until we eventually completed the circular tour…
Following lunch on Au Co we then headed for Cat Ba Island. Cat Ba is the largest island in the Bay and at the heart of Cat Ba Island lies a visually stunning and ecologically diverse national park.
For those wishing to visit Cat Ba three options were on offer. A cycling tour, a walking tour or, for those with mobility difficulties, an electric car ride.
My wife and I chose the 5 Km walk to the village of Viet Hai…
Viet Hai is a small village in the midst of jungles, covered by high mountains range of the Cat Ba National Park, which belongs to Cat Hai district of Hai Phong city. Vietnamese tourists seldom go to this place, but it has been becoming a popular attraction to the foreign tourists.
Not many years ago, Viet Hai was absolutely separated with the outside world. The local residents lived their self-supply life as did the primitive human of a thousand years ago. Because of this cultural practice, foreign visitors to this village increase gradually. In recent years, together with the recognition of Cat Ba Archipelago as the UNESCO World Biosphere Reserve, thousands tourists have trekked through the mountains, jungles and springs to visit this rather unique attraction. Welcome to this wild area in the midst of the Biosphere Reserve, the Cat Ba National Park.
Viet Hai became a bit of a talking point amongst fellow passengers  when Solent Richard initially tested the onboard first aid team, having sustained a little damage during the early morning 'Engine Room' tour…
…and required a more professional patch-up  at the very basic village clinic by the doctor (left)  and nurse who run the remote medical centre…
The things SR will do for a photograph.
Day three saw us at Ti Top Island ( a place I had visited before)…
and also visiting the amazing Sung Sot Cave…
It was here our APT and Au Co staff excelled. This is one hell of a popular attraction to visit in Ha Long Bay and the staff had pre-positioned themselves at the ticket office early morning, well before the Cave's opening time, to secure us an easy and swift admittance.
*****
On completion of the visit to the Sung Sot cave the Au Co cruised its way gently back to Ha Long City.
A bit remiss of me to not mention food before the last paragraph however, it was a deliberate ploy to save the best till last. The food on board Au Co was simply excellent. Very Vietnamese with delicate flavours, fusions  and textures presented with flair and imagination.
Breakfasts on board were the usual buffet affairs…
*****
and the mandatory egg and noodle stations…
*****
Lunches on board were more than fulfilling while dinners became veritable feasts…
*****
*****
*****
Indeed, our first dinner on board was the famous Five Elements signature Dinner of the Vietnamese dishes, Wood, Fire, Earth, Metal and Water. In reality it turned out to be a banquet.
Au Co was certainly an excellent experience and a very good way to see Ha Long Bay, with outstanding quality and service from all departments one felt a considerable degree of style when moving between the islands.
Following our return to Ha Long City Cruise Terminal we headed back to Hanoi airport to catch  an internal Vietnamese Airline flight bound for Da Nang and Hoi An. Another part of the adventure to be recorded soon.
Even the organisation here was exemplary. Our checked luggage was sent on ahead by separate transport and was  checked-in on our behalf. On our arrival at Hanoi Airport our APT Cruise Director simply distributed  our boarding passes prior to entering security. How organised is that?